By: Stephanie Kennerley
"Just how fast is my dog?" Many owners have found themselves wondering that at one time or another. The FAST CAT®, one of AKC's newest events, offers an answer. Launched in March of 2016, the FAST CAT® is a variation on the Coursing Ability Test. In the FAST CAT®, dogs chase a lure in a straight line 100-yard dash and the dog's time is converted to give their average speed for the run in miles per hour. Owners can then see how their dogs measure up overall, as the top 20 fastest dogs by breed are posted on the AKC website. Dogs can earn titles as well; each dog's speed is converted into points after taking into account their height handicap, and once a dog reaches designated benchmarks, titles are awarded.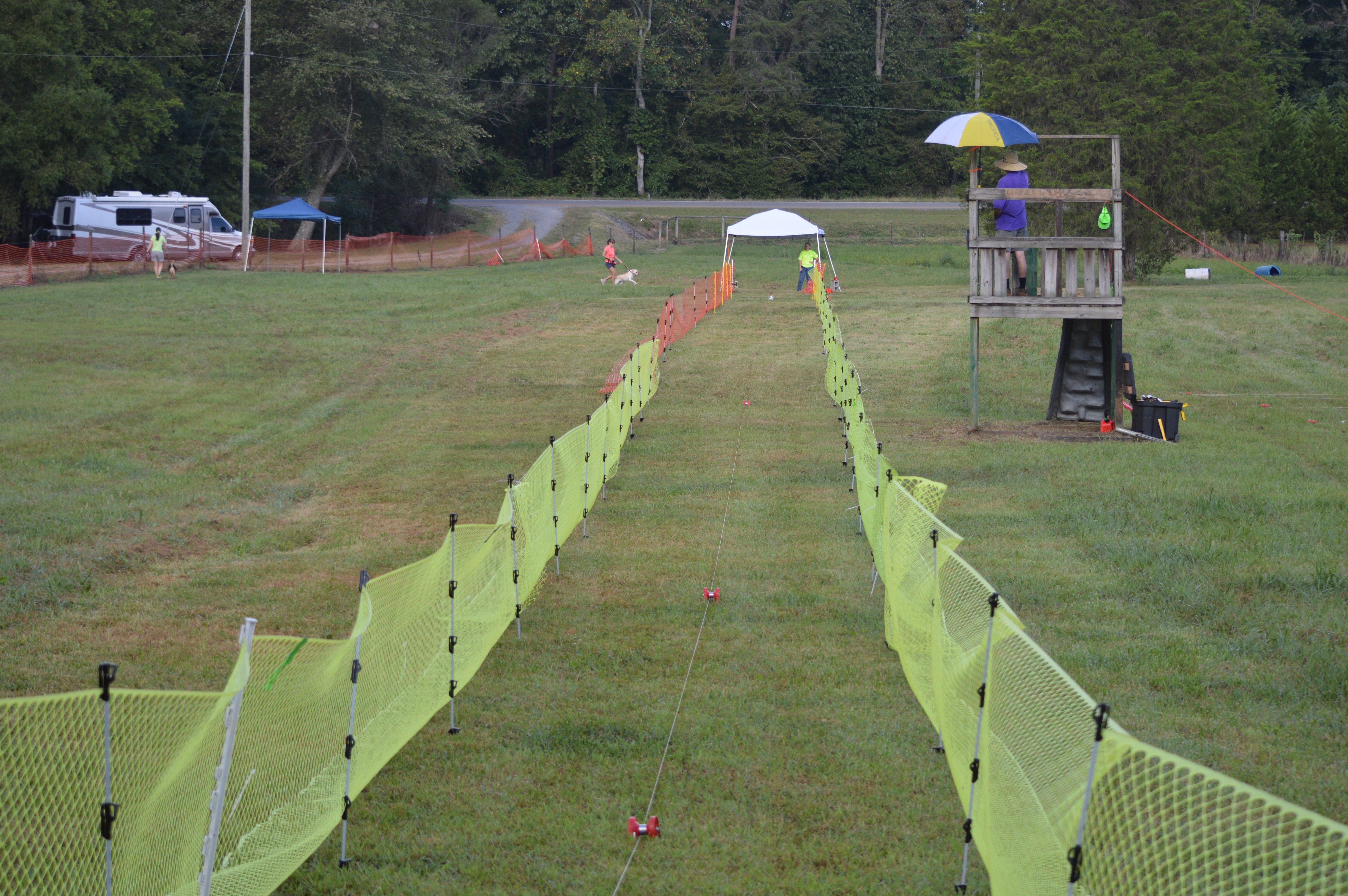 By year-end over 110 FAST CAT® events will have been held. Clubs love the Coursing Ability events—they tap into one of the dog's strongest instincts, and allow all dogs to compete and be successful. FAST CAT® is especially attractive to the novice competitor. Most dogs instinctively chase the lure once it starts moving, the course is straight so no sharp turns are required, and often the area is fenced to allow easy collection of dogs who may not recall quickly. More importantly, FAST CAT® offers a fun and friendly environment where people can share their love of dogs. FAST CAT® has just started, but it is spreading like wildfire.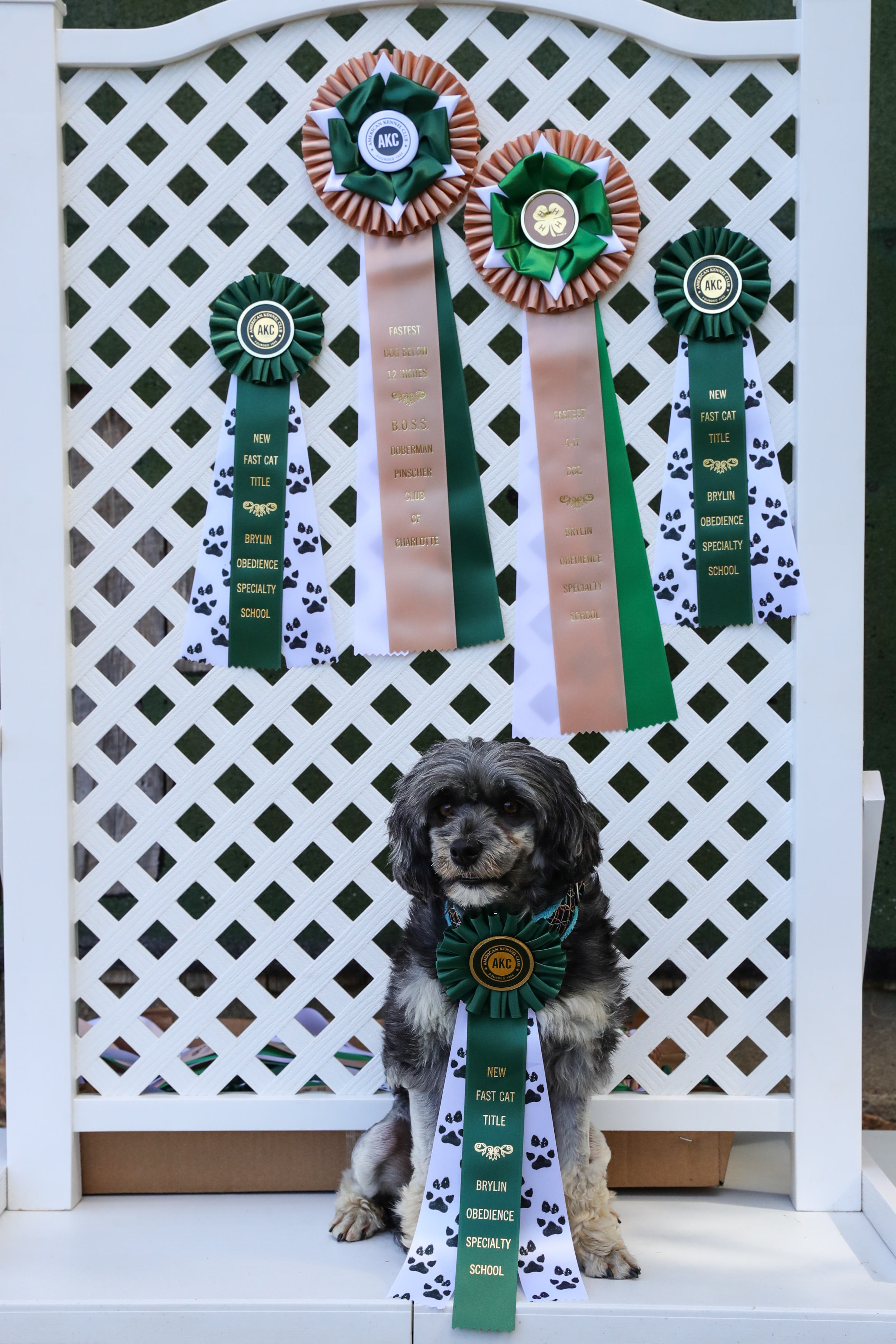 The Doberman Pinscher Club of Charlotte held their first weekend of FAST CAT® on Saturday and Sunday, September 10th and 11th at Brylin Farm in King, North Carolina, with approximately 50-60 entries in each of the four events. The Club used plastic fencing to enclose the straight-line course, with a continuous loop lure system and electronic timers. After increasing the run-out area and lowering the height of the timing sensors (dogs are lower when they cross the finish in CAT than in Agility!), they had a flawless event.  "We love it!" said Gayle Riggins, Field Secretary for the events. "I see more people—students, beginners, people that do not know anything about lures, and those dogs that did not do well in the CAT—they came back for the Fast CAT to learn to chase the lure."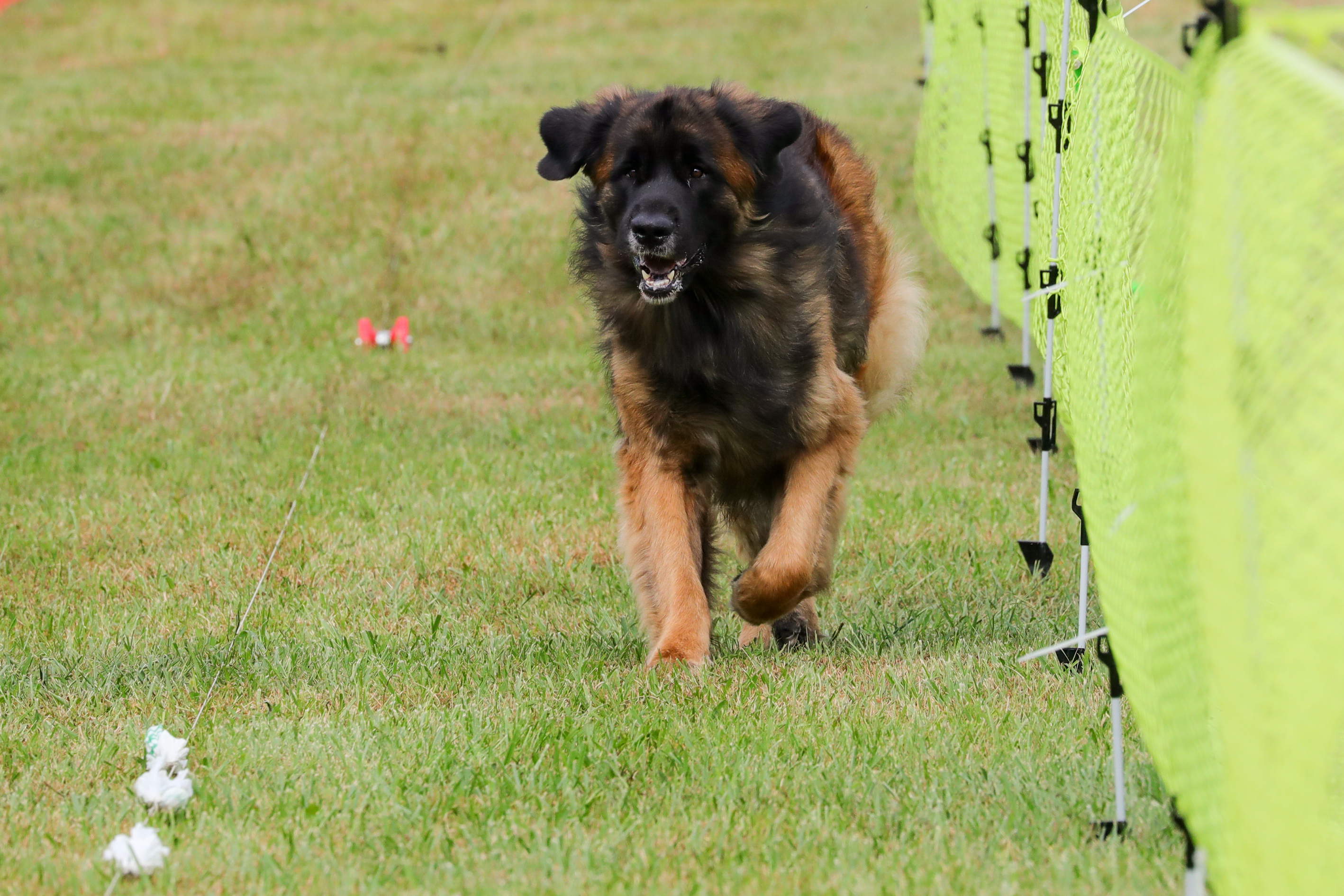 The dogs love the FAST CAT®, too. Dogs of all shapes, sizes, breeds, and pedigrees were represented at the September event. Among the breeds competing were Border Terrier, Portuguese Water Dog, Cane Corso, Beauceron, Chow Chow, Schnauzer, Kerry Blue Terrier, and All American. Kandus Passig of Lenoir, North Carolina completed her first FAST CAT® title on Saturday with Belle, her Cavalier King Charles Spaniel. Belle, otherwise known as Whispering Dreams Miss Arabella, was originally a Conformation-only dog. According to Ms. Passig though, Belle stopped enjoying Conformation, so they tried out the CAT. "Coursing is what makes her happy, so that's what we do," Ms. Passig said. And even though Cavaliers were bred for companionship rather than performance, Belle consistently runs 21 miles per hour!
Bob Davis from Greenville, North Carolina came out for his first FAST CAT® with his Belgian Tervuren. Skylark's Transcendent, aka Spirit, was a Conformation-bred dog—his Sire is a Grand Champion, and his Dam a Champion—but Mr. Davis is most interested in satisfying his dog's instincts and in demonstrating the dog's athleticism, training, and good temperament, so he leans toward Companion and Performance events. Mr. Davis competes with Spirit in any event he can find a way into: Spirit is a nationally-ranked Disc Dog and also has titles in Barn Hunt, Agility, Dock Diving, Weight Pulling, Rally, and Coursing Ability, and he was keen to try Fast CAT. "To me, dog sports are about measuring the dog's performance and improving." And now that he has established Spirit's 21 mph baseline, Mr. Davis is formulating a training program to increase speed.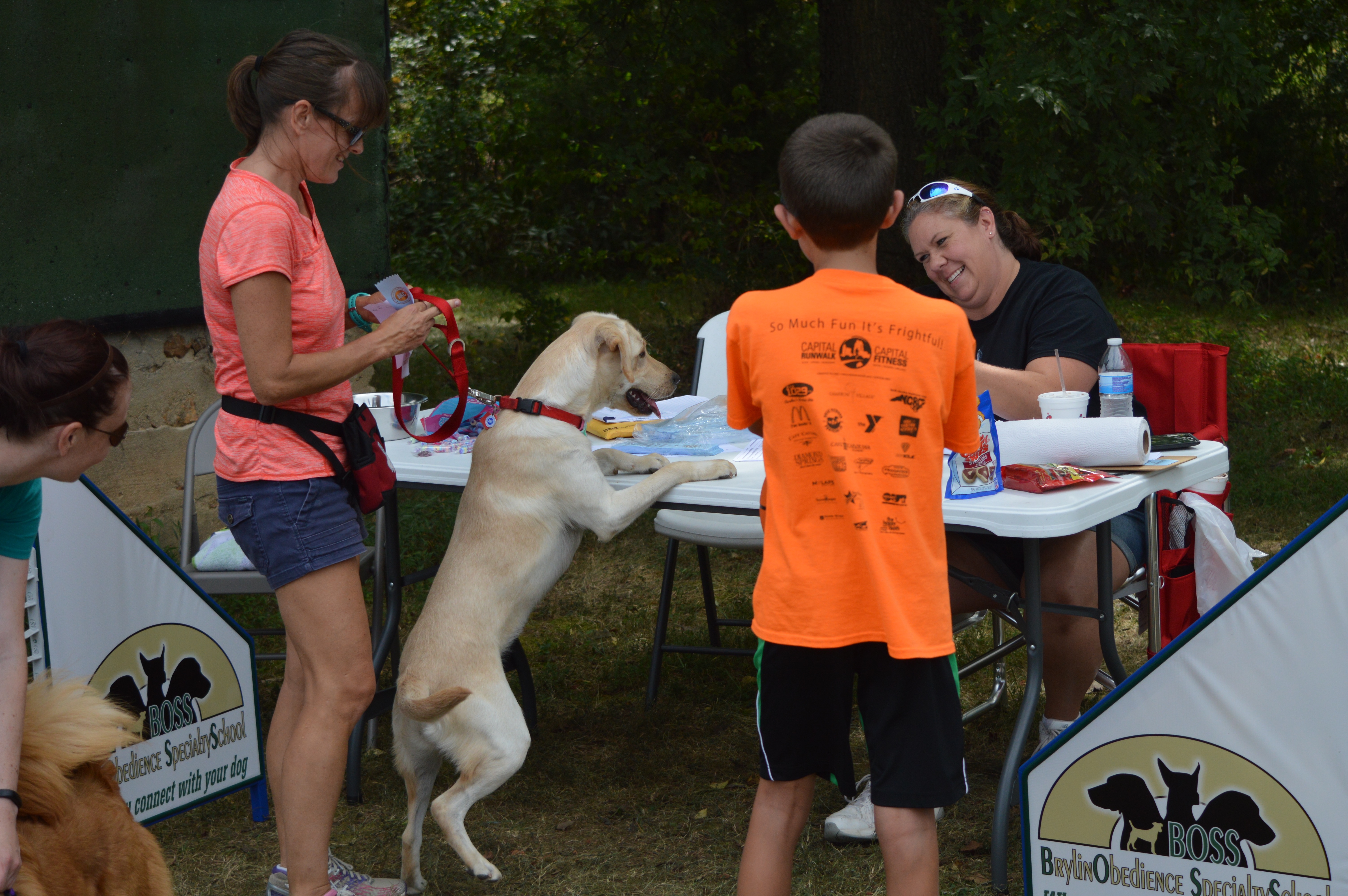 The FAST CAT® is about much more than competition, though. The atmosphere at the Doberman Pinscher Club of Charlotte was upbeat and welcoming, and veterans were more than happy to lend their expertise to first-timers. Everyone shared in the dogs' successes, whether it was the amazing run by the All-American dog who would go on to win the "Roadrunner Award" for fastest dog, the completion of the course by the little Yorkie who had never seen a lure before, or the Labrador Retriever who after a few stops and starts finally figured out that she was supposed to be chasing the plastic bag! Even the lumbering finish of the 170lb Leonberger, who at 5 mph took home the "Turtle Award," was thrilling for the owners and spectators, alike. Conversations drifted away from FAST CAT® and into other sports too, as people discussed their dogs' participation in Agility, Dock Diving, and Barn Hunt.
"The FAST CAT® provides a terrific opportunity to introduce new participants to the world of AKC sports, as one of the few events where all that is needed to compete is a dog's natural instincts. Newcomers are welcomed into a fun, positive environment," said Doug Ljungren, Vice President for Sports & Events. "For many competitors, the FAST CAT® has the potential to be the welcome mat into a lifetime of participation with the AKC."
For more information about FAST CAT®, please visit www.akc.org/events/fast-cat/.
Top photo–All American dog "Keena" running 26 mph–by Dean Lake Photography.