Updated Information — 4:00 PM, 10.20.04
New York, NY – The American Kennel Club (AKC) applauds the efforts of Diane Albers and the Florida Association of Kennel Clubs (FAKC) for all of their accomplishments in aiding the animals affected by the busy hurricane season. FAKC continues to arrange for the transfer of dogs to various shelters around the country.
Most recently, FAKC arranged for a shelter in Raeford, NC to pick up dogs in Dothan, AL, an area hard hit by the hurricanes, and also arranged for more than 100 dogs to be flown to shelters in Colorado for adoption.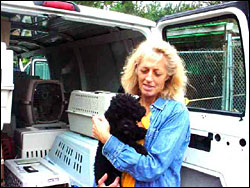 "The FAKC's dedication throughout the hurricane season is highly commendable," said Dennis B. Sprung, AKC President and CEO. "As a result of their ongoing efforts, hundreds of animals received not only basic care such as food, water and shelter, but many of these animals have even received new homes in the process."
Since mid-August, the AKC and AKC Companion Animal Recovery have coordinated with the FAKC to offer aid, including water, food, microchips, crates, leashes, collars and medical supplies, among other items, to humane societies, shelters and animal control in many areas in Florida, North Carolina and Alabama. The Hartz Mountain Corporation, Purina, Cherrybrook and The Iams Company were also instrumental in the relief efforts.
DONATIONS
If you wish to support the many animals still in need, you may send tax-deductible donations to the at the address below. Please note on the check that monies should go towards helping the victims of natural disasters.
AKC-CAR Canine Support and Relief Fund
American Kennel Club
260 Madison Avenue – 4th Floor
New York, NY 10016-2401
AKC-CAR is a permanent charitable fund which provides resources, support and other assistance to not-for-profit animal shelters and similar not-for-profit organizations providing care for domestic animal orphaned or displaces as a result of natural or civil disasters.
Additionally, you may make a tax-deductible donation to:
The Florida Association of Kennel Clubs
c/o Diane Albers
401 Cardinal Oaks
Lake Mary, FL 32746
If you wish to help one of the animals in need, please call Diane Albers at the FAKC at 800-597-2987.