Today at AKC's Headquarters in New York City, State Assemblyman Vincent Ignizio announced the introduction of Assembly Bill A9300 to recognize the German Shepherd Dog as the official dog of the State of New York. He was joined by Noreen Baxter, AKC's Vice President of Communications, and Anne Lettis of the Responsible Dog Owners Association of NY. Also on hand were several canines and owners from the German Shepherd Dog Club of Long Island as well as an NYPD K-9 unit. Several local media outlets attended, including the New York Daily News, Newsday, Staten Island Advance, FOX, WB and UPN.
"After the 9/11 terrorist attacks on New York City in 2001, search and rescue dogs — most of which were German Shepherd Dogs with the N.Y.P.D. — worked tirelessly side-by-side with rescue workers," said Baxter. "We are pleased that Assemblyman Ignizio also recognizes the diversity, loyalty and beauty of the German Shepherd Dog and its importance to all New Yorkers."
"I would like to thank the AKC for being a vocal proponent of this measure," said Ignizio. "They, like me, know that dogs may be man's 'best friend,' but the German Shepherd is New York State's 'best friend'."

Assemblyman Ignizio greets local canines after announcing the legislation.

AKC Vice President Noreen Baxter thanks Assemblyman Ignizio for his efforts to declare the German Shepherd Dog the State Dog of New York.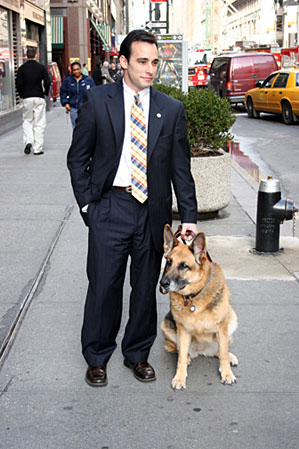 Assemblyman Ignizio poses with local canine outside AKC offices.