Training Your Dog to Be a Therapy Dog
The AKC GoodDog! Helpline receives frequent inquiries about how to train dogs for therapy work. GDH Trainer Christie Canfield conducts therapy visits with her dog and also teaches therapy dog classes. She tells us the "who, what, when and how" of making a therapy dog.
Because of the many benefits they bring, therapy dogs are in high demand. Although our dogs give us unconditional love, not all dogs are a good fit for therapy work. So what makes a good therapy dog and how does an owner and dog become a therapy team?
What is a therapy dog?
A dog trained to provide comfort and affection to people in a facility setting. Therapy dogs are NOT Service Dogs, which are trained to provide a specific service for a person with special needs.
Why a therapy dog?
Science has shown us how beneficial therapy dogs can be. Visits from a therapy dog can lower blood pressure and heart rate, reduce patient anxiety, and increase levels of endorphins and oxytocin.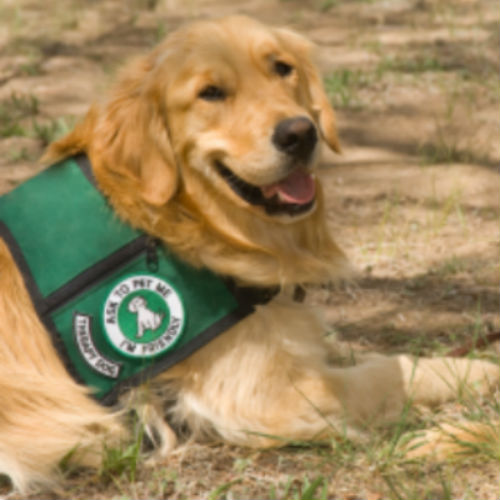 Where do they work?
Therapy dogs can be seen in a variety of settings. Hospitals, nursing homes, assisted living facilities, schools, and libraries are just a few examples.
Who is a good candidate for therapy work?
Therapy dog candidates should be naturally calm, friendly and affectionate to strangers. They also need to be well trained in basic obedience, able to easily adapt to novel noises, places, smells, and equipment. Therapy dog organizations also require that therapy dogs be healthy and have regular wellness check-ups and be well-groomed, clean and brushed at the time of all visits.
How do you train a therapy dog?
Socialize your puppy or dog to new people, places, objects, and surfaces.
Obtain the AKC Canine Good Citizen title on your dog and train necessary behaviors for therapy work including, look, leave it, loose leash walking and not jumping on people.
Obtaining the AKC Advanced Canine Good Citizen (AKC Community Canine) title and/or taking your dog through a Distraction Proofing class is highly recommended.
Enroll your dog in a therapy dog class that will prepare you and your dog for therapy dog visits (equipment, situations, handler preparation). Most classes include a therapy dog evaluation at the end of the class.
Registration with a national therapy dog organization. This is highly recommended as most therapy dog organizations provide support, advice, and insurance. You can find a list of organizations here.
See Oscar, a Dachshund therapy dog with style, in the video below.
For more information, training tips and advice, enroll in the AKC GoodDog! Helpline. The seven-day-a-week telephone service is staffed by experienced dog trainers.
https://www.akc.org/wp-admin/admin-ajax.php
Get Your Free AKC eBook
Canine Good Citizen (CGC)
This program is recognized as the gold standard for dog behavior. In CGC, dogs who pass the 10 step CGC test can earn a certificate and/or the official AKC CGC title.