Finding the perfect food for your dog seems like the ultimate challenge. With so many different brands and formulas on the market, making a decision can be overwhelming. But after my plucky (and picky) seven-year-old Cairn Terrier packed on a few extra pounds and didn't have the energy he used to, I thought his current food could be the culprit.
My dad and his fiancé recently started making their own dog food, but as a busy New Yorker, I didn't see how that could be an option for me. I liked the idea of having something that was fresh, packed with vitamins and proteins, that Duncan would love the taste of — and that didn't break the bank. Lofty goals here, I know.
I found a holistic pet care shop blocks from my apartment and figured it was the perfect place to start my search. As I wandered the aisles, looking for something to speak to me, I spotted a refrigerator toward the back and was intrigued. Enter Freshpet®.
There were several options, but I was drawn to a formula called Freshpet® Select. It claimed it was fresh from the kitchen — a home-cooked chicken recipe without my having to do any of the cooking! I could see various vegetables immersed in the shredded chicken, as well as cranberries, and felt like this could be "the one" for Dunc. The experiment would begin the next day.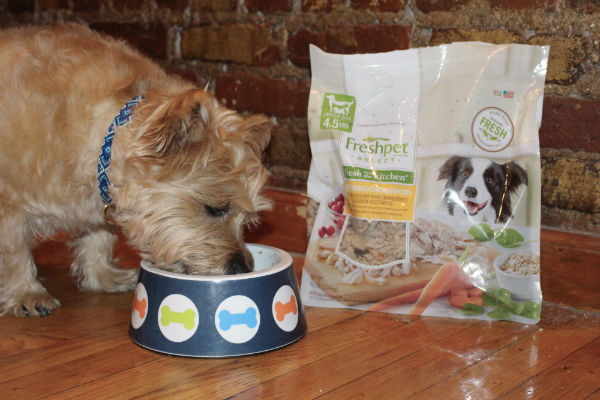 Now, remember how I mentioned that Duncan was picky? I joke that he "flirts" with his dinner — circles the bowl, sniffs it, walks away, comes back, takes a bite, walks away, and on and on it goes. But the first time he experienced Freshpet® Select — his bowl was empty in an instant. If he could ask for seconds, he would have. And for once I didn't have to plead, "Please eat your dinner!"
As the days went on, mealtime became an extraordinarily exciting experience for Mr. Dunc. The fridge door would open, and he would be dancing at my heels, knowing he was about to get a (healthy and nutritious) treat. Not to mention, I personally was super impressed with the quality of the food. It smelled awesome and looked delicious enough for even me to eat.
His digestion has already been positively impacted — his dog walker sends me midday texts to tell me how healthy and perfect his stool looks. (We're very close.) And even though it's only been a short amount of time, I'm starting to sense that Freshpet® is putting some pep back into Dunc's steps. Where typically he pays fellow pups no mind on his walks, he's now playfully approaching some, tail wagging a mile a minute.
In terms of finding the perfect prepared (not processed) food, we're sold. If you're in the market for pet food featuring natural and nutritious ingredients, Freshpet® might be the right food for you, too.
Sponsored by Freshpet®
https://www.akc.org/wp-admin/admin-ajax.php
Get Your Free AKC eBook
Puppy Nutrition
Your puppy's lifelong health and happiness begins with you. Get it right from the start. This e-book provides valuable information on how good and sound nutrition habits will set your puppy on the right path.