In 2000, director and actor Christopher Guest released a movie that would later become a comedy classic about the quirkiness of the dog fancy. "Best in Show," filmed in the format of a "mockumentary," featured five breeder/handler teams as they campaigned their dogs to compete in "The Mayflower Dog Show," a riff on the annual Westminster Kennel Club Dog Show. The result was comedy gold, featuring both emerging and established talents, such as Eugene Levy, Jane Lynch, Jennifer Coolidge, and Catherine O'Hara.
But six years before "Best in Show," New Jersey Network aired an actual documentary you've likely never heard of: "Dog Show," produced by Leandra Little of Weehawken, New Jersey (scroll down for video).
Little, now a five-time Emmy-winning producer, was working at the public television station and recalled fond memories of showing Collies as a child. She suggested to her superiors that the dog-show world could be a fascinating subject of a documentary. In 1993, she got the green light and connected with the Sussex Hills Kennel Club. "I told them I wanted to follow a few story lines," Little says. "I wanted to film one dog who was going for his championship, and I was hoping to get one dog who would go all the way."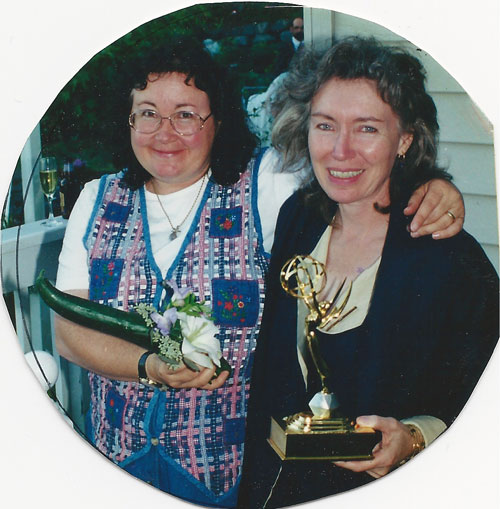 The president of the club took an interest in Little's project and set her up with several dogs, including an English Springer Spaniel, an Old English Sheepdog, an Afghan Hound, and a very promising champion Norwich Terrier named Chidley Willum the Conqueror.
By the end of the hour-long documentary, that same Norwich Terrier was named Best in Show at the 1994 Westminster Dog Show. As the credits rolled on Little's film, Willum and his handler, Peter Green, basked in the glory. "It was a producer's dream," she says.
Then in 2000, "Best in Show" came out.
Little thought it looked all too familiar, especially when Winky, a Norwich Terrier handled by two-left-footed Gerry Fleck, played by Eugene Levy, took Best in Show at the Mayflower.
"I remember going to that movie with my husband and thinking, 'He stole my idea!'" Little says. But she's quick to say she's not offended: "Imitation is the sincerest form of flattery. Of course he went off in his own humorous direction—and the movie really is a classic."
Whether or not Little's documentary actually inspired Guest we may never know—he has been reported saying he thought of the idea after a bizarre trip to the dog park with his wife, Jamie Lee Curtis. But her own project most certainly led Little to her new passion: breeding and showing dogs.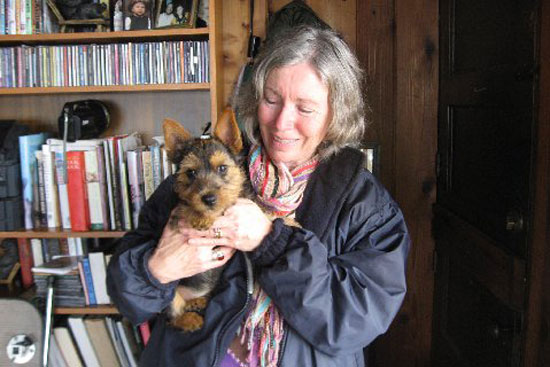 Little, who at that point only had experience with Collies, was introduced to the Norwich Terrier breed when she first met Willum—and he stole her heart, in spite of a major faux pas on her part. On her first shoot (and her first time at a dog show since she was a child), Little "walked up to Willum before he went in the ring and patted him on the head," she remembers. Fortunately, the handler overlooked the breach, and gave Willum and Little a moment to bond. "He put his little paw on me and looked at me, and I just fell in love with the breed."
After doing the documentary, Little was determined to bring home a Norwich of her own. And once again, fate stepped in. She was introduced to a man who was trying to find a new home for a Norwich whose owner had tragically passed. Just like that, Little was the proud owner of Firethorne Charcoal Briquet (or Brick, for short).
As it often goes, one dog led to another, and Little was hooked. By 1995, she had bred her first litter, and another, and another. This year, one of her females, GCH Littlefield Un Certo Non So Che, competed at the Westminster Dog Show. Little, now retired from television, has also combined her journalism background and dog experience as an AKC Gazette breed columnist.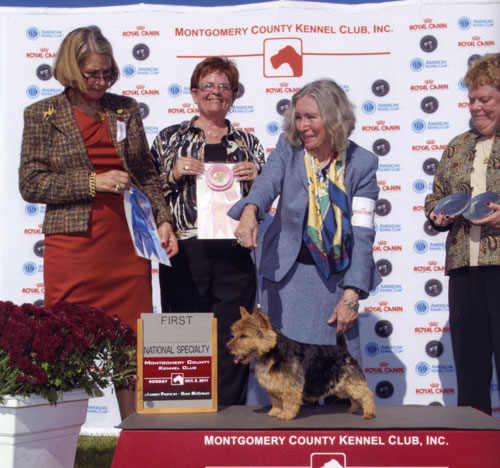 To her, there's no question "God loves a terrier," as fictional characters Cookie and Gerry Fleck sing in "Best in Show."
"They're just so loveable," Little says. "They are gay, loving, and fearless, just as their breed description says. And all in a small package."
Are the people she's encountered throughout the years as kooky as Guest's characters?
"Some of them are, yes. But in the last 20 years I've met the most wonderful people. You have to have a certain amount of savvy [to show and breed dogs], and there's always so much more learn," she says.
As for where Guest got his inspiration, Little is firm on her suspicions.
"I really do think he got the idea from my documentary," she says. "There's no coincidence that the dog who won was a Norwich—he couldn't have just pulled that breed out of his hat."
You be the judge: The original "Dog Show" documentary is available to watch in two parts:
 
Part 1:
Part 2:
Top photo by David McGough; all others courtesy Leandra Little.
 
​

https://www.akc.org/wp-admin/admin-ajax.php
Subscribe to Family Dog
AKC FAMILY DOG MAGAZINE
This article was originally published in AKC Family Dog magazine. Subscribe today ($12.95 for 6 issues, including digital edition) to get expert tips on training, behavior, health, nutrition, and grooming, and read incredible stories of dogs and their people.