Imagine, for a minute, you are involved in dog sports, and your four-legged partner is tightly connected to your left side throughout one exercise after another.
Can you envision the challenges facing you in one venue after another if your field of vision in your left eye is less than 10 degrees to almost nothing, depending on your blood pressure in that retina? And the sight in the right eye is only 15-to-18 degrees, somewhat like looking through a standard hole punched in a piece of paper.
Welcome to Janine Prindle's world!
The tireless 64-year-old Enumclaw, Wash., competitor has been legally blind (but not totally sightless) since 2006, slowly losing her vision since 1980. The retired educator's life, however, has revolved around dogs since she was 14, when she joined a 4-H club, was introduced to training, and received her own dog.
She took a short, four-year break from canines while attending college and shortly after getting married in 1974, but overall, Prindle estimates there's been a dog in her life for 52 years. Aside from eight dogs she has trained and shown, she and her family have raised 30 puppies for Guide Dogs for the Blind and two for Summit Assistance Dogs in Washington state.
The irony of training puppies for Guide Dogs for the Blind and being the recipient of two isn't lost on her. "Each has been special and has come with its own set of challenges," she says.
Corey, a Nova Scotia Duck Tolling Retriever, recently—and incredibly—is the fifth dog she has earned a Utility Dog (UD) title with. "He has more of an independent nature than the others, but thankfully will work for food," she says with a smile. "He enjoys retrieving and jumping, which has helped when training in Open and Utility levels of obedience. We are not finished training and showing yet. Hopefully, our next accomplishment will be the optional title of Versatility Companion Dog. I also want to complete the second and third rally obedience titles."
But there's another dynamic at work here, too. Because Corey is nearing 9 years old, Prindle must continually be aware of the physical strains and stress that jumping places on his body. If he begins to refuse to jump or seems sore following a practice session involving jumping, she must stop having him leap at his required height.
"Since rally jumps are not as high as those in competition obedience, we will see if he can participate in rally comfortably," she says. "If not, Corey will have to retire from performance classes where jumping is involved. Probably, by then, he will be ready for spending his days lying on his bed and enjoying leisurely walks."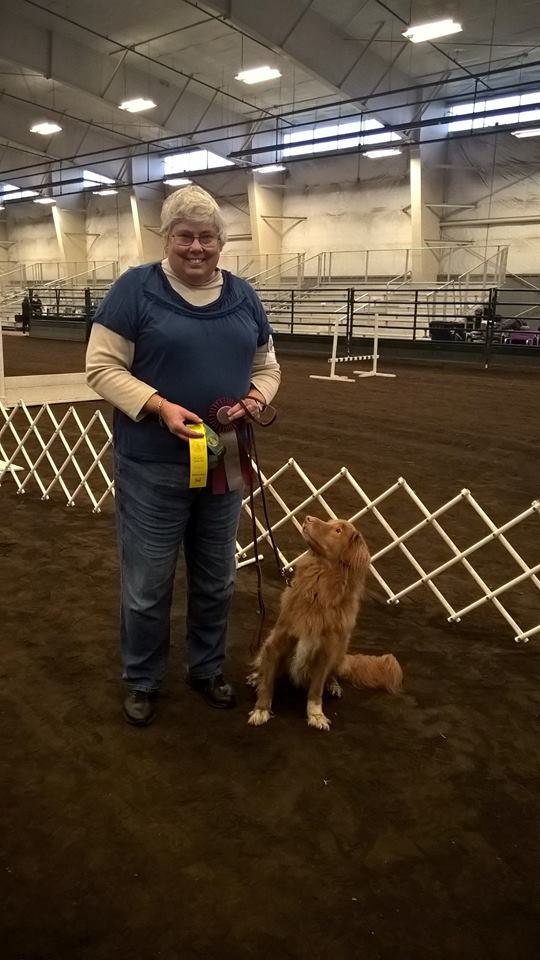 The resilient Prindle notes that each of the dogs she has put UD titles on "came with its own set of ups and downs, frustrations, different work ethics, personality traits, and training challenges. Each also came with many successes, natural abilities, and triumphs."
The No. 1 test she faced with earning Corey's UD was addressing heeling issues in training. "During the shows, while I'm heeling with him, I must focus on a point out ahead to maintain a straight line," she explains. "Because I have no peripheral vision, I can't see Corey, and I'm uncertain what he is doing or where he is going. I have to trust that he is staying with me.
"When training in class, I have mirrors to guide me, which help a lot, as I have reasonable, though not perfect, acuity. I also appreciate working with a partner, where I have the advantage of that person telling me when Corey is not doing as well as he should."
An additional test she faced with Corey en route to the UD title was not sight related. It dealt with retrieving the metal article in scent discrimination. In the early stages of training, the articles were tied onto to the article board with six-inch strings, Prindle says. Corey went out eagerly to retrieve it, but grabbed the incorrect one and tried to dash back to her. Because it was tied down, it jerked out of his mouth as he began to run. He returned without it and refused all efforts from her to pick it up.
He would retrieve the leather article flawlessly, however, she recalls. A few weeks later on a veterinary-hospital visit, the practitioner noticed Corey had a cracked pre-molar. Prindle told her about the tugging incident with the metal article, and the vet surmised the dog had broken the tooth at that time. The tooth was extracted, and after it healed, Corey returned to practicing the scent discrimination exercise.
At first he would have nothing to do with the metal articles, but after two years of persistent training, Corey reluctantly began to pick them up.
He earned his first utility leg in June 2015, after not qualifying at several shows. In December 2015, the AKC began allowing handlers to use wooden articles in the exercise, which helped fast track the dog's progress toward attaining the title.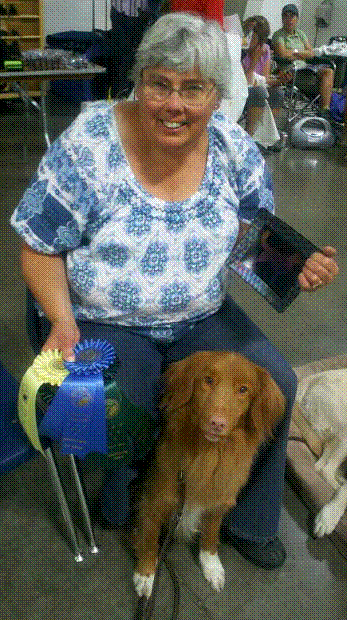 This handler's incredible versatility is reflected by the breeds with which she has earned UD titles—two Tollers, two Flat-Coated Retrievers, and a Labrador Retriever. The latter, Cranberry, is believed to be the first working Guide Dog to achieve a UD while being trained by a legally blind handler.
While UD training the 45-pound Corey, Prindle attended weekly classes at Family Dog Training Center in Kent, Wash., 22 miles from home. Here's where the distance and challenge of reaching the facility demonstrates her unwavering commitment to titling the dog. Her husband, Jack, drove her two days a month, but on the other occasions she relied on an Access Bus, which, because of scheduling, often arrived at the training site an hour prior to class. Afterward, she was forced to wait 30 minutes to an hour for a ride home. Prindle's support team also includes a mix of friends who assist with transportation to classes and trials.
She lauds the role trainer Kathy Lang has played through the years with her dogs. "When I start a class, she explains my visual shortcomings to the students. She will then occasionally remind them to be aware of my limitations and allow plenty of room between them and me. She has also devised techniques to make performing some exercises a bit easier. And because it's easier for me, my dog performs better, too."
Likewise, Lang is a huge fan of Prindle. "In the past 40 years, I've helped handlers earn more than 100 Utility Dog titles on their dogs," says Lang. "Each, except for Janine, has had full vision. The challenges associated with training and eventually earning three qualifying scores are significant for any trainer. For Janine to overcome these challenges without being able to sometimes see the dog, the equipment, and the environment is amazing.
"The foundation for her success begins with her relationship with her dogs. They have a connection based on mutual respect and understanding that makes anything possible.
"In utility, the dog spends a great deal of time working away from the handler. More dogs fail two exercises in utility than any of the others, and they happen to be the two distance ones – signal and directed jumping," explains Lang. "If these are already difficult for sighted handlers, imagine the challenges she faces. Not only does she need to be acutely aware of her dog's location and position in each step of training and competing, but she also must give her dog the cues and perfectly timed feedback to learn and succeed."
Reading the dog's body language, adds Lang, allows the handler to understand what it is thinking, know if it's distracted, and evaluate how hard it is trying. "Janine cannot see the subtleties of Corey's facial expressions and posture, hence she relies on her other senses and gut feeling, along with input from her classmates and training buddies. Janine recognizes that she needs this information and has the patience to ask questions, get feedback, and formulate a plan of action. Janine has the perseverance and dedication required to earn a UD – always with a positive attitude," adds her longtime trainer.
https://www.akc.org/wp-admin/admin-ajax.php
Get Your Free AKC eBook
The Five Commands Every Dog Should Know
Do you want a well behaved dog but don't know where to begin? The Basic five commands e-book is a great place to start and will give your dog a strong foundation for future training.