By Flo Laicher, Putnam Kennel Club Delegate
 
By Flo Laicher, Putnam Kennel Club Delegate
Wanting to serve the pets and pet owners in our community, members of the Putnam Kennel Club, Inc. (PKC) started a project to donate rescue mask kits to the fire departments in Putnam County, New York. This kit gives the fire department's emergency responders an additional tool to assist them in reviving or resuscitating an animal in immediate need of medical treatment on the spot. Chris Krok, the committee chair of this project, gathered the information and arranged for the purchase of the kits, each containing several sized oxygen masks packaged in a durable bag, from Yuckos. Members tagged the kits with the PKC logo and labeled them for each fire department.  
On May 20, 2015, members of the club with their dogs (including a Boston Terrier, Bernese Mountain Dog, Boxer, Bullmastiffs, Papillion, Great Pyrenees, English Bulldog and Pug)  presented 20 pet rescue mask kits to the Putnam County fire chiefs at their monthly meeting. Jennifer Eckwerth, a vet tech from Middlebranch Veterinary Hospital in Carmel, New York, shared instructions on how to use the masks with each chief. As a result of our club's efforts, every fire department's main station and substation will have a kit with their equipment to aid them in helping animals that they rescue in fires. Many of our members live with their canine companions in the area served by these fire departments.
A big thank to our club members for their help on this project, especially those that attended the presentation: Chris Krok, Priscilla Marsh, Cathy Valenti, Ruth Ann Naun, Peg Hetherington, Diane Travis, Brynn Holic, and Linda Post.  
(Ed: The club also received media coverage for the donation in The Putnam County News and Recorder.) Photos by Eric Gross.
Vet tech Jennifer Eckwerth demonstrating how to use the oxygen mask on a Boston Terrier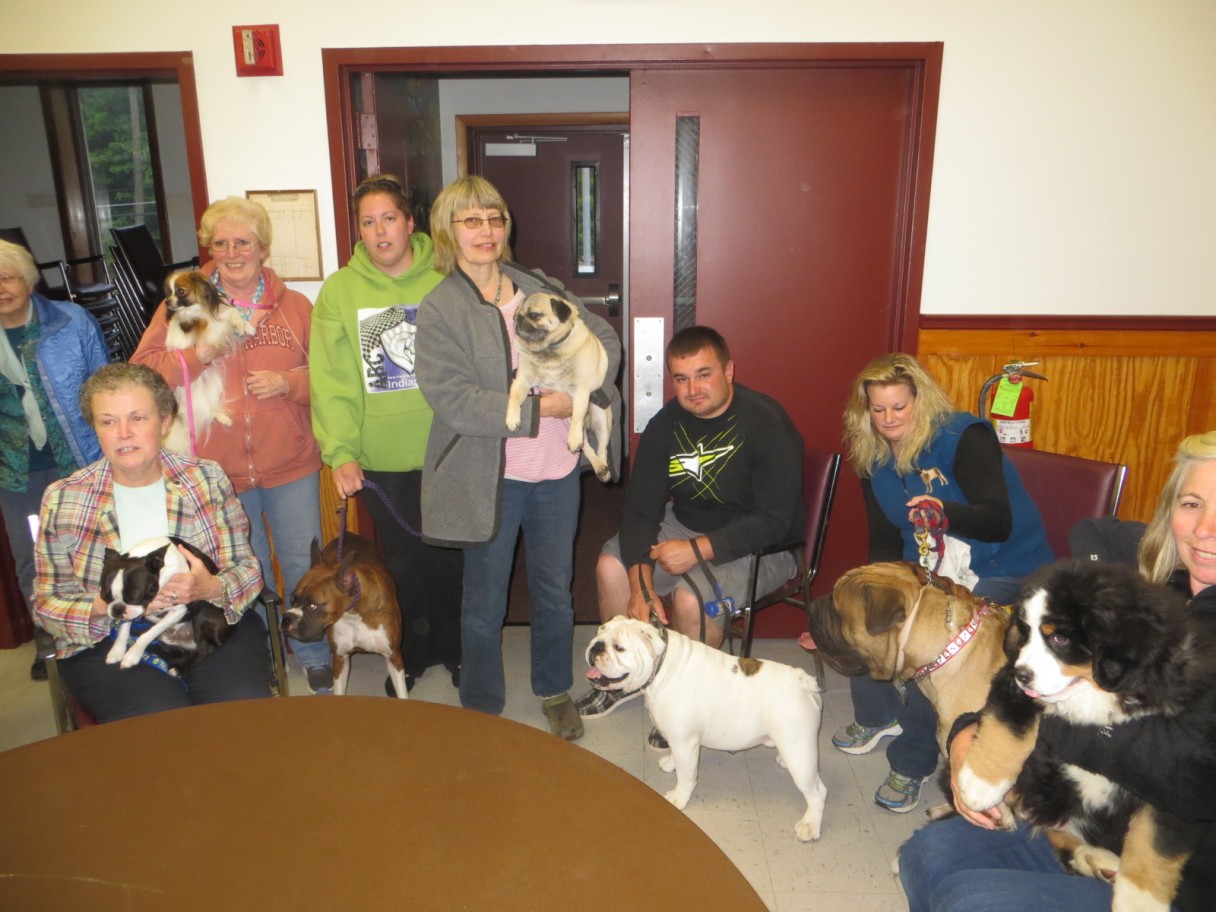 Putnam Kennel Club members at the presentation
These Bullmastiffs were happy to help their community
A Bernese Mountain Dog puppy was all smiles at the presentation