A dozen four-legged heroes bravely served our country overseas, saving thousands of American lives. But for the past year and a half, they'd been living in limbo at a kennel in Chester, Virginia, while a contract company who purchased the dogs from the Department of Defense tried to place them as therapy dogs. The new job for the dogs never came through, leaving the kennel owner to care for them indefinitely.
But finally, yesterday, July 27, the dogs were taken under the care of the United States War Dog Association and a nonprofit, Mission K9 Rescue, who are working to reunite the dogs with their handlers or find new homes for them to live out their retirement. Meanwhile, the man who cared for them and rehabbed them for the past 17 months is in financial distress.
The dogs originally arrived in the kennel in February 2014, where they were to stay for only six to eight weeks.
"When the K9 warriors were delivered to Mt. Hope Kennels on February 10, 2014, they were originally the property of the Department of Defense and were adopted by a private contract company," said Mission K9 Rescue cofounder Kristen Maurer. "The plan for the dogs was to be repurposed for another mission, but that never happened."
The kennel owner, Greg Meredith, is owed $150,000 on top of the out-of-pocket expenses that he said reached the tens of thousands. A GoFundMe account has been set up to help Meredith recover the costs he spent caring for the dogs.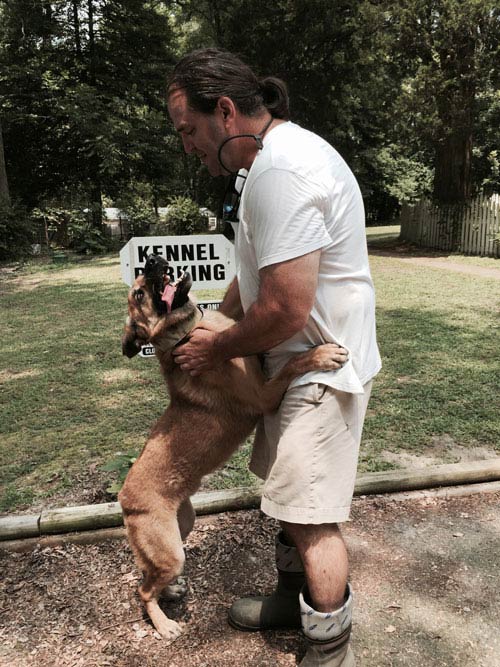 "This guy has lost everything taking care of these dogs," Mission K-9 Rescue cofounder Bob Bryant told us. "I'm amazed at how energetic, friendly, and happy they are. These dogs have been emotionally nourished and cared for."
Some of that care involved giving medication and treating severe war trauma, like PTSD. "The dogs are in really in great shape," said cofounder Kristen Maurer. "This kennel owner could have just abandoned them, but he exercised them and kept them mentally stimulated. The dogs really love him."
Meredith told AKC that the dogs showed up emaciated and half of them suffered from PTSD. One needed surgery to removed shrapnel from his tail. "We rehabbed them, loved them, exercised them. We took care of them," said Meredith, who has also rehabilitated dogs rescued from Michael Vick's fighting ring. "These dogs served our country. They don't have a voice, and if I hadn't spoken up for them, I think they might not be alive now."
At least eight will be reunited with their handlers, and Mission K-9 Rescue is working on finding the last four handlers.
Meredith explains that one dog, Abby, was promised to his handler, but the man tragically died in a car accident. The man's wife and two children are now taking the yellow Lab home. "This is the last connection that they have to their father," Meredith says.
He also told us about Moto, a mixed-breed who was reunited with his handler, Ethan Mordue, yesterday. "There wasn't a dry eye in the place."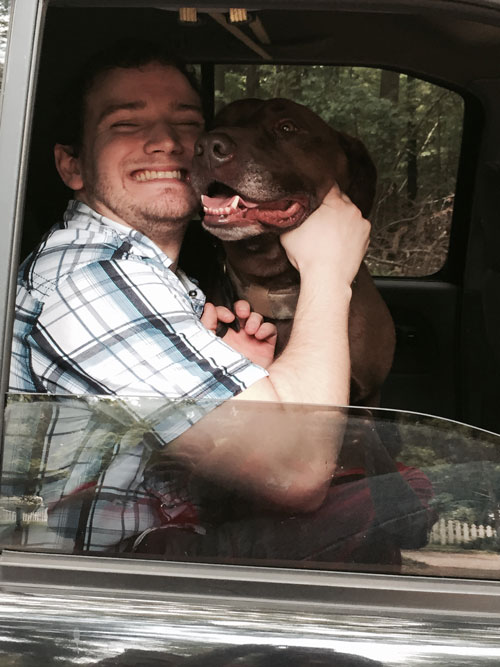 "All in all, it's been financially devastating for us, but it's been well worth it to see the good that's coming to these dogs."
If the dog's handlers are not able to take them in, they will be available for rehoming. All applicants must submit a notarized application from Mission K9 to be considered.
To apply or to help financially, send an email to Mount Hope Kennel, or visit Mission K9 Rescue or U.S. War Dog Association.
https://www.akc.org/wp-admin/admin-ajax.php
Get Your Free AKC eBook
Does Your Dog Have What it Takes to be a Therapy Dog?
My dog is great with people, I want her to be a therapy dog. Where do I start? If you have asked this question then this e-book is for you. Download to learn more about Animal Assisted Therapy and how to get started.