Although GCHS Oceano Darbydale's Xecutive Decision (affectionately known as Xander) is entering the ring at the Beverly Hills Dog Show this weekend for the first time, he's already accustomed to winning big—especially at the expense of his owner.
The Newfoundland, though a member of the Working Group, decided early on that he shouldn't have to put in work to earn some cold hard cash. Kathy Wortham, his owner out of Costa Mesa, Cali., learned this after making the mistake of leaving out some money on her kitchen counter.
"I left a couple hundred dollars out early in his life, and when I got home, I was dismayed to find a piece of a torn twenty-dollar bill in the yard," she explains. "I looked everywhere in the yard and in the house for the rest of the money, and it was nowhere to be found."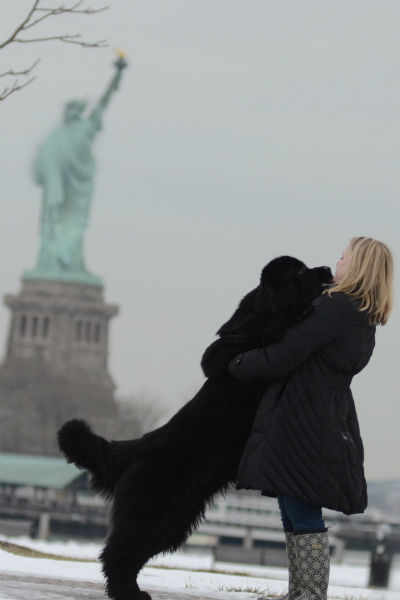 And the buck didn't stop there. Xander (the obvious culprit) struck again—and was caught red-pawed when Wortham had a sneaking suspicious where he was hiding his stash.
"One day, as I was cleaning the bedroom and around his bedding, I got a funny feeling," she says. "Xander used to take his favorite toys and stash them under his bed, leaving it lumpy. He hadn't done it in a while, but I thought I'd just check and see. Lo and behold, there were hundreds of dollars in twenty-dollar bills stashed under his crate pad."
 
Luckily, Wortham has a good sense of humor about the situation, crediting the adorable Newfie with being fiscally responsible. "I had to concede to myself that I had a dog with a problem," she explains. "But Xander is a dog with a personality. He's social, talkative, a little bit serious, and consciously concerned about his financial future and security."
Despite this hilarious thievery, Xander is otherwise a very well behaved pup—he has his Canine Good Citizen (CGC) Certificate and is actively training in obedience, draft work and water rescue.
We wish him the best of luck at this weekend's show!
https://www.akc.org/wp-admin/admin-ajax.php
Get Your Free AKC eBook
The Five Commands Every Dog Should Know
Do you want a well behaved dog but don't know where to begin? The Basic five commands e-book is a great place to start and will give your dog a strong foundation for future training.