Just how humans have first and last names, dogs registered with the AKC have two names as well but it works a little differently. Every registered dog will have its official name and what is known as a "call name," which is what you call them when you're playing with them in the backyard. So you know your Bloodhound as "Rusty" while the AKC knows him as "Wake Forest's Noble Tracker." This official name is used in the dog show ring as well.
Find out your dog show name by using our inforgraphic below and click here for viewing information for this year's AKC/Eukanuba National Championship Dec. 12-13.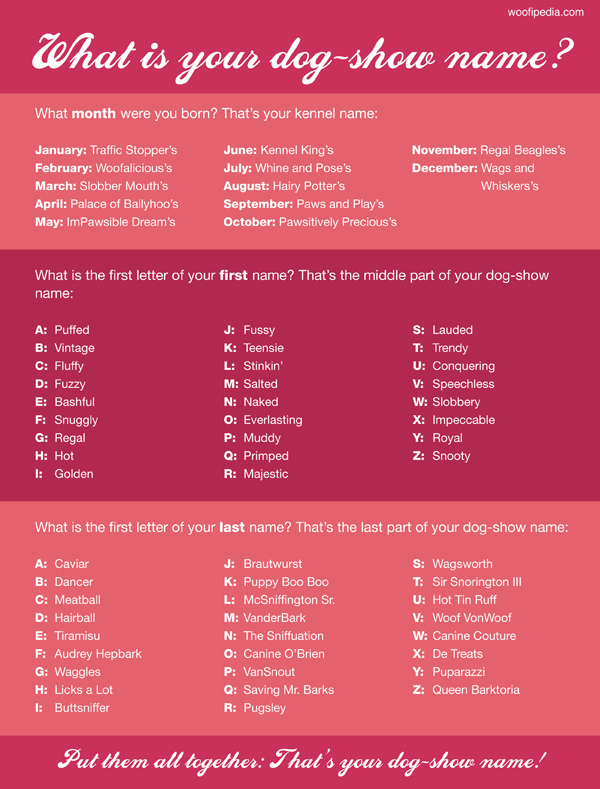 What month were you born?
That's your kennel name:
January: Traffic Stopper's
February: Woofalicious's
March: Slobber Mouth's
April: Palace of Ballyhoo's
May: ImPawsible Dream's
June: Kennel King's
July: Whine and Pose's
August: Hairy Potter's
September: Paws and Play's
October: Pawsitively Precious's
November: Regal Beagles's
December: Wags and Whiskers's
What is the first letter of your first name?
That's the middle part of your dog-show name:
A: Puffed
B: Vintage
C: Fluffy
D: Fuzzy
E: Bashful
F: Snuggly
G: Regal
H: Hot
I: Golden
J: Fussy
K: Teensie
L: Stinkin'
M: Salted
N: Naked
O: Everlasting
P: Muddy
Q: Primped
R: Majestic
S: Lauded
T: Trendy
U: Conquering
V: Speechless
W: Slobbery
X: Impeccable
Y: Royal
Z: Snooty
What is the first letter of your last name?
That's the last part of your dog-show name:
A:Caviar
B:Dancer
C:Meatball
D:Hairball
E:Tiramisu
F:Audrey Hepbark
G:Waggles
H:Licks a Lot
I:Buttsniffer
J:Brautwurst
K:Puppy Boo Boo
L:McSniffington Sr.
M:VanderBark
N:The Sniffuation
O:Canine O'Brien
P:VanSnout
Q:Saving Mr. Barks
R:Pugsley
S:Wagsworth
T:Sir Snorington III
U:Hot Tin Ruff
V:Woof VonWoof
W:Canine Couture
X:De Treats
Y: Puparazzi
Z: Queen Barktoria
Put them all together: That's your dog show name!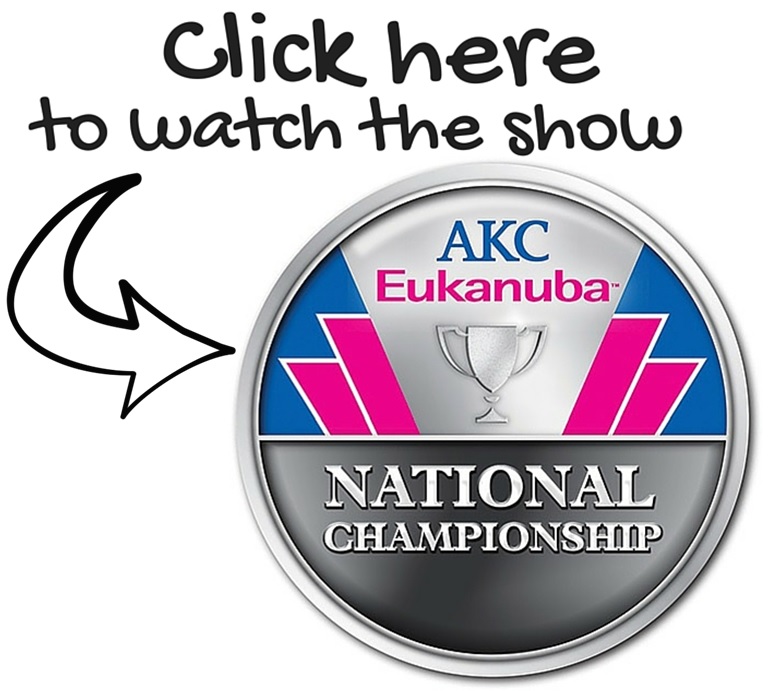 https://www.akc.org/wp-admin/admin-ajax.php
Get Your Free AKC eBook
Breeder Education Courses
Training isn't just for pets - here's your chance to learn too. Visit the AKC Breeder Education Platform designed to support your continuing education needs. Course topics include introduction to breeding, genetics, anatomy, whelping and nutrition.