Meet Willey Boy and Cheswick, two Old English Sheepdog buddies who are registered Pet Partners therapy teams in Bellingham, Washington.
Willey and his handler, Barb Webb, have been a registered therapy team since 2010 with more than 300 hours donated. Cheswick and his handler, Judy Davis, have been a therapy team since 2013 and have put in more than 200 hours. Willey and Cheswick are 12 1/2 years old and continue to have a busy schedule. They visit elementary school classrooms, the Western Washington University campus during finals week, volunteer fairs, assisted-living facilities, hospice-care facilities, technical and community college campuses, and anywhere else they may be needed. They have participated in numerous parades in Bellingham and Seattle with the Old English Sheepdog Club and other organizations.
These two are always willing to go wherever people are in need of a cuddly friend. When their vests go on, they become great ambassadors for the Pet Partners program, never tiring of endless hugs and pats.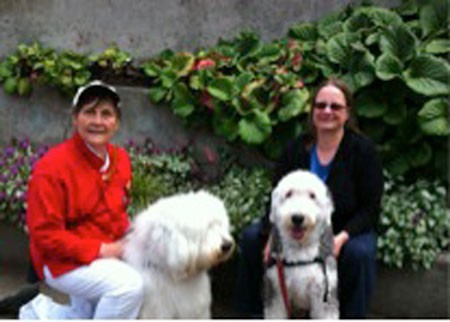 Giving a Voice to Those Who Need it Most
On one of our visits to Western Washington University for finals week we were reminded once again of the impact of therapy animals. A neatly dressed, solemn young man arrived to meet Willey and Cheswick as we began our two-hour visit in the university's library. At first, he laid in the middle of them speaking quietly to them. He exchanged a whispered hello with us and as he did so it was obvious that he seemed troubled about something. He had a sad and faraway look in his eyes. He appeared to look through us and not really at us.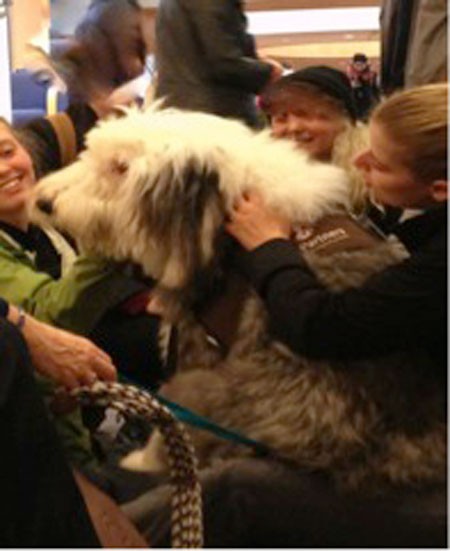 Students quickly appeared and gathered around the dogs as they always do when therapy teams arrive on campus. During all of this commotion, the young man never left his spot. Eventually, he wrapped his arms around Willey as he continued to lie alongside him. Students came and went throughout our visit and as countless students sat, spoke and petted Willey, this student remained where he was, never speaking to anyone. He remained with us for the full two hours. As we were preparing to leave and make way for the next therapy team's arrival, this student's story began to unfold. He was a veteran and had recently returned to the states. This was his first quarter back at Western. He was excited to be back but worried about being recalled. War had changed him. Finally, it was time to leave and his heartfelt thank you, his lingering hugs to both dogs, but especially Willey, and the smile on his face were a wonderful reminder of why we both became involved with therapy work.
 
Lending a Shoulder to Cry on
Cheswick and Willey have both been visitors to hospice where we are often contacted by a person's family or themselves requesting our dogs' presence. Cheswick and I made such a visit a while ago. My husband and I had a very dear friend who was in hospice and requested a visit. As we walked into her room that day, that magical shift I've witnessed so many times began. A large number of family members had gathered in the dimly lit room. Our friend slept as family members struggled with handling the situation in their own way. Most were sitting silently, others absorbed in muted conversations while some sat teary eyed. Cheswick stood in the doorway for a few seconds taking in the scene, sensing that his presence was needed here. As we entered the room, smiles instantly crossed faces, eyes lit up and a wonderful animation of moods began a transformation in the room. Adults and children stood or reached out to pet and hug him. However, he had fixed his sights on our friend's youngest daughter. She appeared the most distraught and sat in a corner by herself.
Cheswick made his way to her and as he did she dropped to the floor wrapping her arms around him burying her face in his thick coat. She quietly wept as he laid his head over her shoulder. In minutes, she regained her composure but all the commotion had now awakened her mother. Cheswick noticed her movement and gently pulled away from the daughter to place his head on the mother's bed. He gently slid his nose under her hand and as she opened her eyes a smile spread over her face as she pet him. The mood in the room was different now, as people began to move about the room in order to be close enough to pet Cheswick or lay around him as he kept close to the daughter and mother. He welcomed them all. The blinds were opened and as light flooded the room so did laughter and stories shared about our friend and their cherished family pets. We stayed for a long while until the people wandered away and our friend drifted off to sleep.
 
Inspiring Improvements in the Young and Old
Both of our dogs visit elementary classrooms on a regular basis. There they listen to struggling readers, sit with children who are having a tough day or cuddle with one or more students who feel worried, alone or just want someone to cuddle with for a while. Willey specializes in working with disabled children. They have sat with students during major assessments, sometimes helping children pass the tests for the first time. Evidently, the calming effect of a canine buddy next to them was all they needed.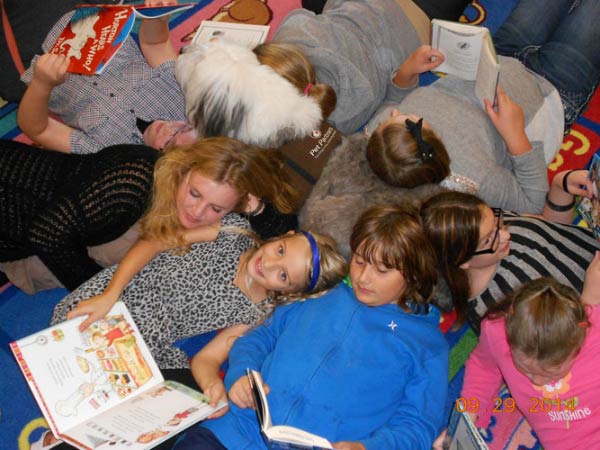 Our visits to assisted living, especially the memory wards are always unforgettable for us. It never ceases to amaze us that people struggling to remember details about themselves and their family members will remember Willey and Cheswick. We have both sat with individuals who engage in friendly conversations with us about the dogs as they pet and hug them to only be informed by staff members later on that these same people have hardly spoken since their arrival to the facility.
The insights, rewards, smiles and laughter therapy animals bring to those they visit are magical. We feel so privileged to be part of such an inspirational and dedicated group of people involved with the Pet Partner program.
 

https://www.akc.org/wp-admin/admin-ajax.php
Get Your Free AKC eBook
Canine Body Language
Your Dog is Trying to Tell You Something.  Dogs communicate their wants, needs, happiness and fear primarily through body language. Are you ready to learn what your dog is trying to tell you? Download this e-book to learn more.