A pet makes a wonderful addition to any household. Cats and dogs mean furry snuggles and tons of comic relief; they can also teach us all a few things about unconditional love. Unfortunately, they also bring with them some less desirable traits: sloppy table manners, a propensity to break things, and truckloads of animal hair.
It's true, dogs can be messy. In fact, your beloved canine can actually ding the value of your property if you're trying to sell by adding scratches to your doors and floors, funky, semipermanent smells, and other flaws that prospective buyers might just catch. However, there are precautions you can take to pet-proof your home so that their negative impact is greatly reduced.
Follow these tips to do doggy damage control.
In Partnership with

Create a separate eating area for them
When Judy Morgan, a veterinarian in Woolwich, NJ, remodeled her kitchen, she took the opportunity to turn a room in her basement into a kitchen that caters specifically to her nine dogs and four cats. The vet took her old cabinets, a small refrigerator, a microwave, and even a Keurig machine downstairs to create an eating space just for the animals.
"They eat down there so they won't scratch the new kitchen cabinets when they are excited and jumping up to see their food being prepared," says Morgan. "We keep their food in the downstairs refrigerator and warm it in their own microwave. The Keurig is for making hot water to rehydrate or warm meals."
Get smart about flooring
Not everyone has room to create a second kitchen for their cats and dogs, so Morgan also recommends bamboo flooring in common areas.
"Bamboo is much harder than most woods so it doesn't scratch easily," she says. "It also has no grooves between boards like other hardwood floors. Grooves are a real pain when there is a urine or poo accident."
Tile is another good option, says Morgan, who used that material in her sunroom because it's easy to clean. She also recommends recycled tire rubber flooring as a great basement floor covering for people with kids and pets.
"Phenomenal product, comes in large rolls, used in a lot of gyms," Morgan says of rubber flooring. "Comes in an amazing array of colors and thicknesses."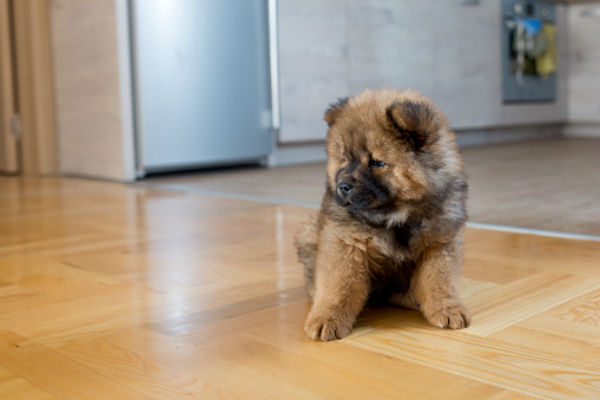 As you might have guessed, carpet is not a terrific choice. "We have no carpet, other than on the stairs," notes Morgan. "Carpet holds hair and odors and is an allergy disaster for people with allergies."
Decorate your windows wisely
Dog owners should also pay special attention to windows in their home.
"Curtains, for their own sake, should not drag the ground", says Michelle Newfield, a veterinarian in Slidell, LA.
Newfield suggests thick blinds for window coverings (think wood or even faux wood, material meant to stand the test of claws). "And be sure to secure the cords out of reach," Newfield says.
Set up some barriers
If you have a beloved vase or rug that you fear could be ruined by your dog, the answer may be as simple as setting up a barrier to keep curious creatures out.
"Most animals explore their environment with their noses and mouths," explains Patrick Mahaney, a vet based out of Los Angeles. "It's common for indoor and outdoor items to be sniffed, licked, or chewed upon, so it's crucial to use physical barriers. Baby gates, doors, screens, and other barriers can do the trick."
Or, if it's all but impossible to keep your dogs off your gorgeous new couch, try a different type of barrier by covering it in a large throw blanket. That way, they can lounge and shed with abandon; then, when company comes, you can lift it off and see a clean couch!
Keep pet paraphernalia out of sight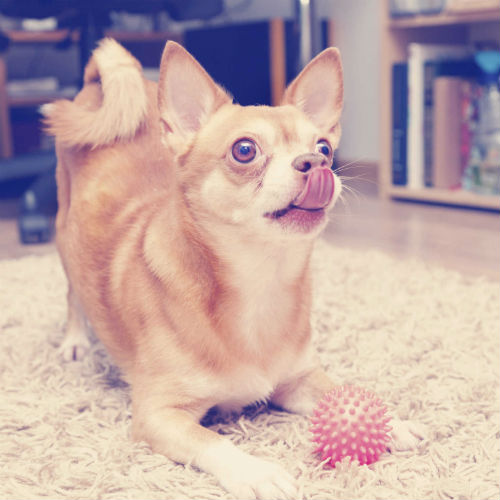 There's nothing like a gnawed-on bone in the center of your living room floor to ruin the ambiance. So get a cute basket in which you can stash dogs toys and set it off to the side and out of sight. You can also give dogs a place to call their own that doesn't detract from your design. Place a cozy crate or dog bed in a kitchen nook, under a table, or in a corner. This way your dog will have a special space in the house to call his own.
By: Brittney Gilbert
This article "How to Pet-Proof Your Home So It Doesn't Look Like It's Gone to the Dogs" appeared first on Real Estate News and Insights from realtor.com. Want more information on living with pets in your home? Get tips here.
https://www.akc.org/wp-admin/admin-ajax.php
Get Your Free AKC eBook
The Five Commands Every Dog Should Know
Do you want a well behaved dog but don't know where to begin? The Basic five commands e-book is a great place to start and will give your dog a strong foundation for future training.