AKC Breeder Spotlight: Amy Shaffer of Crivitz Standard Schnauzers
Each month the American Kennel Club profiles breeders to hear how they got started and learn about their breeding program and their experience with AKC Marketplace. We recently spoke with AKC Breeder of Merit Amy Shaffer of Crivitz Standard Schnauzers. Amy originally started with Irish Setters but allergies took her on a search for a lower allergen breed and led her to the Standard Schnauzer. Her dogs have excelled in the show ring with multiple championships, group placements and Best in Show wins.
Tell us about your breeding program and how you got your start as a breeder.
"We live in Crivitz, WI, on our family resort, one hour north of Green Bay. As a teenager, I participated in 4-H, placing at state competitions in obedience and conformation with my black cocker spaniel, Cricket.
As an adult, I pursued Irish Setters through the Meadowlark kennel line. Sadly, allergies didn't allow me to continue in Irish Setters. After researching AKC breeds known to be lower in allergens, I found the Standard Schnauzer. I called the best in Standard Schnauzers, Constance C. Adel of Charisma Standard Schnauzers. In September 2001, we received our first Standard Schnauzer puppy, Charisma Syncopation V Rocky. He was a Rocky son and we gave him the call name Dylan. He quickly finished his AKC conformation championship, and he has been our backbone.
I am proud to continue the Charisma breeding program with procuring their frozen semen of famous and ground breaking multiple Best in Show (BIS) Ch. Charisma Café Diable, born in 1975; Am/Can Ch. Snowshoes Gusto of Charisma; and Am/Can Ch. Charisma Jailhouse Rock. Rocky represented Charisma Standard Schnauzers with a record four back-to-back National Specialty BISS wins and 75 U.S. Best in Shows."
What is the most important thing to know about your breed?
"Standard Schnauzers are highly intelligent first time learners. Time in training is essential."
How as the AKC Marketplace helped you find puppy buyers?
"AKC Marketplace provides us with a wide audience of potential educated, dog loving homes."
What is your favorite question to ask potential puppy buyers?
"Have you met a Standard Schnauzer?"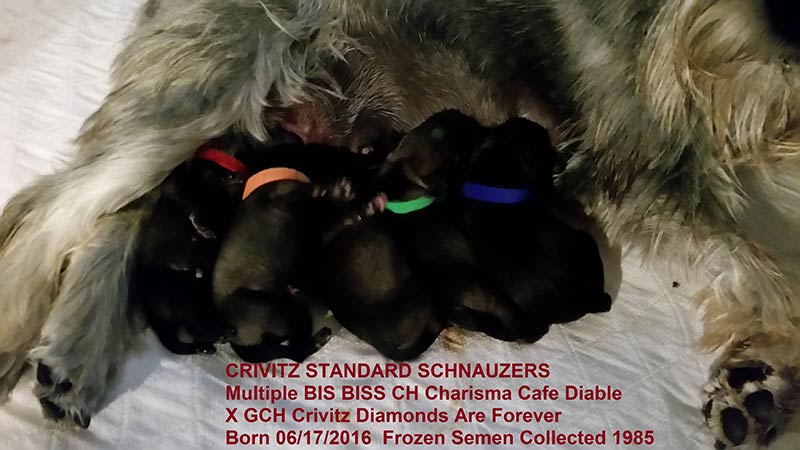 What are the top qualities that you look for in potential owners?
"We look for an engaged, patient person or family with a love of animals. We want our puppies to go to forever homes where they are loved family members."
What advice do you give to novice breeders?
"Please, slow down, study, research, and find a mentor you admire and who will help you. Work hard, listen and follow your mentor's guidance."
Do your dogs participate in AKC sports?
"Our Standards participate in conformation with professional handlers, Jody and Leonardo Garcini. We are currently specialing GCh. Crivitz Paparazzi, aka Buzz. Buzz was bred in 2014 using the frozen semen of Int. Ch. Parsifal Di Casa Netzer, who was the Westminster Kennel Club Best in Show winner in 1997, shown by Douglas Holloway and bred by Gabrio Del Torre."
What is your favorite thing about being a breeder?
"I love planning and researching a litter. I've been known to be up into the early morning hours with old books, including our Standard Schnauzer source books, with the computer burning, looking up old pedigrees, photos and progeny.
My second favorite part of being a breeder is receiving traditional Christmas cards with puppy and family updates and photos."
Do you have a favorite breeding story?
"In 2016, we had a litter of five healthy and beautiful puppies using frozen semen collected in 1985. Dr. Beverly Brimacomb surgically implanted the frozen semen of Ch. Charisma Café Diable. It's exciting and amazing to use today's science and technology to revive one of the most important sires in Standard Schnauzer history. We are thankful and blessed to continue these sacred lines of Charisma. The Adels' mentoring and guidance has been priceless."
https://www.akc.org/wp-admin/admin-ajax.php
Get Your Free AKC eBook
Tips for Responsible Dog Owners
This e-book is a great resource for anyone who's considering dog ownership or already owns a dog. Download for tips on how to be the best dog owner you can be.