Tioga County Kennel Club honored two officers and their K-9s in a special presentation at their all-breed show on Sunday, August 21, 2016 in Apalachin, New York.
The Tioga County Kennel Club has been a proud supporter of the Southern Tier Police Canine Association for several years and has donated over $5,000 to their organization.
New York State Senator Fred Akshar presented the AKC awards to Officer John Vanek and K-9 Tarah and Officer Rick McCulskey and K-9 Sig along with personalized Rosettes in Shadow Boxes.
Sig is a two-and-a-half year old Belgian Malinois. He arrived in the United States from Belgium on Christmas Eve 2014.
At thirteen months old, Sig participated in his first canine competition at the National Narcotics Detector Dog Association annual conference in Tennessee and received his NNDDA Narcotics certification.
Sigs' training has continued through the Southern Tier Police Canine Association and now holds New York State certifications in Advanced Narcotics Detection, Police Patrol, Tracking, and Article Search/Scent Detection. Sig and Officer McCulskey are also certified in Narcotics Detection and Tracking by the North American Police Working Dog Association, and have recently rectified their NNDDA Narcotic certification.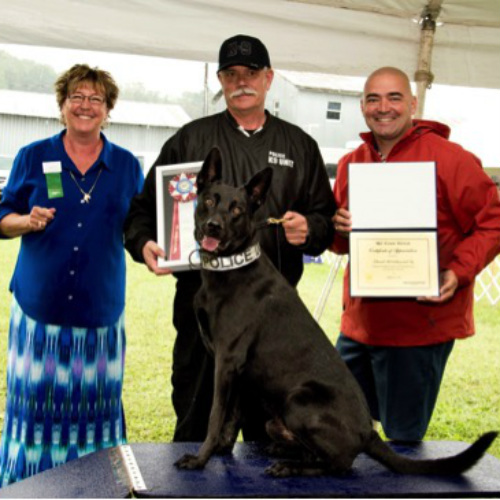 From left: Vicki Kubic – Tioga County Kennel Club, Officer Rick McCulskey and K-9 Sig, New York State Senator Fred Akshar
Sig and Officer McCulskey are currently employed as a patrol canine team by the Village of Spencer New York Police Department.
Tarah is a 8-year-old German Shepherd Dog that was born at the Royal Canadian Mounted Police Service Training Centre in Alberta, Canada. Tarah was sold to the Southern Tier Police Canine Assoc. in 2008 and immediately began her training as a Narcotics Detection Police Service Dog and Tracking Dog with her handler and trainer, Endicott, NY Police Officer John Vanek. Tarah is trained as a passive alert Police Service Dog, meaning she will come to final positive alert position to the odor of illegal drugs, sitting facing her handler. Tarah is the only dog trained and certified in the area to scan the air emanating from around people, making her a unique criminal interdiction tool.
Tarah's unique ability gained her national attention when she was mentioned by several late night TV hosts (such as David Letterman and Conan O'Brien) after a news article was published about an individual that walked up to pet Tarah while they were on patrol.
Tarah alerted the odor of illegal drugs emanating from that individual and marijuana was recovered and the individual was arrested.
In 2015, Tarah had 87 arrests and year to date in 2016, she stands at 50 arrests!
We thank these hardworking K-9s for their service to our community!
Header photo: From left, Vicki Kubic – Tioga County Kennel Club, Assistant Chief Craig Williams, Endicott Police Department, Endicott Officer John Vanek, New York State Senator Fred Akshar, and K-9 Tarah
Related:
Sussex Hills Kennel Club Supports Morris County Sheriff's Department K-9 Unit
Tampa Bay Kennel Club Recognizes Two K-9 Officers For Exceptional Service