The Laurel Highlands Kennel Association (LHKA) has honored K-9 officer Bak and his handler Sheriff Robert Fyock for their service to the Indiana County Sheriff's office.
Sheriff Fyock and Bak received the AKC Canine Officer Certificate of Appreciation.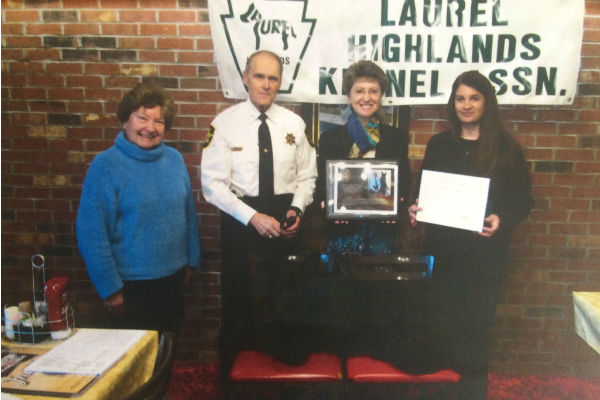 Sheriff Fyock presented LHKA with a plaque of appreciation for their $500 donation to the Indiana County Sheriff's office K-9 unit.
The Canine Officer Program honors dogs, like Bak, who work in government agencies and provide service to their community. The program, which began in February, has already recognized nearly 20 K-9 officers and their handlers.
Learn more about the hardworking dogs who have been honored through this program below:
First Canine Officers Recognized For Their Work In AKC Canine Officer Program
13 K-9s Recognized For Their Work By Wilmington Kennel Club
Caddo Kennel Club Honors Three K-9s For Their Service To The Community