Two canine officers were recognized for their work March 26 in Raleigh, North Carolina as part of AKC's new Canine Officer Program, which honors dogs who work in a public service role for government agencies. The two K-9s are the first dogs recognized by the new program that was introduced Feb. 16.
Sig, a German Shepherd Dog, and Hydro, a Labrador Retriever, were recognized for their work with the Wake County Sheriff's Office and were nominated by Bill Pfeiffer of the Raleigh Kennel Club. Also, The Raleigh Kennel Club donated $7,500 to the Wake County Sheriff's office to support the K-9 purchase and to also help with medical expenses of the retired K-9s.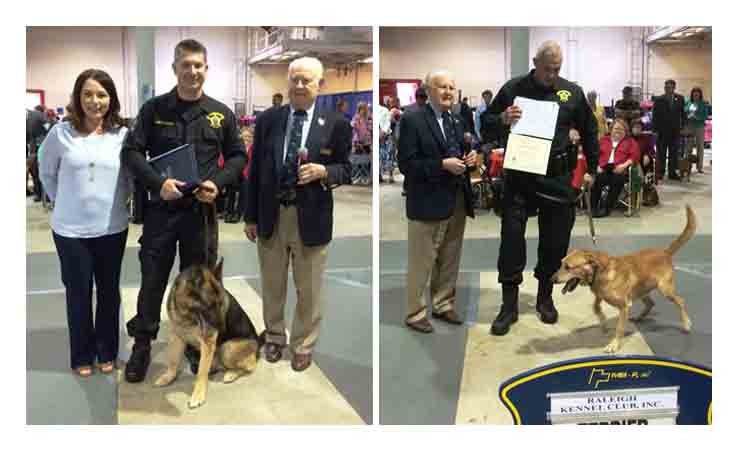 K-9 Sig (left) and K-9 Hydro (right) after receiving their recognition in Raleigh.
K-9 Hydro was partnered with Master Deputy James Smith in November 2012 and together they were certified as a Narcotic Detection K9 Team in 2013. Master Deputy Smith and K-9 Hydro have successfully intercepted approximately $40 million worth of narcotics in the 1,300 times they have been deployed during the past four years.
K-9 Sig has been partnered with Master Deputy Tim Bordeaux in October 2009. During K-9 Sig's six-year career, he has had more than 61 tracking finds, which include missing children, adults, and criminal suspects. He holds the record for the most tracking finds by a K-9 in the Wake County Sheriff's Office.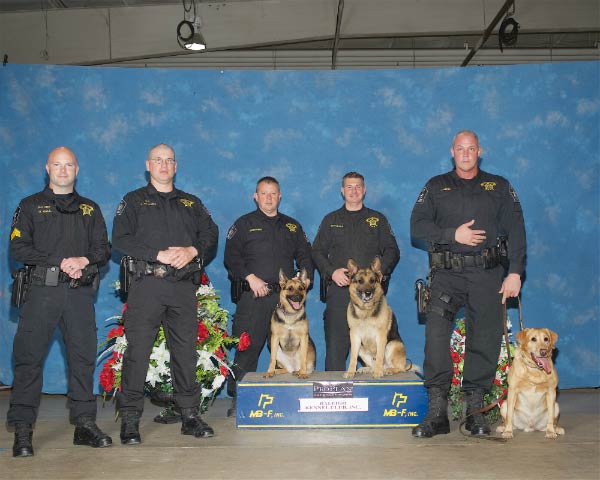 Sgt. G. Wall, Master Deputy J. Williams, Master Deputy R. Wilbourne & K9 G Gracie,
Master Deputy J. Bordeaux & K9 Sig, Master Deputy J. Smith & K9 Hydro
Read more on the introduction of the Canine Officer Program here.
Related stories:
The Working Dog is Named New York's Official State Dog
Federal Bomb-Sniffing Dogs Trained To Find Homemade Explosives