The American Kennel Club (AKC®) honored recipients of the AKC® Lifetime Achievement Awards at the annual Delegates Meeting Luncheon, in conjunction with the AKC/Eukanuba National Championship. The winners received an engraved silver Revere bowl. A larger Tiffany and Co. bowl, engraved with the names of all recipients past and present, will remain on permanent display at the AKC® Headquarters in New York City.
The AKC® Lifetime Achievement Awards were created to honor those individuals who have made outstanding contributions to the sport of purebred dogs on a national level. The recipients were selected by votes cast by AKC® member clubs for nominees in each of the following categories: Conformation, Companion Events and Performance.
Conformation: Pat Hastings
Pat Hastings has been involved in the dog world since 1959. She began her career as an owner-handler, moved into breeding, and then teamed up with her late husband, E.R. "Bob" Hastings, in professional handling.
Nearly 30 years ago, Pat and Bob began researching canine structure in order to help breeders more accurately evaluate litters to determine the best lifestyle choice for each puppy. Pat has evaluated over 25,000 puppies, always taking time to discuss her findings and teach about canine structure. Her expertise is respected by show and performance people alike.
She began judging for AKC in 1991. Besides judging at countless all-breed shows, she has been honored to judge many Nationals, both here and abroad, including the Doberman Pinscher Club of America's National three times, a club that honored Pat and Bob with its Lifetime Achievement Award.
Along the way, Pat has chaired local shows, National Specialties, and a major benefit for "Take the Lead."
As a highly respected educator in the dog world, Pat has always endeavored to teach by example, to approach all aspects of the Sport with respect, common sense, and personal integrity.
Pat has presented seminars for 25 years around the world to all aspects of the sport and has authored three best-selling books, produced a popular DVD and has written numerous articles for a variety of publications.
She is a great believer in the value of mentoring and has worked with novices and new judges providing information, moral support, and encouragement.
Companion Events: Lynn Eggers
Lynn Eggers began her career in dogs in 1961 with a miniature Poodle who became her first obedience Utility dog. She subsequently owned and trained her first Doberman Pinscher, who became 1967's top-winning Doberman in the country.
Thus began her long passion for the sport of dogs. Lynn began judging obedience in 1968 and has continued her love of the sport for 45 years. A judge of all levels of obedience and rally who has judged in virtually every state in the United States, Lynn loves to judge. She believes that today's obedience dogs are far superior to those of the past, due to better training methods and positive reinforcement.
Lynn has bred Doberman Pinschers for 43 years under the kennel name "Foxhall." She is very proud to have bred and owned the first AKC-champion Doberman bitch with a Schutzhund 3 title.
A member of the board of the Doberman Pinscher Club of Dallas, and a longtime member Doberman Pinscher Club of America, Lynn stays very involved in the sport. Lynn is very proud of her role as board member of Take the Lead.
Lynn has always felt a calling to encourage each exhibitor and to praise their efforts in training their dogs. She says it is important in our society to encourage everyone to do basic training with their dogs. Lynn has been known to say to exhibitors, "Dogs do not wind up in rescue when they have someone who takes the time to train them, so I congratulate each of you here today for your accomplishment."
Performance: Dr. Ray Calkins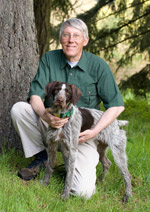 Dr. Ray Calkins received his degree in veterinary medicine from Iowa State University and purchased Wilsonville Veterinary Clinic in 1976.
Ray handled his first German Wirehaired Pointer to a red ribbon in a puppy stake in 1975. Since then, 10 "Cascade" GWPs, all owner-trained and –handled, have earned field championships; three are dual champions, eight are master hunters, and two hold NAVHDA Utility ratings. Four Cascade dogs hold nine National Field Championships. Cascade sires are the number-one and -two producers of GWP field champions, and others carry Cascade dogs in their pedigrees.
Ray has been a member of the GWPCA since 1974 and served on the board of directors for 10 years. He was Field Futurity chairman for 12 years, a member of the GWP Field Trial Advisory Board from 1985–2000, represented the German Wirehaired Pointer Club of America at the AKC Field Trial Advisory Board from 1986 until 1999, and is currently the GWPCA president.