The American Kennel Club (AKC®) honored recipients of the AKC® Lifetime Achievement Awards at the annual Delegates Meeting Luncheon, in conjunction with the AKC/Eukanuba National Championship. The winners received an engraved silver Revere bowl. A larger Tiffany and Co. bowl, engraved with the names of all recipients past and present, will remain on permanent display at the AKC® Headquarters in New York City.
The AKC® Lifetime Achievement Awards were created to honor those individuals who have made outstanding contributions to the sport of purebred dogs on a national level. The recipients were selected by votes cast by AKC® member clubs for nominees in each of the following categories: Conformation, Companion Events and Performance.
Conformation: Patricia Craige Trotter
Pat registered her first litter of Vin-Melca Norwegian Elkhounds in 1951 and her most recent litter this year. Her program has produced the Top Sire and Dam as well as the top winners in the breed's history. Vin-Melca Elkhounds have won 10 Hound Group firsts at Westminster, all owner-handled.
When Ch. Vin-Melca's Vagabond became Top Dog All Breeds in 1970, he was the first amateur-handled dog to achieve that honor. Pat has had Top 10 All-Breed status on 10 occasions while working as a full-time teacher. Pat has served as show chairman for the Tidewater Kennel Club, past-president and show chairman of the Del Monte Kennel Club and contributing member of the Norwegian Elkhound Association of America and the Nashville Kennel Club.
In 1952 Pat won the Gaines Girl Show Dog Fancier of the Year. She won numerous Winkie Awards including Breeder and Owner-Handler of the Year (repeatedly) and AKC Hound Group Breeder of the Year in 2004. Other honors include the Quaker Oats (now ProPlan) Hall of Fame and two Fido awards as Dog Woman of the Year and Dog Writer of the Year. As an AKC Gazette Better Breeding columnist, she won a 1997 Maxwell Award from the Dog Writers Association of America.
Pat judged the 2009 Westminster Hound Group and will judge the 2012 Best Bred-by-Exhibitor in Show at the AKC/Eukanuba National Championship. Two Vin-Melca Elkhounds won BBE AKC/Eukanuba Hound Groups (2008, 2010) and a third BBE AKC/Eukanuba Group winner was Vin-Melca sired.
Companion Events: Sharon Redmer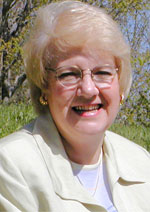 Sharon began training her first dog, an All-American shelter rescue, with the Ann Arbor Dog Training Club in 1970. Her first Belgian Tervuren, acquired in 1972, became a multi-High-in-Trial UDT. For over 30 years, Sharon has pursued two passions: being the very best AKC judge she can be and breeding beautiful Belgian Tervuren with the character to compete in every venue.
Over 150 of her "StarBright" bred Tervuren have earned CHs, GCHs, OTCHs, MACHs, HTCHs, and CTs plus many obedience, agility, herding and tracking titles, Group and Specialty wins, High-in-Trials and perfect 200 scores.
Even judging 50 AKC shows a year, Sharon finds time to mentor new and hopeful obedience judges. Exhibitors in her ring find a judge with a welcoming smile and encouragement. Sharon's philosophy is simple: "Kindness is never wasted."
A judge of the Herding Group, Poodles, Dobermans, Rally and Juniors, Sharon has officiated at past AKC National Obedience Invitationals including the inaugural Juniors' competition in 2011. She has judged Nationals for her Belgian breeds (multiple times) and specialties on four continents.
An Honorary Life member of the Ann Arbor Dog Training Club and the Ann Arbor Kennel Club, Sharon has served the American Belgian Tervuren Club as President and AKC Delegate, and is a popular seminar presenter on judging the Tervuren. Sharon recently retired as the director for community outreach services at the University of Michigan Health System.
Performance: Jean Dieden, DVM
Dr. Dieden has been involved in AKC Performance events with her Hathor Farm Wirehaired Dachshunds since 1992. They have earned 12 Field Championships (11 of them Dual) and over 50 "Absolute Winner" awards, including three national specialty trial wins. She has been competing at dog shows, obedience trials and tracking tests for forty years.
She has had three dogs ranked in the DCA annual "Top 20" awards and one (TC M'I Spy of Hathor Farm SW VCD1 RN OA AXJ NAP OJP OF JE) with over 1000 points is among the top 10 lifetime point earners.
Dr. Dieden has served on the DCA's Trial Advisory Committee/Performance Events Committee for ten years, the last seven serving as chairman. This committee has been responsible for several successful AKC rule and procedural change proposals also adopted by the other hound events.
Dr. Dieden started in AKC Earthdog at its inception. Her dogs have earned over 300 qualifying scores, including 160 Master tests. She has held over eighty tests at her home, Hathor Farm on Whidbey Island. A founding officer of the Puget Sound Earthdog Club and longtime president of the Cascade Dachshund Club she is credited for gaining CDC's licensing status for Dachshund Field Trials and Earthdog Tests.
Dr. Dieden has enjoyed being a field trial judge for 12 years and an Earthdog judge for 16 years, enjoying judging throughout the country, including eleven classes at DCA national events.