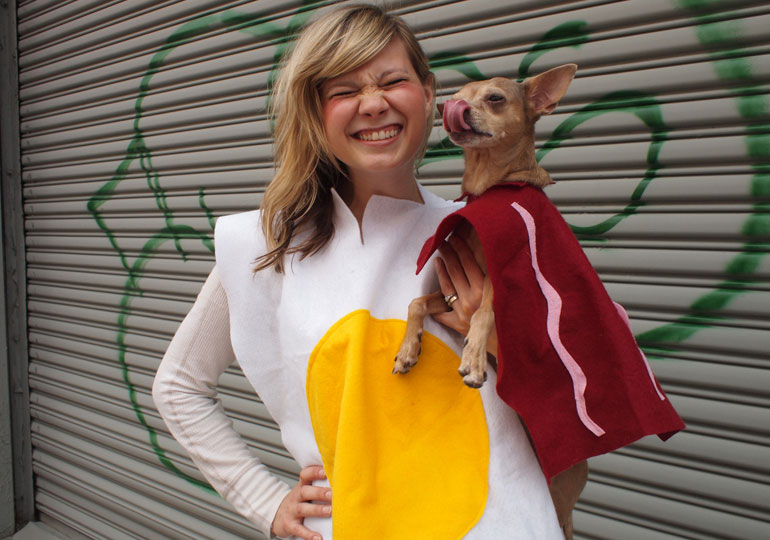 Dress to impress this Halloween with a costume you can make at home, courtesy of Megan Allan Cole.
What You'll Need
1.5 yards white fabric
1 square foot yellow fabric
About 1 yard maroon fabric (depending on the size of your dog)
Long scraps of pink fabric
Chalk
Fabric glue or a sewing machine
Fabric scissors
Instructions
Egg Costume
Using chalk and the white fabric, draw a large oval that is long enough that if you hold it vertically in front of you with the top slightly over your head, it will fall mid-thigh. Cut out the egg shape.
Position the oval vertically. Near the top of one end, leaving several inches at the edge, mark a + shape for a head hole. Cut the + out of the fabric.
On the yellow fabric, use a 12-inch plate to trace (or freehand) a circle and cut it out. This is your egg yolk.
Pin the yolk to the middle of the egg and sew or glue it in place.
Bacon Costume
Cut a rectangular strip of maroon fabric that is slightly longer and wider than your dog.
Cut a wavy edge along the vertical sides of the fabric.
Holding the fabric vertical and leaving several inches on the top edge, mark and cut a + that is large enough for your dog's head.
From the pink fabric, cut two thin, wavy strips that are slightly shorter than the length of the bacon from the head-hole to the end.
Pin and sew or glue the pink fabric lengthwise along the maroon fabric several inches apart (the pink lines should appear along each side of your dog's back).
See Cole demonstrate the process with her rescue dog, Gracie Strudel, in this instructional video:


Go to akc.org/baconandeggscostume to watch an instructional video by Cole.
If you need more cuteness overload, check out the puppies below!