Junior Report - Hope Peavey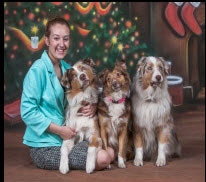 I am Hope Peavey from Fort Meade, Florida. I am 15 years old and live on a small ranch with cattle and horses. My passion for dog showing began with 4-H at the age of 8 where I competed in Obedience, Rally, Showmanship, and Agility. I began showing in AKC events in 2014.
I currently compete with my 5-year-old PAL (Purebred Alternative Listing) dog Charlie RN CD BN GN. Charlie and I are currently working on earning her Open and Rally Advance titles. She is my best friend and my heart dog, she is even included in my church directory! Charlie goes with me everywhere. She helps with all my barn chores including feeding the cattle. I see the new AKC farm dog certification in her future! Charlie learned stays in the middle of a chicken coup with baby chicks and ducks. I am excited about the new trick dog title program at AKC as well. I have taken a tricks class with Charlie and her favorite tricks are "who fart-ed", "dead to life", and high fives in the air (which is her release action).
I have recently introduced her to dock diving which she enjoys because she loves the water. Charlie is my demo dog for the 4H dog classes that I teach at Rural King in Lake Wales. We use the breakroom for instruction then take the class to the store floor to apply what they learned. This also gives us a chance to promote responsible dog ownership in public. Charlie is on the Das Hund Haus nursing home dog therapy team and the Road Runners Obedience Team which competes at the Dog Obedience Club of Florida Competition. She has also competed at the AKC Juniors Classic for 2 years. We enjoy competing together in a wide variety of events as well as helping others learn through teaching classes for 4-H.