Junior Report: Shannon Loritz
I was born into the sport of dogs and am a third generation breeder, owner, handler. My mom, Margie Wilson, and grandma, Ann Serak, bred German Shorthaired Pointers under the Serakraut prefix for over 30 years. My love for dogs started on my grandma's farm, sitting in the puppy pens daily and helping care for her dogs. My mom and dad, Margie and Rollie Wilson, were also professional handlers so my weekends were spent on the road traveling to dog shows and helping where I could. I was approximately 7 years old when my grandma let me help whelp a litter of Shorthairs. I loved sitting in the whelping box all night and making sure the puppies arrived safely. It was then, that I knew some day I'd be a breeder myself. Because of my grandma and parents and many others in the dog show world, I learned the basics of caring for animals properly. I spent my time at the shows studying other handlers and getting my hands on many different breeds of dogs to really understand their personalities, their function and how to care for them. When I was 10, my dad purchased an English Cocker Spaniel named Bounder (CH Graffiti Skip to Sandcastle). I showed many dogs in junior showmanship, but Bounder was my main dog. I learned to groom him and care for him and enjoyed every time we were together in the ring. He is the reason I fell in love with English Cocker Spaniels, and there was no turning back!
I have now been a member of the English Cocker Spaniel Club of America for 21 years. I have been fortunate enough to mentor under Bonnie Threlfall and am forever thankful for Rocki (GCH Edgewood Devilish Design) who is the foundation of my own breeding program under the Sapphire prefix. I have bred two litters so far and each time I think back to the skills I learned as a child from my grandma and know that being a breeder of quality purebred dogs is my passion.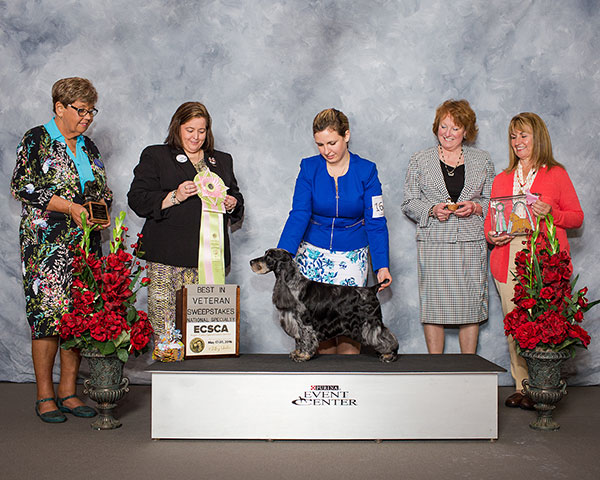 During my time in junior showmanship I was the recipient of two AKC College Scholarships and graduated from the University of Wisconsin – Oshkosh with a Marketing & Communications degree and had the opportunity to study abroad in England and Peru. I've worked in various Marketing roles, most recently at Kimberly-Clark and am now in the process of relocating to Michigan for a new role at Kellogg Company. I met the love of my life, Jeff, in college, we married 6 years ago and have a beautiful 5 year old daughter named Annaleigh. She shows the same enthusiasm and love for the dogs that I had at her age and I am excited to be able to pass on the knowledge I continue to learn each day to her.
I have also learned that giving back to the sport is extremely important on a personal level and for the sport itself. Without the volunteers, we would not be able to enjoy this wonderful family sport. While I work a full time job and have daily family duties, I have been able to help our national club in various roles. Making the effort to do so has given me an entirely new appreciation for how much goes into running a dog show and all the work it takes! I was the Show Chairman for the 2014 ECSCA National Specialty and am currently serving on the ECSCA Board of Directors as the Corresponding Secretary. Most recently I chaired the Banquet and Auction for our 2016 National and will be chairing the 2017 Auction as well.
Breeding and raising dogs is not always for the faint of heart and it requires full dedication and passion to do it right. I have been fortunate to have wonderful resources in the dog world that have helped me along the way. One of those, oddly enough, is Dr. Michelle Ahmann. Dr. Ahmann is a veterinarian at the clinic I go to. My last litter required an emergency C-Section and she assisted Dr. Greer during the procedure. I also had a few fading puppies and she made herself available to me in the late hours and helped me get the medicine I needed and walked me through how to help the litter. I am pleased to say the litter is now 6 months old and thriving. She is an amazing asset to the veterinary world.
I'd like to close with one of my favorite quotes: "The harder I work, the luckier I get". As the younger generation in this sport, I think it's important to realize while winning the big ribbons is fun, it's more important to put the work in first. Study your breed, work for a handler, find a mentor, join a club and volunteer. Learn the fundamentals and prioritize the proper care of your animals first and foremost. The more work and dedication you put into this sport, the more you will get out of it. We are the generation that is tasked with continuing this great sport and we cannot do so without learning the history and foundation from which it began.