Calling all Flyball Dogs!
The fast, fun event of flyball is not an AKC sport, but some flyball titles can be part of your dogs' AKC records.
The AKC recognizes three titles earned by dogs in competitions sanctioned by the North American Flyball Association (NAFA).
Owners of flyball-titled dogs may apply to the AKC and request that their flyball title be added to their AKC permanent record.
Flyball is one of the few team sports for dogs, and the sport is for all dogs, including mixed-breeds and rescues.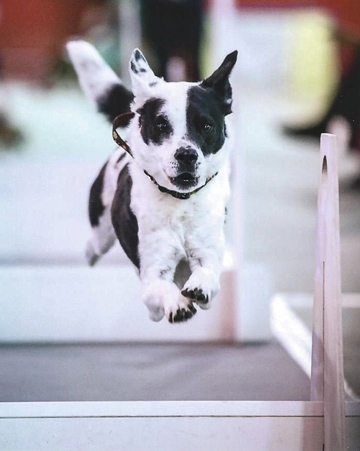 Flyball competitor Rizzo is a rescue dog enrolled in AKC Canine Partners.
Unlike agility and obedience where it's just you and your dog going for a score, flyball requires four dogs to compile a team. Each dog on the team must run down a lane, jumping four hurdles along the way, and then turn on a flyball box that releases a ball. The dog must catch the ball and then carry it back down the lane over the finish lane, at which time the next dog on the team is released.
It is a relay race that pits one team against another – and the fastest team wins. All dogs of all sizes, breeds and mixes love the fun.
Flyball dogs earn points towards titles as a team. Every time a team completes a heat in less than 24 seconds, each dog on the team receives 25 points towards a title.
AKC is currently recognizing three titles:
Flyball Dog Champion (FDCh) – 500 points
Flyball Master (FM) – 5000 points
ONYX – 20,000 points
Owners wishing to add these titles to their dogs' AKC records should complete the form found at this link:

http://www.akc.org/pdfs/events/performance/Flyball_Title_Application_Form.pdf

The flyball titles will appear on all future AKC title certificates, including those for agility and rally, and pedigrees, as well as in trial catalogues and other official AKC documents.

Questions about the program should be directed to performanceevents@akc.org or 919-816-3905www.flyball.org.

. For more information on the sport of flyball, go to

To become eligible for AKC recognition of flyball titles plus eligible for AKC sports and events, enroll your dog in the AKC Canine Partners program for ALL dogs - http://www.akc.org/dog-owners/canine-partners/