All America cheered as the United States scored 5-2 over Japan to win the FIFA Women's World Cup final, the country's first since 1999. And as you watched the talented and superbly conditioned athletes kick their way to victory, you probably had just one thought on your mind:
"I wonder if I can teach my dog to play soccer."
While it's unlikely that your pet will ever earn millions in a Canine World Cup, soccer is still a great way to exercise and have fun. And, trainers say, it's not that hard to teach.
In Dog Tricks, a new book in the Idiot's Guides series, Deb and Kate Eldredge, consider soccer playing an advanced skill, but many learn it with relative ease.
"For most dogs, the act of playing and moving the ball is a reward in itself," the authors say. The object of the game is to get the dog to return the ball to you without doing the natural canine thing, which is to pick it up in his mouth.
They offer the following tips to get started:
Hold your hand against the ball and tell the dog to "touch."
Remove your hand and reward the dog if she touches the ball on her own.
Start to reward the dog only if the ball moves when she touches it with her nose.
Add a verbal cue and gradually extend distances.
It will take a little practice, but before you know it, you and your dog could be out there, if not winning trophies and mega cash awards, at least having the time of your life.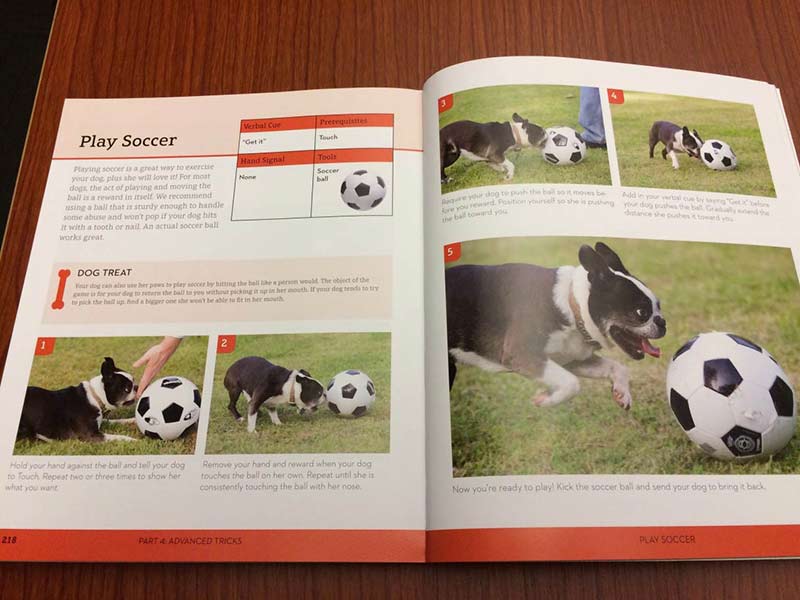 The soccer chapter from Dog Tricks.
For more about training, visit the AKC Canine Good Citizen page, or Good Dog Helpline
Related Stories:
Every Soccer Team Should Want This Beagle as Goalie
Woof Watch: Kermit the Soccer Star
Woof Watch: Dog Interrupts Soccer Match
Here's a video with some four-legged soccer action: