This year's Enumclaw, Wash., high school puppy sitters and raisers are, from left, Eliana Sunderland, Reece Mueller, Emma Taupin, Olivia Schmidt, Cora Valentine (the teacher), Savannah Pritchow, and Lily Basting. Photo by Michelle Pritchow.
How did your day go at school?
"Well, Beijing was a bit anxious." "Nigel just wanted to play." "Oksana kept licking my ankles."
OK, admit it. Those aren't the kind of answers you'd expect from today's high school kids, who tend to be obsessed with social media and with anticipation of the next big concert or sports event in town.
Welcome to Enumclaw, Wash., and Lemoore, Calif., high schools, where puppies and their sitters roaming the hallways is an everyday scenario from September to June.
For several decades, adults and children, with meticulous oversight, have played important puppy-raiser roles for many national service dog organizations. But who gives these puppy-raisers a break once the school year begins?
Enter the plucky volunteer sitters, who coax and cajole the pooches through the school day before handing off the leash to their puppy raisers. It's all part of the socialization and character-building process for these young animals that are training to be the psychological and physical ballast for a disabled owner in the near future.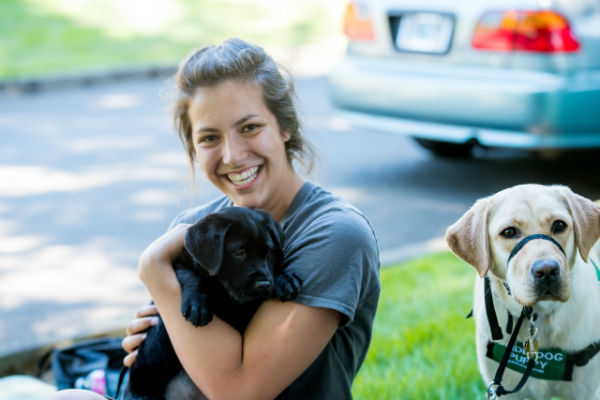 Autumn Dillon, an Enumclaw High School sophomore puppy sitter, holds Kirsten, a Labrador Retriever. Kimmy, another Lab, is on the right. Photo by Michelle Pritchow. Cora Valentine, an Enumclaw High School teacher, launched her puppy-sitter program in 2015. "I was planning on raising my own guide dog puppy (for Guide Dogs for the Blind) and started attending meetings with our local club," she says. "They had been trying to get students in our local FFA chapter (an intracurricular student organization for those interested in agriculture and leadership) to become part of the program. Since I was a teacher and soon to be FFA adviser, I decided that it would make sense for me to promote and be in charge of the puppies on campus.
"I knew there were going to be classes that students wouldn't be able to take the puppies to, and there were many students who wanted to be part of the program but could not commit to the time to raise a puppy or whose parents didn't want to do so either." As a result, the designated student sitters were born.
The program has run smoothly since its inception, and enthusiasm remains high. This year's participants include six sitters and three puppy raisers. The raisers take the puppies for most periods, and then the sitters take over for one-to-two classes. "I let sitters take my puppy Beijing (Labrador Retriever) all day, and occasionally adult members of our puppy-raising group will bring their puppies to school to be taken care of for the day by students."
Puppy sitting isn't a fun-and-games endeavor. The sitters face the challenges of reading a young dog's body language in a wide variety of environments—from classroom to lunchroom to gymnasium—and knowing how to respond.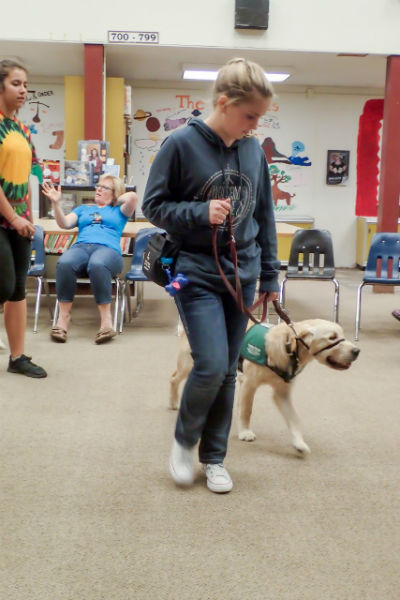 At Enumclaw High School, Bailey Boyce walks young Durham, a Golden Retriever. Photo by Michelle Pritchow.
Hence, sitters are required to attend several months of weekly training and a monthly Saturday outing. They must have an 80 percent attendance record, Valentine emphasizes. Their ability to demonstrate strong handler skills affects how quickly they are ready. If they don't have a chance to pass handler training evaluations before school beings in September, they have to wait until January to handle a dog.
Puppy sitting—and raising—has helped form a bridge between Enumclaw High School and the local and national communities, Valentine says. "It challenges the participants to get out of their box and realize there is more to this world than their school and their individual problems. It offers dogs a nice mix of stimuli because part of their training is to be exposed to different people, sounds, and environments."
For the sitters, the commitment is Monday through Friday, but not necessarily for all classes. While most have their own pets at home in this rural community, the attraction to participate in this rewarding program is varied, yet all about teamwork.
Sophomore Leah Perry says, "I was looking to join a club my freshman year. This one stood out the most because I enjoy giving back to the community and have always had a love for animals. Even though I couldn't raise a dog of my own, I was excited to hear that I could help out at school by taking them to classes."
Amber Galvin, a sophomore, signed up to get a better grasp of the training behind guide dogs. "It's a fun and cool experience," she says, smiling.
Another sophomore, Autumn Dillon, has learned to be a "calmer, responsible member of the community and the group" from the hands-on experience in the classroom.
Sophomore Reece Mueller has loved dogs his entire life and sees this as a great experience on a pathway to possibly becoming a veterinarian.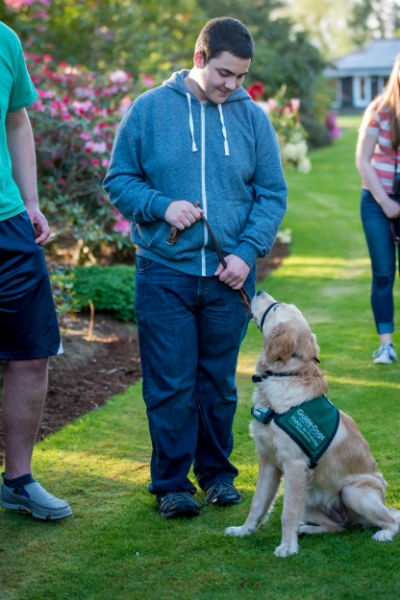 Enumclaw High School sophomore Reece Mueller and Penny, a Golden Retriever/Labrador Retriever mix, eye each other on the school grounds. Mueller is one of several service-dog-in-training puppy sitters at the rural school. Photo by Michelle Pritchow.
The driving forces for junior Olivia Schmitt's participation are her desire to play a role in the puppies' socialization and learning process.
Other high schools across the country have puppy sitter programs, but the total number is unknown.
One of the oldest is likely the program at Lemoore High School in California. Marybeth Hearn founded this program in 1989 with two dogs.
"Because the dogs were at school and were not at an age where they could go to classes, it became necessary to arrange for puppy sitters during class time," she recalls. "As the program grew and more pups were brought in (from 12-18 in my classroom), I found that it was beneficial to have students assigned each period as aides to work with the dogs. Part of the equation was making certain the pups would not disturb the other classes I was teaching during the day."
Her Veterinary Science 1 and 2 classes were the first two periods of the day—with those students handling exercising, bathing, nail trimming, and grooming of the animals. She was then able to negotiate with the administration to assign two aides for periods 3-6 to handle the dogs the remainder of the school day.
Thirty students who trained to handle the puppies are enrolled in her Veterinary Science class this fall. Six are puppy raisers, and 12 are aides. Hearn has two aides per period assigned to care for the puppies. If raisers have new pups that need to be fed, the student comes to Hearn's classroom during lunch to feed the dog and make certain he gets potty time before the next period.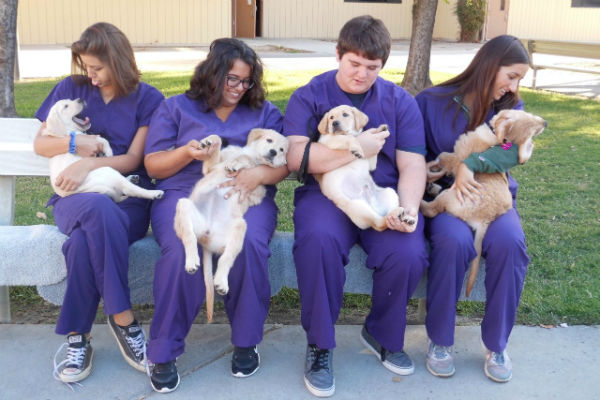 Lemoore High School puppy sitters, from left, Mary Rocha with Osma; Kendra Dias with Majestic; Tanner SanFilippo with Wonka; and Kristin Measell with Minerva enjoy some cuddling time. Osma and Wonka are Labrador Retrievers; Majestic and Minerva are Golden Retrievers.
Guide dogs are an ingrained part of the Lemoore High School culture. "Whenever there are visiting guests on campus, administrators always bring them to my classroom," says Hearn. The school has had more than 150 Guide Dogs for the Blind puppies in training on campus. "Our dogs, raisers, and aides have had their pictures in the yearbook, and the dogs are even issued Lemoore High School student ID cards."
Hearn sums up the role of the sitters: "They are integral. They provide care and enrichment for the pups throughout the school day, which, in turn, allows me to fulfill my other teaching responsibilities. The puppies go home tired because they had full days at school. I could not run my program without these dedicated students."
Lemoore was the pioneering FFA chapter in the project. Today there are more than 200 FFA members raising puppies in 10 Western states, according to Hearn, who adds, "I don't know how many puppy sitters are also involved."
https://www.akc.org/wp-admin/admin-ajax.php
Get Your Free AKC eBook
The Five Commands Every Dog Should Know
Do you want a well behaved dog but don't know where to begin? The Basic five commands e-book is a great place to start and will give your dog a strong foundation for future training.