Since Hurricane Harvey made landfall many lives have been irrevocably impacted. In the face of adversity, there have been countless good Samaritans who have bravely gone out of their way to save humans and animals alike.
Here are two stories of men who have courageously helped in the aftermath of Harvey.
Toney Wade and His K-9 Crew
Toney Wade has been working the search-and-rescue circuit for more than 20 years. He was involved in rescue and recovery during hurricanes Katrina and Rita in 2005, and regularly performs water rescues in his home state of Louisiana. But what he found when he arrived in Texas last Saturday was the worst he's ever seen.
Since the Category 4 storm made landfall on the evening of August 22, Hurricane Harvey has ravaged areas of both Texas and Louisiana, leaving thousands of people and pets stranded and resulting in at least 60 deaths.
In the midst of the devastation, first responders have been working tirelessly to rescue as many people and animals as possible. On Thursday, the Coast Guard reported it had rescued more than 9,000 people and more than 1,000 pets. And helping military and law enforcement succeed are individual volunteers who are donating their time and equipment to the rescue efforts.
One of those individuals is Wade, commander of Cajun Coast Search and Rescue, a Louisiana-based all-volunteer team of search techs and K-9 handlers who perform rescue and recovery on land and by boat.
As of Thursday afternoon, he and his team had rescued more than 400 people, he told AKC.org. The number of pets they saved is unknown, but "way up there," he said. With him is a team of 16 people, multiple dogs, six boats, and a high-water rescue vehicle he said was once used by the military.
Each morning, he said, he receives a list of addresses from local law enforcement of places where people need help. He and the team head to those spots, navigating rough waters and submerged cars, trucks, and road signs. Long detours add hours to their trips, and they stop often to pull on-board anyone they find along the way.
"We're going like a vacuum, picking up everyone we can," he said.
As he spoke with AKC.org, Wade was en route to his next location—Rockport, Texas. When the team completes the 10-hour journey, they'll set up tents for the night. Tomorrow morning, a recovery effort begins.
"[Recovery's] not what we like to do, for sure," he said in a video update he posted to Facebook. "It's a situation that dogs are highly trained for and we're going to respond and do what we need to do."
Wade's K-9 team is a mix of shepherds, Belgian Malinois and mixed breeds. The 12 dogs are split into two categories: live rescue and recovery. What they have in common is a strong prey or food drive. "We have to take their natural drive, and we build on that," he said. While not working, the dogs live at home with their handlers. "They're family members," he said.
He was initially motivated to work search-and-rescue (SAR) with dogs while working at a fire department and seeing a SAR dog in action. "I was amazed. I knew that's what I wanted to do," he said.
Picking up everything and heading to Texas was a no-brainer for Wade. "This is just what we do," he said. "We love helping our fellow man out."
A Texan Helps His Own
Another Good Samaritan, Jimmy Cummins of Dallas, traveled to Houston as soon as he learned his boat could be used to save people.
"I came down as soon as I heard there were people who couldn't get out, he told AKC.org. "As soon as I found out there were people within a distance I could get to, I just took off."
More than two dozen others have joined Cummins since he arrived. "It seems every hour another one of my friends comes down," he said.
Since Sunday night, he and his two friends have brought hundreds of people to safety, including a nursing home of people, some with dementia, he said. He also recalled rescuing a WWII veteran who was trapped inside with water up to the second step of his second floor.
On Thursday, his boat rolled up to a group of five dogs trapped in cages hovering above the water in Beaumont. He pulled all five on board.
"The people who are helping are really making a difference," he said.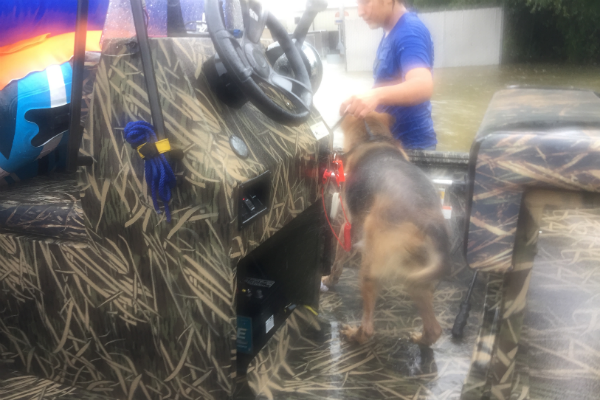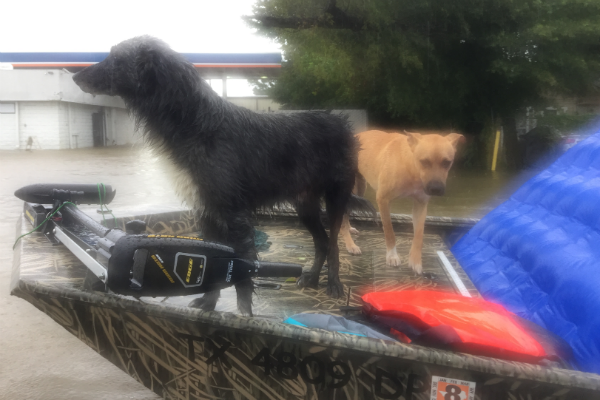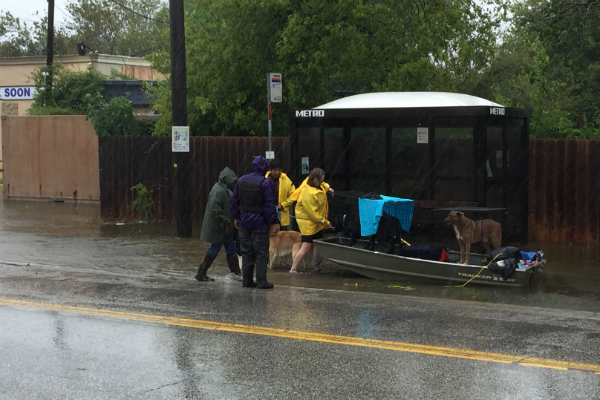 Share your story
Do you know someone who helped rescue animals from a flooded area in Texas or Louisiana? Were you and your pets rescued? Tell us about it using the form below.
https://www.akc.org/wp-admin/admin-ajax.php
Get Your Free AKC eBook
Emergency First Aid for Dogs
Even the most responsible pet owner can't always protect their pet from a sudden accident or illness. Getting your pet immediate medical attention can be the difference between life and death. Download this e-book to learn more about what to do in an emergency situation.