Three months ago we learned of a resilient Golden Retriever named Maverick, who despite two bouts with lymphoma, was determined to not only live his life to the fullest, but with the help of his owners Joey and Allison Maxwell, spread love and inspiration everywhere he could. Unfortunately, after his cancer returned for a third time, this brave and beautiful Golden has crossed over the rainbow bridge.
We had the opportunity to speak with Joey, who fondly recalled Mav's final days, and explained how this very special boy will live on forever in his heart—and all of the many others that he touched on his journey.
AKC: When did Maverick's cancer return? What was the diagnosis, and afterwards your expectation as a family?
Joey Maxwell: We found out a little over a month ago that Maverick's lymphoma had returned. He went back into remission right away, however, and it seemed as though he was doing well in spite of the cancer. Just over two weeks ago Maverick spiked a fever so we rushed him to the vet. He spent a night in the ICU and received a plasma transfusion. During further testing, they discovered a mass in his chest that we assumed was cancerous. The testing confirmed the diagnosis was too invasive, so we continued chemo and treated the cancer as best we could. Over the next two weeks, X-rays showed that while the mass remained, it had not grown, so we were optimistic that Mav would once again defy the odds as he had so many times before.
What were your last days with him like?
Our last days with Maverick were wonderful. He was happy and feeling good. He had a very strong appetite and a massive desire for treats! We took him to visit his friends at one of his vet's office that week. While having his acupuncture and chiropractic adjustment, he was able to play with his four legged friends whom he had come to love over the last few months. He was happy right up until his last breath.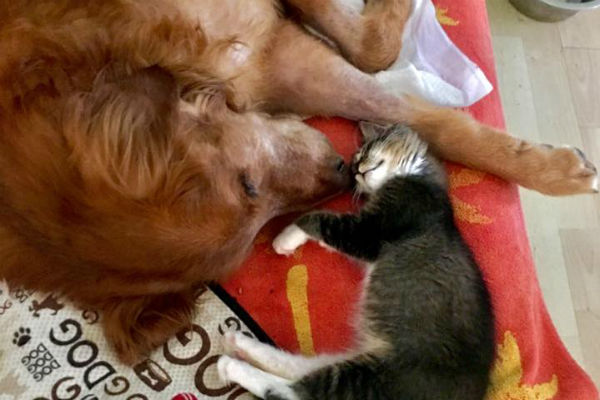 What is Maverick's biggest legacy that you want to live on?
Maverick's biggest legacy can be seen in the tens of thousands of comments we have received over the last few months, and especially the last few days. Countless people have told us that through their own struggles with cancer, health issues, and medical problems with their own pets, that Maverick's daily posts brought them strength where there was none. He has inspired people to get up and keep moving everyday, to be a little kinder to their own pets, and to not take a single moment for granted.
What are you going to miss the most about Mav?
Maverick's smile is what we will miss most. That giant contagious grin was impossible not to love. He was truly happy, and truly loved everyone he met. That spirit was too powerful to not leave a giant hole in our world.
What has his story taught you?
Maverick's story has taught us more than I could ever write concisely. More than anything though, he taught us to love unabashedly, to see people as he saw them; not based upon our own preconceived notions, but with genuine empathy and care. He taught us to enjoy every little moment that came our way, even when life feels as though no enjoyment could be had. Most importantly, he taught us to never take anything for granted. Life passes by so incredibly quickly. We learned to slow down and cherish every single belly rub, scratch behind the ear, or throw of the tennis ball. Each one is important.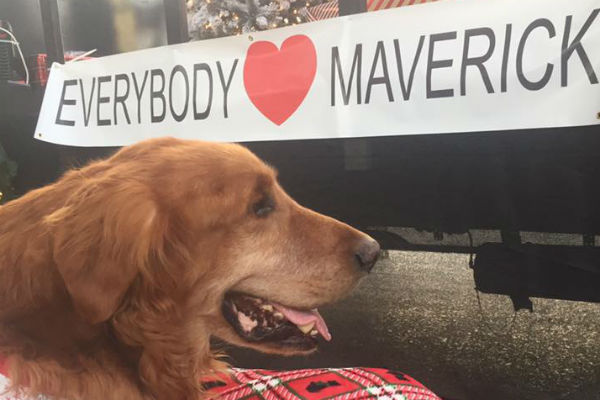 Do you have any advice to owners who are experiencing the same or similar heartbreaking experience?
Throughout this journey, thousands of people have complimented Allison and I on what we did for Maverick. The simple fact of the matter is, we are not special, nor did we do anything that we feel is particularly special. As a matter of fact, we tried very hard to keep ourselves off of Maverick's page and out of the headlines. This was Maverick's journey, and Maverick's story. We simply did the only thing we knew to do, and that was to give Maverick all of the love and care that we could muster. For anyone else going through something similar, our advice is simply this: Don't give up simply because it becomes difficult. You are stronger than you realize, and so is your pup. Give them every chance in the world to be happy and to share their love. Cherish each moment, and let them know how special they are. Let them know that you love them, tell them each day that they are a good boy or girl. Let them know that you are there for whatever they need, and that you trust them to let you know when the time is right. You are the most important thing in the world to them. Please don't ever forget that.
Our thoughts are with the Maxwell family during this difficult time and we commend Maverick for being such a shining example of the joy a dog can bring to our lives.
https://www.akc.org/wp-admin/admin-ajax.php
Get Your Free AKC eBook
Life with a Senior Dog
As your dog ages his needs will start to change. Download this e-book to learn what to expect and get helpful tips on caring for your senior dog.