Long before Dagger entered the world, his life had been planned.
The Labrador Retriever was born at the Canine Companions for Independence (CCI) headquarters in California, the son of a carefully selected dam and sire, screened for excellent temperament and health.
At 8 weeks, he headed to the East Coast to spend his first year of life with his puppy-raiser family. Dagger went everywhere with Yvonne and Denis Dagger and excelled at basic training.
"Dagger loved everyone he met, and the people who met him were always impressed with how bright and intelligent he was," says Yvonne, of Massapequa, New York. "He went with us to the International Auto Show in New York City and attended a Broadway show." Dagger even helped ring the bell at the New York Stock Exchange.
Dagger's destiny was to become one of a long line of service dogs who enable people with special needs to have an independent life. Early reports predicted he was an excellent candidate for the job.
And it turned out Dagger would help others—but not in any way that anyone dreamed.
Deep in Dagger's heart beat the soul of an artist.
Different Strokes
When he returned to CCI at 18 months for advanced training, he did not pass the rigorous standards and was released from the program. Yvonne and Denis jumped at the opportunity to adopt him, and he became a happy part of their home.
But Yvonne, a successful artist, sensed something was missing from Dagger's life. CCI told them that he loved to work. When Yvonne sat in front of her easel and painted, he would sit nearby, watching intently.
"A thought came to me one day when he was lying right next to me as I worked. To me, he seemed yearning to be able to apply paint on a canvas. One day, I said, 'Hey, Dagger, do you want to paint?' His tail started to wag like crazy, and he got so excited."
At CCI, Dagger learned to push items and pick up and hold objects, so Yvonne thought teaching him to paint was possible.
"I took a small tabletop easel and placed it on the floor with a canvas. I asked him to 'push,' which is a command he learned in advanced training to push drawers and doors closed. He then pushed his muzzle on the canvas. I kept doing this with him until he got the hang of it and I replaced the word 'push' with 'paint.' "
The next step was transitioning Dagger to pushing a brush on the canvas. But it would be difficult for him to hold a dainty artist brush in his large jaws.
"I created a brush out of the inside paper tube of a paper towel roll and duct tape. I made a hole in the center of the tube and inserted a flat artist brush. I then duct-taped the brush in place. It is an ugly contraption that seems to work really well."
Dagger practiced pushing a dry brush around the canvas with great success followed by lots of food rewards. "He loves his treats!" Yvonne says.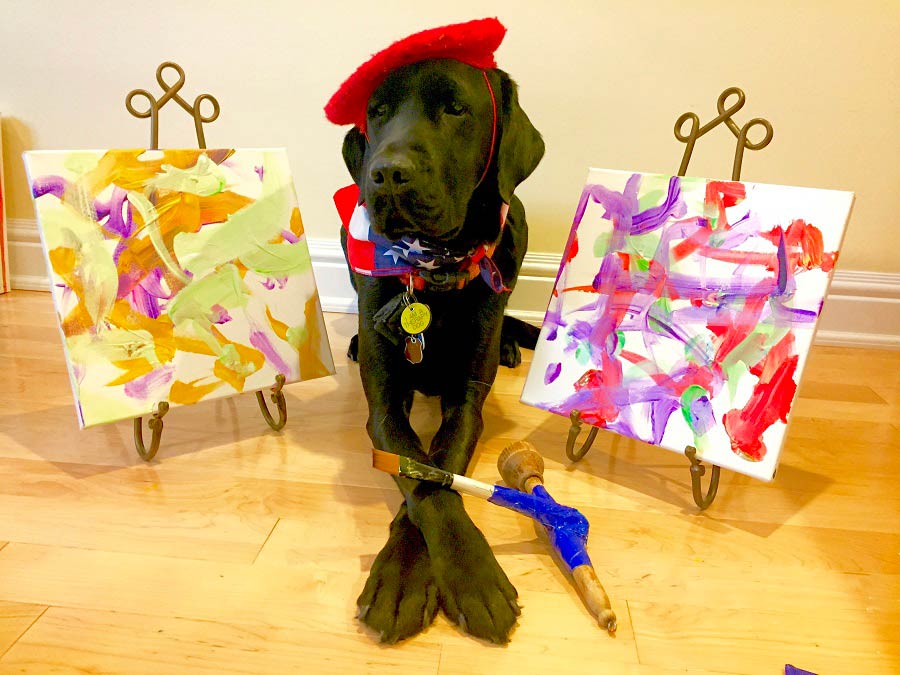 Adding Color
Before making the leap to paint, Yvonne consulted with CCI Senior Advanced Instructor Lauren Ferraioli, who worked with Dagger and has a close bond with the dog.
"Lauren taught Dagger how to master the steps in a continued smooth fashion and at the same time she gave me the confidence I needed to have Dagger follow my lead," Yvonne says.
The big day came when they added real paint to his brush and gave him the "paint" command.
"It was as if someone had told Dagger that he won the lottery. As soon as he saw the paint on the canvas, his tail wagged like crazy. He kept painting and painting," she says.
His abstract works feature vibrant hues, and Yvonne taught Dagger to choose his colors.
"I set up a snack table with six plastic bottles of paint. I then asked Dagger to 'push'… only this time he was pushing a bottle of paint. He did just that; he loves to pick the color paint he uses. After he mastered this, I replaced the command 'push' with 'pick a color.' "
Yvonne does not mind that her dog's paintings sometimes get more attention than her own. She started painting at age 11 and, after raising her family, earned a fine-arts degree from Hofstra University. She has won numerous awards for her works but, as a lifelong animal lover, says she is most proud of her portraits that feature shelter dogs and cats looking for homes. Martha Stewart has showcased the collection on her website.
Fuzzy Fund Raiser
Yvonne and Dagger practiced his artist skills nearly every day and soon he had a small collection of paintings. In January, he made his public debut at a fund-raising event for the rescue organization Forgotten Friends of Long Island.
Wearing a red beret, he painted for the audience. Lauren worked with Dagger on stage while Yvonne told his story. Organizers auctioned three of his works, raising nearly $10,000. "When people see Dagger paint, they are in sheer amazement. Cameras come out, and they snap pictures of him," Yvonne says. "Then people want their pictures taken with him."
More fund-raising appearances have been scheduled, and word has spread. Yvonne has received requests for the Lab's paintings from all around the world. Proceeds from his works go to CCI, which provides service dogs at no charge to eligible clients, and Forgotten Friends.
"Dagger has even been given a nickname—DogVinci," she says.
Fame and Fur-tune
In March 2016, Newsday, a local newspaper,published a feature about the talented dog. Soon, other reporters came calling, with articles published everywhere from Time magazine to Sputnik News. "Overnight, Dagger DogVinci was swamped with orders from people all over the world asking him to paint a work of art for them," Yvonne Dagger says. In two weeks, there were 150 orders and Dagger had an agent—Long Island Picture Frame & Art Gallery—and had launched a career in philanthropy, selling paintings to raise money for homeless dogs and other charities. To date, Dagger has brought in over $12,000.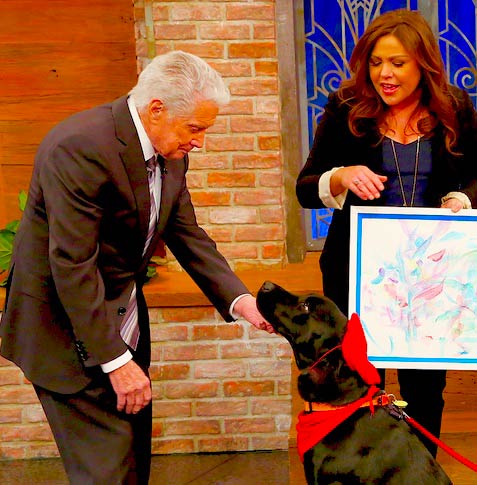 His Calling
It was a painting that got Yvonne involved with CCI seven years ago.
She created a work titled "Friends Forever" for the CCI Northeast Training Center, and it was auctioned at a fund-raiser with the understanding that the winning bidder would donate it back to CCI. The painting now hangs in the center's Graduate Hall.
Yvonne and Denis were so impressed with CCI that they volunteered as puppy raisers and took on their first recruit in early 2010. They have adopted one other CCI "drop-out," Ya-Ya, a Lab-Golden mix.
Lauren says it is disappointing when a dog does not pass the advanced training, but it's very common as only 40 percent of the puppies have what it takes to become service dogs. Reasons can range from dogs having too much retrieve drive, noise sensitivity issues, or not receiving top marks on medical screenings.
Released dogs go to wonderful homes, and they become beloved pets. Their excellent socialization and training results in many excelling in dog sports and therapy work, but Dagger is the first artist in the CCI family.
"Dagger is an awesome dog, and Yvonne is a great person. It is wonderful that they are spreading this joy through his painting," Lauren says.
https://www.akc.org/wp-admin/admin-ajax.php
Subscribe to Family Dog
AKC FAMILY DOG MAGAZINE
This article was originally published in AKC Family Dog magazine. Subscribe today ($12.95 for 6 issues, including digital edition) to get expert tips on training, behavior, health, nutrition, and grooming, and read incredible stories of dogs and their people.