Here, we pay homage to the brave soldiers—both human and canine—who served our country.
Scroll down for some historical photographs from our archives.
Private Leo Crismore, USMCR, practices with his "silent whistle," which is used to direct and recall fighting Marine Devil Dogs during scouting expeditions. These dogs are trained to accompany Marines on landing operations, sentry duty, message and first-aid carrying, and locating our wounded Marines. Credit: U.S. Marine Corps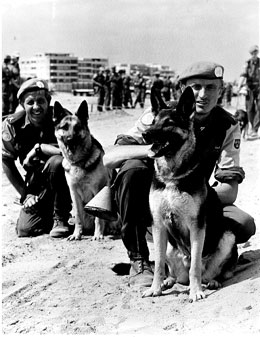 Cairo, Egypt. 1974. Two members of the Swedish Battalian with their German Shepherd mine-sniffing dogs are seen at a mock-up minefield. Credit: United Nations/Y.Nagata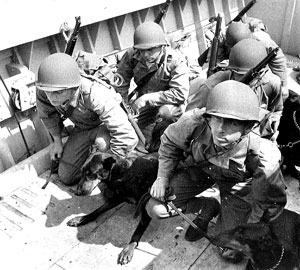 Devil Dogs coruched down inside a landing barge with Marines on a practice landing at Camp Lejeune in New River, N.C. Credit: U.S. Marine Corps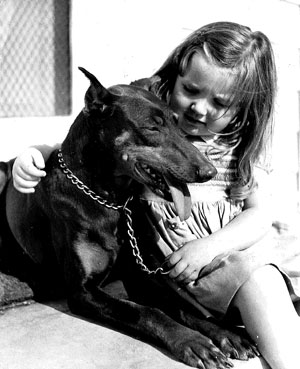 Herta, a Devil Dog, sits with Carole RIttenhouse Brick, the 4-year-old daughter of Captain Samuel J. Brick, USMCR. Credit: U.S. Marine Corps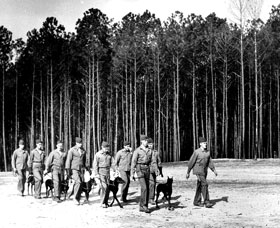 U.S. Marine Corps War Dogs and the men who are being trained with them are put through close order drill to get them used to discipline. Credit: U.S. Marine Corps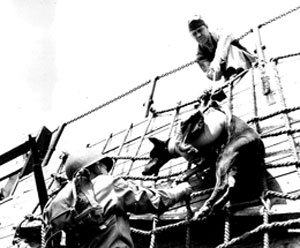 Dogs are wrapped inside a coverall blouse and lowered from the side of the ship in landing operations. Credit: U.S. Marine Corps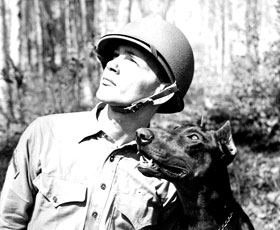 Private First Class Homer J. Finley, Jr., USMC, is shown with his canine leatherneck buddy, Jan, spotting a make-believe sniper in a tree during the day's rugged training period. Credit: U.S. Marine Corps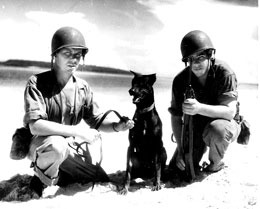 Rex, a 2-year-old Doberman Pinscher, is shown here with his trainers, Private First Class William N. Hendrickson and Private Charles Foist. Rex was officially commended for saving the lives of many Marines by warning of the proximity of Japanese forces. Credit: Official Marine Corps Photograph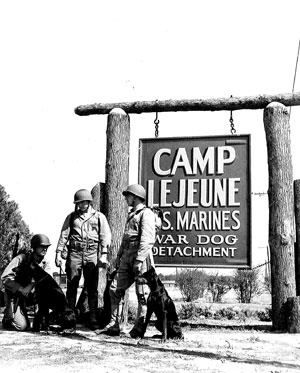 The entrance to the new kennels at Camp Lejeune in North Carolina, where canine Marines are put through their boot camp. Credit: U.S. Marine Corps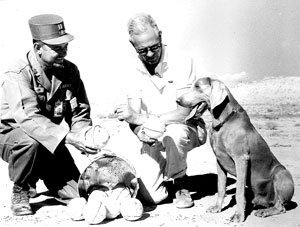 Dino, a Weimaraner. Credit unknown.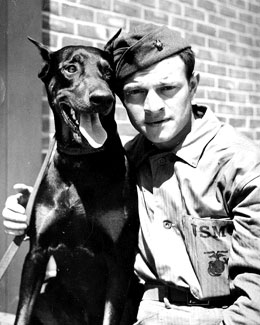 Private Alexander A. Boccardo, USMC, is shown with his fighting partner, who is learning how to bear his fangs at the Marine War Dog Detachment Training School. Credit: U.S. Marine Corps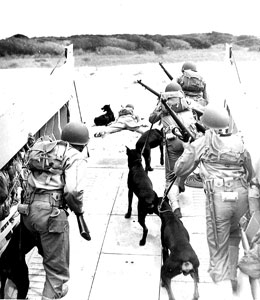 Devil Dogs rush out of a landing barge on a practice landing. Credit: U.S. Marine Corps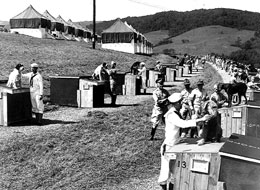 1942. Soldiers and coast guardsmen who are training the first group of dogs actually inducted into the U.S. Army for duty as messengers, sentries, and other duties are shown grooming their charges atop the kennels at Front Royal, Virginia. Credit: International News Photos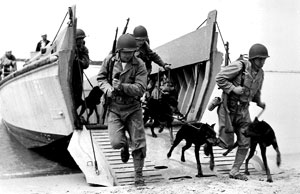 Devile Dogs during a practice landing. Credit: U.S. Marine Corps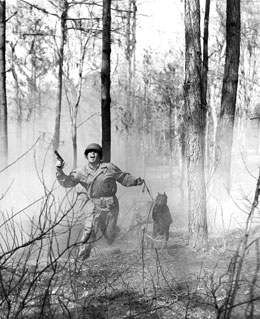 Private Michael DiPoi, USMCR, and his canine companion charge through the "smoke of battle." Credit: U.S. Marine Corps
MORE LIKE THIS:
Read more about dogs who heeded the call of duty here.
https://www.akc.org/wp-admin/admin-ajax.php
Get Your Free AKC eBook
Emergency First Aid for Dogs
Even the most responsible pet owner can't always protect their pet from a sudden accident or illness. Getting your pet immediate medical attention can be the difference between life and death. Download this e-book to learn more about what to do in an emergency situation.