If you know the Australian Cattle Dog, you know what a treasure he is. He's a superb herder and athlete, happiest in motion and with a job to do. Intelligence radiates from his eyes and in his demeanor. Channel all that energy into work, sports, and outdoor activities, and you have a loyal friend for life. And if you don't know the breed, these interesting facts may turn you into a fan.
1. The Australian Cattle Dog is instantly recognizable by his thickset, powerful build and unique markings, which are found on no other breed.
2. Their coats and markings come in two distinct colors, with some variations in marking: blue, which may also be blue mottled or speckled, and red, which may be speckled. This may be why there are other names for the breed, including "blue heeler" and "red heeler." But they're all Australian Cattle Dogs through and through.
3. What really sets him apart is his unmatched herding skill. He can move and control cattle or other livestock in the field and on the farm. In fact, Australian Cattle Dogs (ACDs) play a crucial role in the success of the Australian beef industry.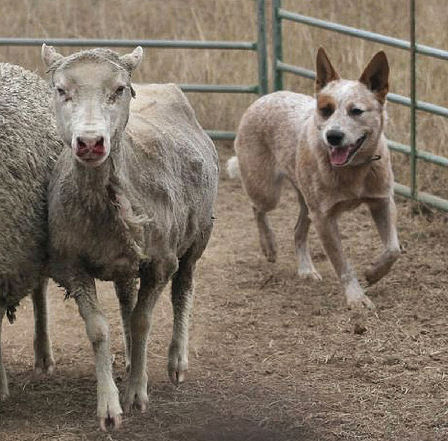 4. This herding ability isn't surprising, given the breed's history. In the 1800s, an Australian breeder crossed a dingo with a blue merle Collie to create a hard-working herding dog. Later crosses instilled not only herding skills, but produced a dog with a fondness for horses, which was useful for cattle drovers. Even more important, the ACD also forms a deep attachment and loyalty to his owner.
5. Even if you don't happen to have livestock to herd, the high energy and intelligence of the Australian Cattle Dog makes him a stand-out in dog sports like agility, rally, herding (naturally), obedience, and tracking.
6. If you're active and outdoorsy, you couldn't ask for a better canine companion. He's a champion Frisbee player.
 
7. He'll run, walk, or hike with you in any weather . . .
8. and is even skilled at the unusual sport of skijoring.
 
9. His intelligence is unmatched, and a smart owner will keep him engaged and stimulated, both mentally and physically. He's always ready for the next adventure or job.
10. Along with his courage, skill, and endurance, the Australian Cattle Dog is known for forming a deep attachment to his family. Some owners even call him a "shadow dog," because he wants to be wherever you are. When you're both finally tired out, the ACD is happy to chill out by your side.
https://www.akc.org/wp-admin/admin-ajax.php
Get Your Free AKC eBook
Selecting a Puppy
How do you know what breed is right for your family? How do you find a reputable breeder? What questions should you ask a breeder? Download this e-book for guidance on these questions and other important factors to consider when looking for a puppy.