If you've spent the winter taking shorter walks with your dog because the of the cold, or shoveling a path to the backyard, then you're probably dreaming of warmer weather. Both you and your canine pal must be more than ready to get outside and shake off the winter doldrums. And here are 12 must-haves for spring for both you and your dog to enjoy the season:
Spare your arm and practice your soccer moves while your dog fetches to his heart's delight. The grooved design makes it easy for your dog to pick up, while the durable canvas, rubber, and foam construction is built to last. High visibility colors mean you can play long after the sun sets.
2. Agility Training Open Tunnel
After a long winter, what better way for both of you to get some exercise than learning new agility skills? This 18- foot Dacron tunnel is AKC compliant and comes with eight short stakes and a carry case.
What dog doesn't love bubbles? Especially when they're bacon scented! The bubbles are 100 percent non-toxic, safe for dogs (and kids). Just pour in the solution and the machine does the rest.
4. Neoprene Padded Dog Collar in Pastel Colors
We change our wardrobes for spring, now our dogscan too. Offered in spring pastels with reflective stitching, for your canine fashionista.
5. Saddleback Backpack for Dogs
Spring is the perfect time for hiking and camping with your canine buddy. He can carry his own gear in this adjustable, high-density cotton backpack. It has two large zipped pockets and two small pockets–enough room for everything he'll need.
6. Water & Food Bowl for Travel
Shaped like a regular dog bowl and designed to be stable on the ground, this handy travel/hiking/camping bowl has a draw string top, so you can even store his food in it.
7. Essential Pet First Aid Kit
Before you take off for your Spring adventures, be sure to pack this first aid kit that contains everything you might need away from home or far from a veterinarian. The case includes 16 pieces, including tweezers, scissors, antiseptic wipes, antibiotic cream, bandages, and much more. Be prepared!
8. Woofipedia Lite Pack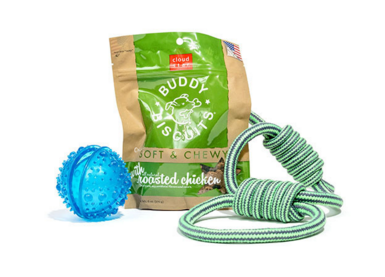 Celebrate Spring with some new goodies for your pup. The pack includes a Stuff-a-Ball Treat Toy, chewy treats and a rope tug toy to kick the new season off right. If you buy a WOOFipedia Pack now, you can also chose to purchase a personalized towel that's perfect for wiping off muddy paws on rainy spring days. The towel is 15×25 and double stitched at the hems.
9. Dog Breed Umbrellas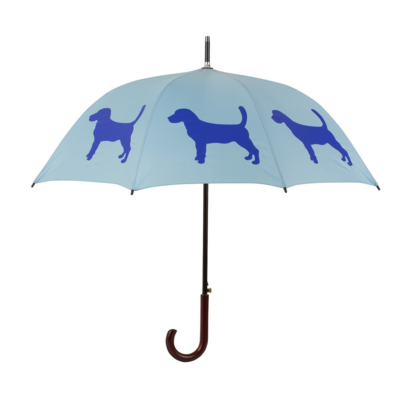 You know what they say about March coming in like a lion or April showers. Inclement weather won't stop you when you can carry a colorful, high-quality umbrella silkscreened with your favorite breed.
Don't bring those muddy small toys indoors when you can store them in a durable plastic bin decorated with paw prints and customized with your dog's name. Leave it by the back door to keep toys organized and the house mud-free.
11. Pet Doormat
Speaking of mud, stop it in its tracks (pun intended) with this microfiber, non-skid doormat. Put it just inside the door to trap dirt, dust and mud. Dries quickly and is machine washable
Now, how about a little something for you? This brushed cotton twill cap with Velcro closure says "It's all fun and games until someone ends up in a cone!" So true.
With the longer days and warmer weather, this durable rubber flyer is safe for your dog while providing hours of outdoor entertainment.


The Five Commands Every Dog Should Know
Do you want a well behaved dog but don't know where to begin? The Basic five commands e-book is a great place to start and will give your dog a strong foundation for future training.