Energetic, smart, affectionate, playful, and a retriever extraordinaire — these are some of the characteristics of the Nova Scotia Duck Tolling Retriever. This handsome redhead is a perfect match for active, outdoorsy people who love having a canine companion on their adventures. The smallest of retrievers, some fans call him a "little red tornado." And with his warm gaze and expressive face, he could melt the iciest of hearts. See this remarkable dog in action.
1. He's fast… really fast.

via YouTube
2. With his webbed feet, he's a natural and enthusiastic swimmer. Tollers excel at dog sports like dock diving.

via YouTube
3. So, what's tolling? By definition, tolling means to entice game to approach. A long time ago, hunters watched the way foxes play along the shoreline to lure in curious waterfowl. So they trained their dogs to do the same. Seeing the dogs gamboling near water's edge, waterfowl move in closer to the shoreline. Once within gun range, the hunter brings them down and the Nova Scotia Duck Tolling Retriever springs into action to retrieve the bird.

via YouTube
4. With their natural instincts, they love to retrieve anything from the water.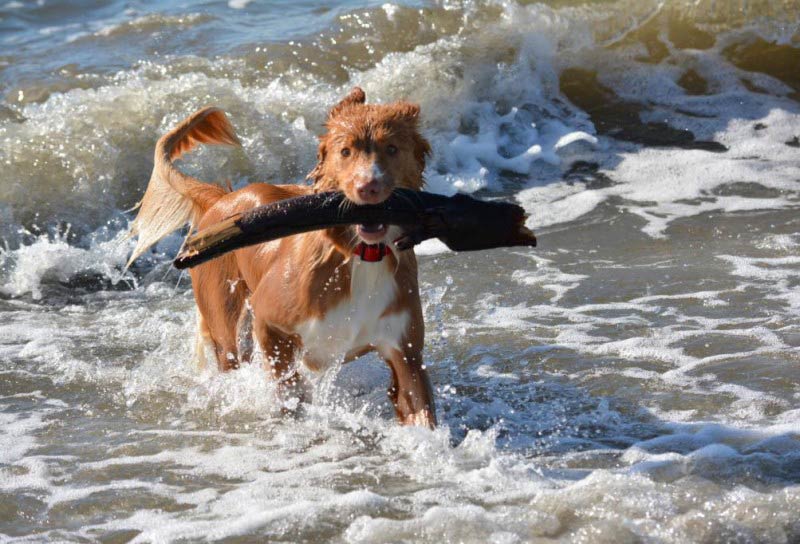 5. And on land.
6. Nova Scotia Duck Tolling Retrievers are intensely alert and curious, eagerly awaiting their next job.
7. Even if their next 'job' is playing together.
8. Once you and your Toller are thoroughly worn out, it's time for some serious cuddling.
9. And a snooze.
10. With an expression that could melt an iceberg…
11. …Their owners adore them, and the feeling is mutual!
Header image: Nova Scotia Duck Tolling Retriever Club

https://www.akc.org/wp-admin/admin-ajax.php
Get Your Free AKC eBook
Selecting a Puppy
How do you know what breed is right for your family? How do you find a reputable breeder? What questions should you ask a breeder? Download this e-book for guidance on these questions and other important factors to consider when looking for a puppy.