Header photo courtesy of Karen Raduziner, AKC Breeder of Merit
Although he's also been called the Miniature Australian Shepherd, the Miniature American Shepherd is just that — an all-American dog. Bred in California in the 1960s, this small herding dog (males only growing up to 18 inches and 40 pounds) is a versatile, intelligent, and enthusiastic worker, and he's a beauty, too. With his varied colors and markings, and eyes that can be two different colors, the Miniature American Shepherd is as striking as he is energetic. Can you keep up with him?
The Miniature American Shepherd combines all the athleticism of a great working dog with the smarts and eagerness to please needed to excel at dog sports, like agility . . .
. . . And human sports, like Frisbee. Can your Miniature American Shepherd do this?
Of course, they were bred to herd. So they need lots of exercise, whether it's a good run, indoor games, or playing fetch.
 
Fetching in the water is even more fun. Especially if accompanied by a roll in the sand . . .
 
. . . Or a jump into the pool
 
Aside from being an energetic work and play partner, the Miniature American Shepherd is a loyal, devoted companion.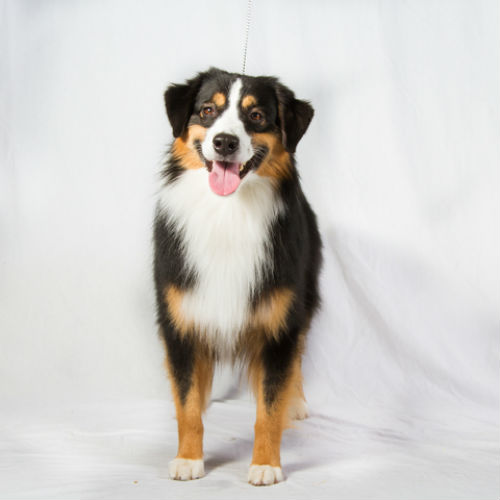 Although he's sometimes mistaken at first glance for a Border Collie or Shetland Sheepdog , or been called a Mini Aussie, once you know this striking, eye-catching and versatile little dog, you're not likely to ever forget him.
 
Think this good-natured, devoted, and intelligent breed is the one for you? Check out Miniature American Shepherd puppies on AKC Marketplace. 
https://www.akc.org/wp-admin/admin-ajax.php
Get Your Free AKC eBook
Selecting a Puppy
How do you know what breed is right for your family? How do you find a reputable breeder? What questions should you ask a breeder? Download this e-book for guidance on these questions and other important factors to consider when looking for a puppy.