"Meatball" may seem like a pretty weird name for a best man. Or a ring bearer. Not when you're a Bulldog and you belong to comedian Adam Sandler. When Sandler married Jackie Titone in 2003, Meatball played both roles, decked out in a tuxedo and satin yarmulke. At the time, having a dog in your wedding was very unusual—the story made the news—but today couples are including their pets in the nuptials so frequently that some wedding planners offer it as part of their services.
Mindy Weiss, who planned the Sandler wedding, has since had many dog-crazy couples ask her to work their dog into their ceremony. Weiss told CNN, "One bride carried her Yorkshire Terrier as her bridal bouquet!"
There are many reasons couples choose to do it. They met a the dog park. The dog is the first living being they've shared. (Practicing for parenthood, maybe?) They want to bring levity to what can be an otherwise serious occasion.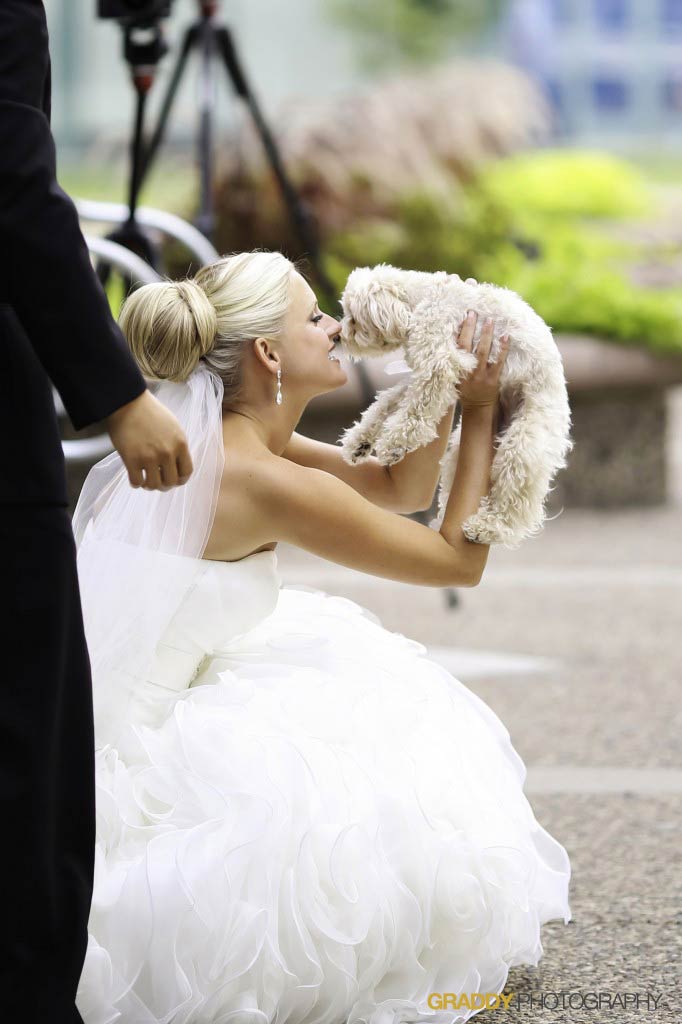 Photo courtesy Graddy Photography 
But when pets are part of the matrimonial ceremony, there are some things to consider to make it a memorable experience—in a good way—for your guests, and a pleasant one for your dog.
Wedding Shoppe's blogger Hannah Arkelin offers these ten tips:
1. Make sure your pooch can handle the pressure: Unless you're having a very small wedding, consider her social skills before bringing her in to the celebration. If your dog scares easily or is anxious around large groups of people, you should probably leave her home.
2. A dog-friendly venue is a must. This may seem obvious, but it helps if the reception is held where dogs are truly welcome, not merely tolerated.
3. Let your guests know in advance that a dog will be at the wedding. Many people have allergies, and you want them to have a good time, not sneezing all over the dance floor.
4. What is Rover's role? There are plenty of wedding-day duties you can give your dog. Make him a ring bearer, or have him accompany your flower girl down the aisle. (Children are often nervous to be in a wedding, so your furry friend could provide comfort.)
5. Enlist a dog assistant: It's safe to say you're going to be a little busy on your big day. Have someone the dog trusts is on duty. This person will have to make sure your dog is well behaved, fed, watered, and doing his business outside. Keep a stash of treats available to reward the dog for good behavior.
6. No matter how well you train them, some dogs just can't help but get excited when surrounded by people. But the last thing you need is your pooch barking through the ceremony, jumping on guests, or worst of all, having an accident. If your dog is a puppy, or can't control his excitement, re-think having him in all stages of your wedding. If possible, take him on a long walk or run before the wedding. Wearing him out may help with energy levels.
7. Test run: I highly recommend a field trip to the venue prior to the wedding. Let him get used to the space. If he's going to walk down the aisle, practice a few times and give him a treat when he accomplishes it.
8. Pre-wedding grooming: If you use one, take your pet to your groomer. Not only will he look nice in photos, it will cut down on shedding to keep your guests hair-free and less likely to be sneezing!
9. What about his dashing wedding outfit? Are you determined to dress up your pal? The key is to make sure your pet is comfortable, not miserable. If clothing doesn't work for him, a glitzy leash or flower-covered collar will work just fine.
10. Of all my wedding planning tips, this may be the most important: Don't forget to take plenty of photos with him front and center! They may turn out to be some of your favorites!
Did you include your dog in your big day? Would you?
Photo at top The Wedding Shoppe
https://www.akc.org/wp-admin/admin-ajax.php
Get Your Free AKC eBook
The All-Purpose Grooming Tool kit
Do you have everything you need to keep your dog in tip top shape? Not sure where to start? This e-book will outline how to put together the perfect grooming kit for your dog.