The phrase "multum in parvo," meaning a great deal in a small space, is often used to described the charming, loving, and mischievous Pug. Don't let their size fool you; any Pug owner will confirm that you're getting tons of personality with this dog.
And that's why Pugs make the perfect meme subjects. A lot of personality, an adorable face, and some quippy text, and you've got the ultimate Pug meme.
Check out 16 of our favorites.
Sometimes you go to take a picture, you open up the app on your iPhone, and you're displeased to find that the camera is on front-facing mode. You end up seeing a super close, badly angled version of yourself, and you flip the camera around as soon as possible. Apparently, even this Pug knows the struggle. Although, the face in this photo is nothing but cute!
If you're part of the younger generation, you've probably had to explain technology to your parents or grandparents at one time or another. And in doing so, you've probably experienced something like this, where your family members are confused and amazed at using a video conference app like FaceTime or Skype . . . and they look just like this Pug and Frenchie couple. Adorable.
Every dog owner of a Pug or other breed has seen this face. Face it, dogs love food. And so many of our dogs hear, smell, or see us cooking, and they're all about waiting to see if a piece of food falls on the floor. Is the begging getting out of hand? Check out some tips to stop it.
Even if your dog is not a Pug, and he's not dressed as a UPS delivery person, he still gives you the gift of unconditional love every day. And you give it back. Awwwww!
This Pug may be dressed up all business-like . . . but luckily for him, he doesn't have to go to work. Must be nice to spend your days sleeping, eating, and playing. We'd trade places with our pups any day.
This little Pug may not be a herding dog, but he's working with some sheep. Why he wants to infiltrate the sheep ranks . . . who knows? But he looks absolutely adorable doing it.
Look out evildoers, there's a new sheriff in town and his name is Duck. Duck the Pug. He's small, he loves to stick out his tongue, and he means business. Just look at that face. That's the face of a fantastic sheriff.
This is really the face you see when you try to do anything without your dog. Once you have a dog, there's no privacy; you're never alone! Your dog will follow you from the couch to the bathroom and back. All because he loves you. So don't you even think of going anywhere without him, he simply won't allow it.
Look at this super successful Pug. He may be small, but that doesn't stop him from soaring over any obstacle in his path. If he can do anything, so can you!
It's unfortunate, but most of us have been there . . . at some time or another, we've had to take our dog home in the "cone of shame." This owner, however, has come up with a super creative idea to make a good situation out of a bad situation. And doesn't that sunflower Pug just shine?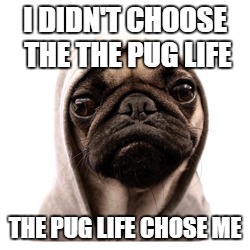 You don't choose the Pug life, the Pug life chooses you. Once a Pug has chosen you as his person, you are a Pug person forever. And how can you not be? These curious, loving, and outgoing dogs can win your heart in an instant.
Look at the shock on this little Pug's face. And don't you feel that way about exercise as opposed to extra fries? While our dogs can't have them, and they're not the best for us either, we can't help but love some extra fries. Exercise? Eh, not so much. But we gotta do it . . . and take our dogs along.
Gotta pee on everything. For some dogs, that's their motto. You go for a walk, and they have to stop every second to sniff and then pee on something else. What are you gonna do? If it hasn't been peed on yet, might as well pee on it.
Tired Pug is tired. This is how we all feel on days when we don't get enough sleep and still have to get up for work. Luckily for our dogs, they get to sleep about 50 percent of the day. Yup, we're jealous, too.
Ah, Friday. The day we wait for all week. When it comes, we're ready to strut our stuff like this little Pug pup. We want to get home from work as soon as possible, so we can spend all weekend with our dogs.
It's true! And all Pugs and their owners know it. These little Toy Group dogs never let their size stop them — they go head first into the world and use their cuteness to win you over. Pug life is the best life.
So what do you think, Pug people? Want to check out more hilarious dog memes? We've got dog memes, Golden Retriever memes, German Shepherd Dog memes, and Siberian Husky memes. And when you've enjoyed them all, share your favorites with us on Facebook!
https://www.akc.org/wp-admin/admin-ajax.php
Get Your Free AKC eBook
Selecting a Puppy
How do you know what breed is right for your family? How do you find a reputable breeder? What questions should you ask a breeder? Download this e-book for guidance on these questions and other important factors to consider when looking for a puppy.