Did you know that the phrase "dog days of summer" actually has nothing to do with dogs? In ancient times, it referred to Sirius, the Dog Star, rising just before the sun. Happening in late July, this corresponded to the hottest time of the year. But for our purposes, we really are talking about your dog's day in summer. This is the season to be outdoors, but the hot weather can be as hard on your dog as it is on you. Follow these tips to keep your dog safe in the heat and browse this roundup of toys, equipment, and more to bring hours of enjoyment to you and your dog as you beat the heat this summer.
TOYS
1. Everyone loves a pool, including your dog. Give him his own place to cool off while he plays, like with this inflatable, collapsible dog pool.
2. Since your dog won't be sipping cold lemonade, give him the next best thing: a chew toy you can fill with water and pop in the freezer. With enthusiastic chewing and play, the ice will melt, so best to play with this outside.
3. This flying disc skims over water and floats. Your dog will be bounding into the water after it in no time.
Chuckit Water Skimmer Flying Disc for Dogs
4. If you and your dog are in the mood for a game of fetch or tug, why not keep cool in the pool with this floating tug toy?
5. What could be more relaxing than a lazy day on the lake or in a pool? Now your dog can float alongside of you with this sturdy, puncture-resistant doggy water raft.

SwimWays Paddle Paws Dog Pool Float

SUPPLIES
1. Whether you are hiking, lounging on the beach, or hanging in the backyard, keep your dog hydrated in hot weather with a silicone folding water bowl. It holds 12 ounces of water, and in a pinch, can double as a flying disc toy!
2. We know we should protect our dogs' paws from ice and snow, but what about hot pavement or sand, which can be just as damaging and painful? All-weather reflective dog boots will protect him from scorching heat.
Muttluks All-Weather Hot and Cold Dog Boots
3. For hikes, playtime in the park, working in the field, or just a walk on hot days, this cooling vest, which uses evaporation and heat reflection, can keep your dog cooler longer. Dip it in cold water and then snap it easily onto your dog.
BINGPET Dog Cooling Jacket Evaporative Swamp Cooler Vest

4. If your dog will be outside for long periods of time, make sure he gets plenty of fresh water with an automatic water faucet that attaches to any garden hose. It shuts off automatically, so there's no standing water to worry about.
Automatic Water Faucet for Dogs
5. As we all know, you can get mighty sticky when you sleep in hot weather. An elevated, breathable dog bed allows for better air circulation to keep your dog cool and comfortable. This portable bed is easy to set up and break down and has a washable cover.
6. The canine fashionista in your life will be strutting on the runway with her own summer-style collar. Go for a designer look with this Lily Pulitzer fabric collar.
Lilly Pulitzer Fabric Dog Collar Girl Boy Summer Fling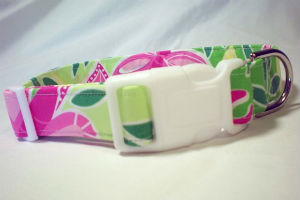 Or choose from a variety of polyester/neoprene summer styles.
Blueberry Pet Summer Dog Collars

It's summer! Have fun and keep cool with your best canine pal. And please, remember to keep him safe.
Tips for Responsible Dog Owners
This e-book is a great resource for anyone who's considering dog ownership or already owns a dog. Download for tips on how to be the best dog owner you can be.