According to AKC Reunite, the American Kennel Club's pet identification and recovery service, the Fourth of July contributes to an increase in the volume of missing pets. The sound of fireworks can cause dogs to panic and run away. To help dog owners keep their four-legged friends safe while having a fun this Independence Day, the AKC offers the following tips:
Put Him First. It is safer to keep your dog at home during Fourth of July celebrations instead of bringing him to your friend's party, even though you enjoy his company. Keep him in the house, rather than in your yard. He will be a lot happier indoors and not tempted to leap over a fence to find you.
Be Sound Sensitive. Fireworks may be pretty, but they are very loud and the noise can be extremely scary for your dog. Once the displays get started, keep your dog in a room where he is comfortable. Block outside sights and sounds as much as possible by lowering the blinds and turning on the television.
Skip the Scraps. Avoid feeding your dog from the grill. While tempting to our pets, a sudden change to your dog's diet can cause an upset stomach. In addition, certain foods like onions, avocados, grapes, and raisins can be toxic.
Keep the Collar On. Identification is extremely important in case your dog gets loose. Make sure to keep his ID tag's contact information up-to-date and consider having him microchipped so you can always be identified and located in the event your dog gets lost.
Collars and tags can fall off so make sure you have permanent ID with a microchip. Keep contact information current with your recovery service provider. For more information and to enroll your pet in a 24 hour recovery service click, here.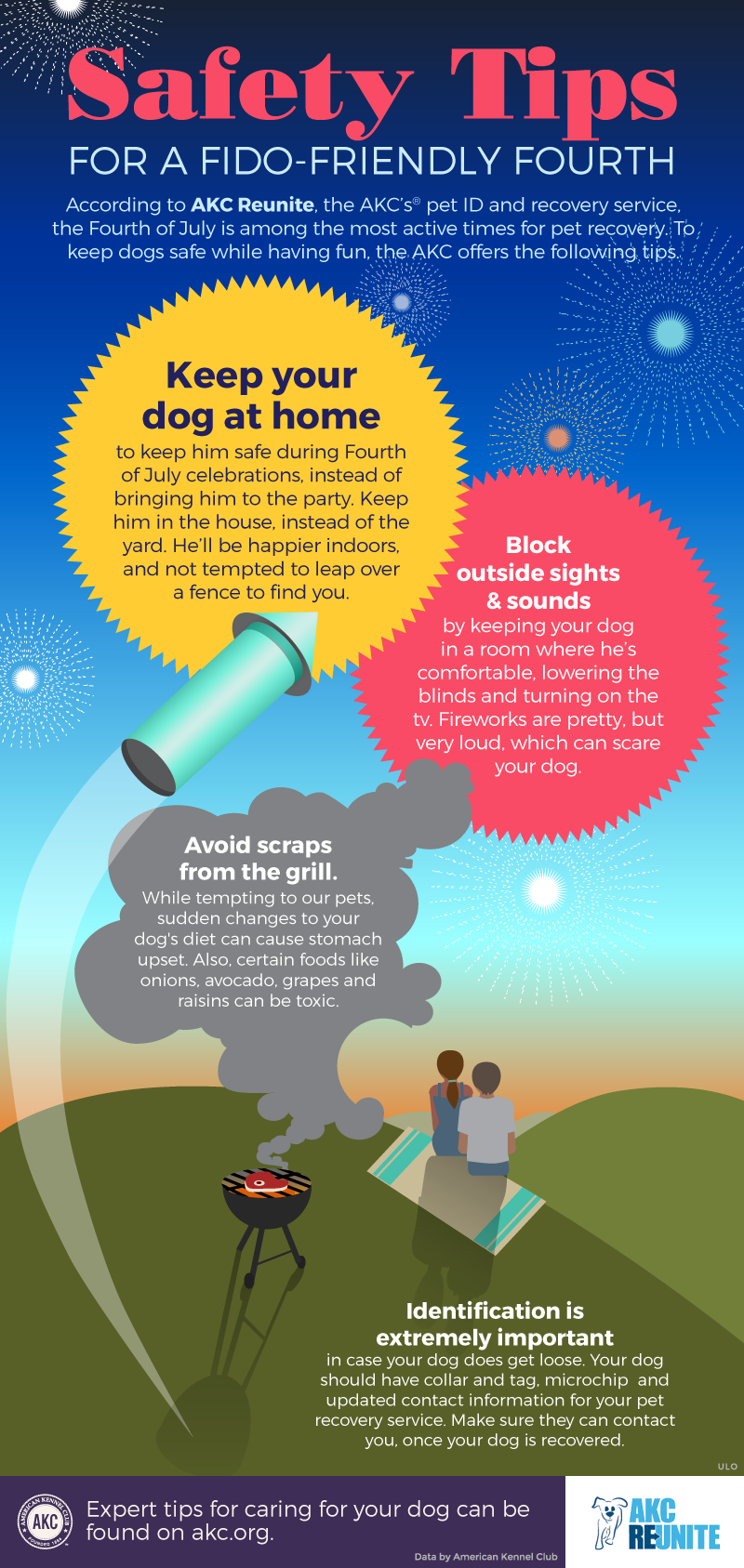 https://www.akc.org/wp-admin/admin-ajax.php
Get Your Free AKC eBook
Puppy Nutrition
Your puppy's lifelong health and happiness begins with you. Get it right from the start. This e-book provides valuable information on how good and sound nutrition habits will set your puppy on the right path.