You've got something old, something new, something borrowed—now how about something chewed?
Many dog lovers choose to include their four-legged friend in their big day, which is a great way to make your ceremony memorable and personal. Here are some tips to ensure that your dog's participation in the wedding will be smooth and safe for all.
Consider your dog's temperament before making the final decision to include him. If changes in environment, crowds, or increased attention stress your dog, then a wedding might not be the best place for him. But that doesn't mean he can't still be a part of the festivities.
Other ways to include him could be with a cake topper:
Or with photos with him and you before or after the ceremony: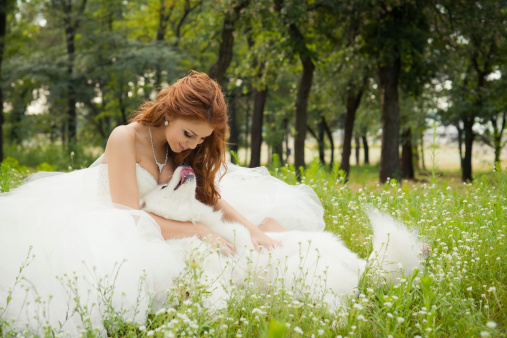 Do your research. Make sure your venue is pet-friendly, and/or let the photographer you hire know that your dog will be part of the photos and make sure he or she is comfortable working with dogs. Also think ahead of the shots you may want to catch with your dog so that the process doesn't delay your day.
Let invitees know that your dog will be part of the celebration, and be prepared that people with allergies or fear of dogs may not be able to attend.
Take a refresher obedience class with your pup. You'll want to make sure he can sit or lie down quietly during the ceremony and also that he's able to tolerate a costume if you choose to have him wear one.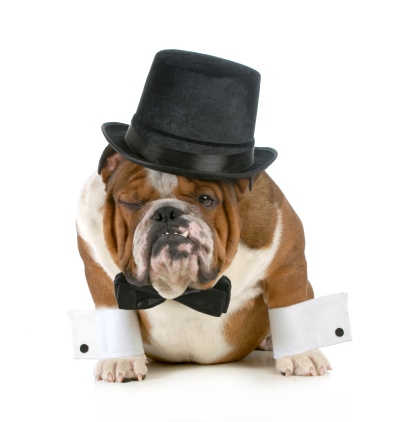 Designate a member of your bridal party as the official "handler" during the ceremony or have your dog sit with a family member or pet-sitter in the audience while you recite your vows. This person should be armed with treats and baggies for cleanup.
Consider YOUR temperament. Sorry, Bridezillas. This option is not for you. Dogs don't understand the seriousness of a wedding ceremony, so unless you can maintain a sense of humor about the possibility of something like the below happening, leave Fido out of the festivities—for your sake and everyone else's.
https://www.akc.org/wp-admin/admin-ajax.php
Get Your Free AKC eBook
Dog Park Etiquette
If you're an urban or suburban dog owner, you're likely familiar with the local dog park. It's a canine oasis. The "Dog Park Etiquette" E-book outlines what you should consider before you bring your dog to the dog park.