Many thanks to these brave four-legged fighters.
Sergeant Stubby
The most decorated canine warrior of WWI, Stubby launched his illustrious career as a stray picked up by a soldier, Corporal Robert Conroy, during training in Connecticut. Conroy later smuggled his new pal onto the troop ship headed for Europe. Stubby proved his worth in 17 of the war's most brutal battles and once captured a German spy. His uniform, adorned with 32 decorations, is preserved at the Smithsonian's National Museum of American History. A new book, Sergeant Stubby by Ann Bausum, tells his story.
Smoky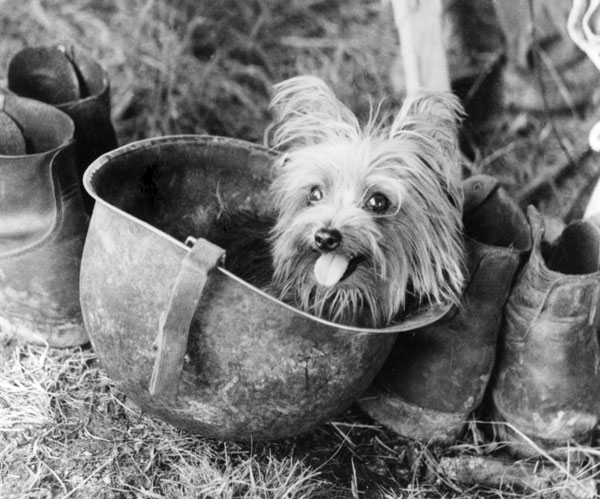 Smoky was small enough to curl up and go to sleep in a helmet, but this tiny Yorkshire Terrier, who was plucked out of a foxhole in Papua, New Guinea, had a war record bigger than dogs 10 times her size. With American soldier William Wynne, she boosted morale everywhere she went, from cockpits to barracks to hospitals, as the world's first therapy dog. Smoky once helped save hundreds of lives by dragging a telecommunications cable through a 60-foot-long, eight-inch-wide tunnel. Read about her in Yorkie Doodle Dandy by William Wynne.
Marine Devil Dogs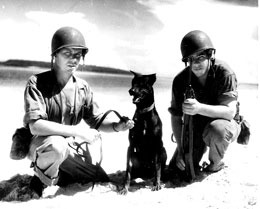 These Doberman Pinschers served as sentries, scouts, and messengers in WWII in the Pacific theater. You can learn more about these brave four-legged soldiers at the Doberman Pinscher Club of America website and in the book, Always Faithful, by Captain William W. Putney.
Chips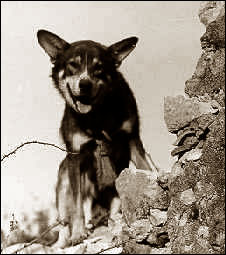 This German Shepherd mix, one of the most famous combat canines of World War II, once conducted a daring raid on a sniper nest in Sicily, breaking away from his handler and capturing four enemy soldiers. He received a Silver Star and Purple Heart, but Army regulations frowned on giving medals to dogs, and they were withdrawn. Unofficially, the brave dog's unit honored him with several battle stars and ribbons for his service.
Nemo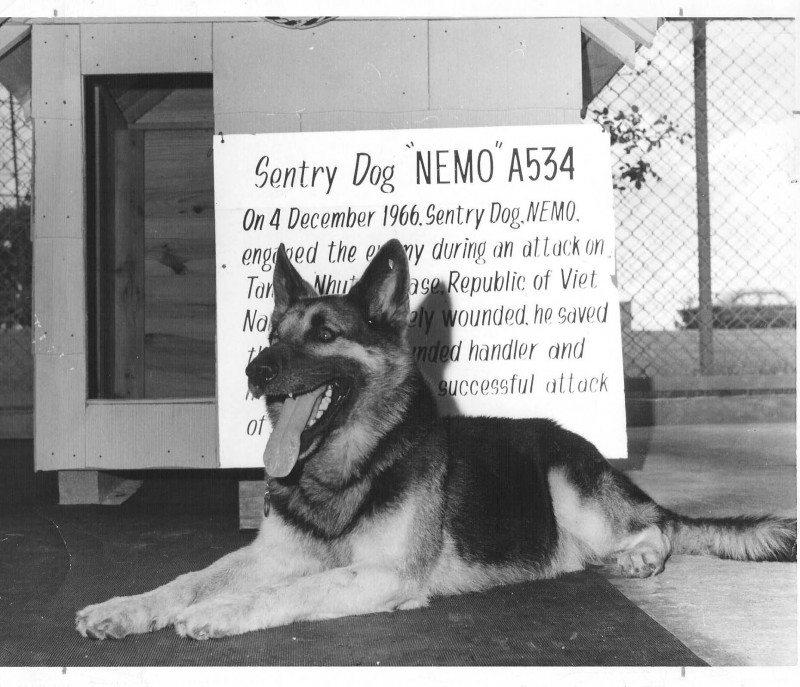 Nemo, a German Shepherd, saved his handler, Robert Throneburg, during an enemy attack on Tan Son Nhut Air Base in Vietnam in 1966. Although suffering from terrible injuries himself, Nemo crawled to a badly wounded Throneburg, threw himself across his partner's body, and protected him until a medic arrived. Both survived the war.
Cairo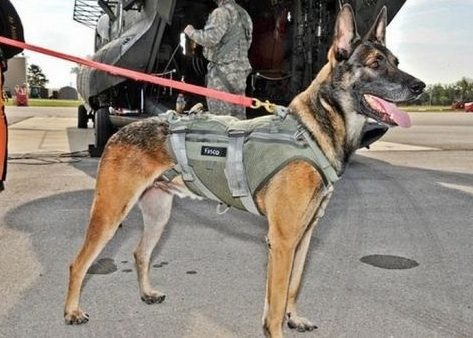 Cairo, a Belgian Malinois, was a member of Seal Team Six that killed Osama bin Laden. A new breed of elite canine soldier, a Special Forces dog's training costs about $50,000 and covers such skills as bomb sniffing and parachuting from helicopters.
History buff? See more historical photos of war dogs here.
Does Your Dog Have What it Takes to be a Therapy Dog?
My dog is great with people, I want her to be a therapy dog. Where do I start? If you have asked this question then this e-book is for you. Download to learn more about Animal Assisted Therapy and how to get started.