The German Shorthaired Pointer is a friendly, intelligent, and very active breed valued around the world both as a highly skilled bird dog and a wonderful family companion. They are descended from hunting dogs of a type that had existed in Europe for centuries. During the 19th century, when more and more people had access to dogs to hunt with and shoot over—an activity up until then more limited to the aristocracy—breeders sought to develop a smart, versatile gundog who would be "an excellent performer in any type of work, whether in the field, forest, or water." Their efforts were successful and brought us the German Shorthaired Pointer, the favorite of many dog lovers today.
Owners can vouch for the fact that the breed isn't an "easy" pet, however, and people thinking of adding a Shorthair to their household should do their research carefully. Certainly, life with the breed is never boring. Here's a young Shorthair who illustrates seven reasons why.
1. They love water.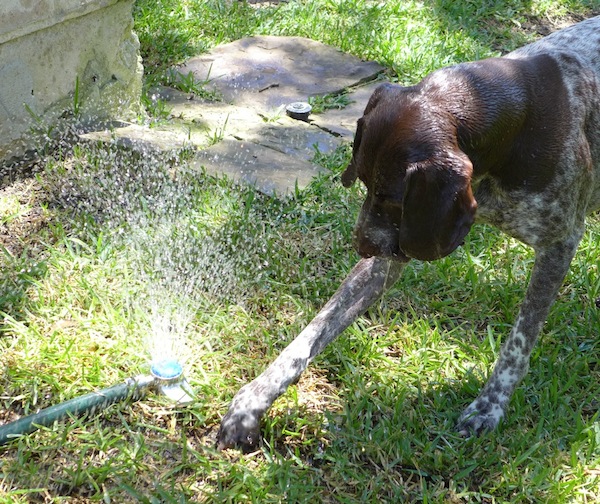 2. They're usually great with other dogs.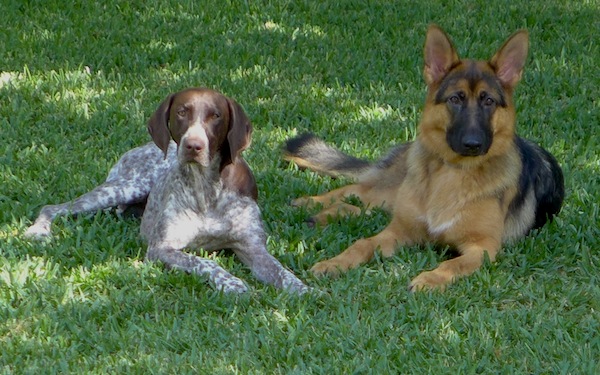 3. They'll take advantage of a comfortable seat at any opportunity.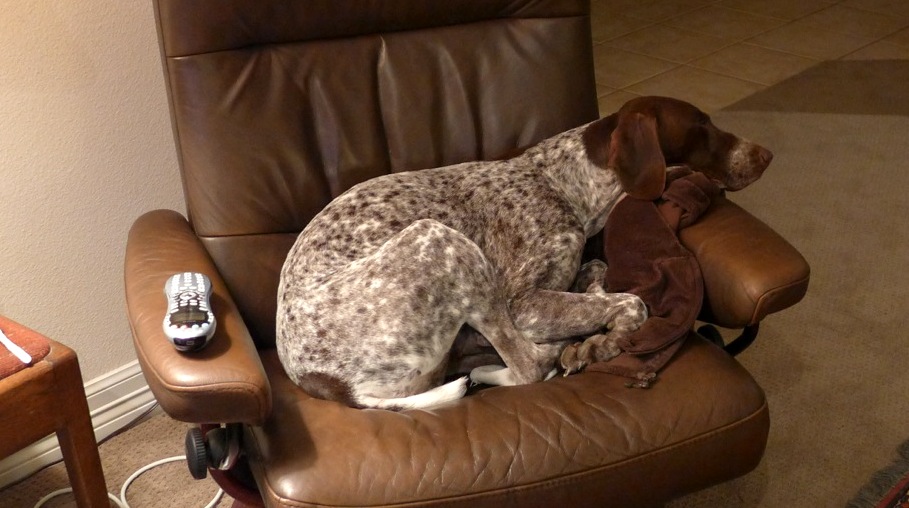 4. They can be lethal on cardboard in any shape.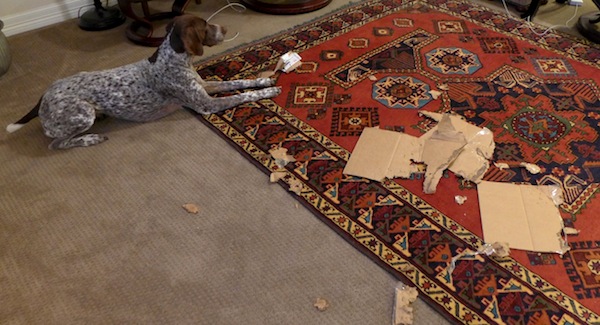 5. They love playing ball. Or carrying anything in their mouth.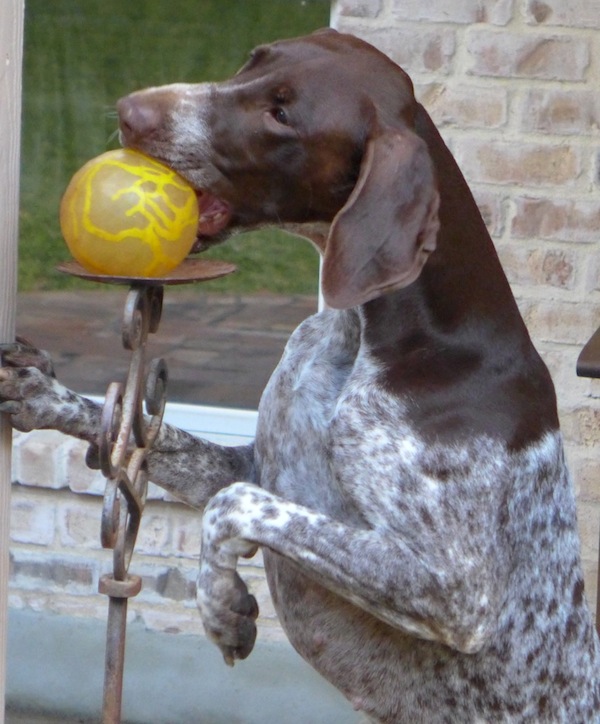 6. They may think they're hiding while waiting for the ball to be thrown.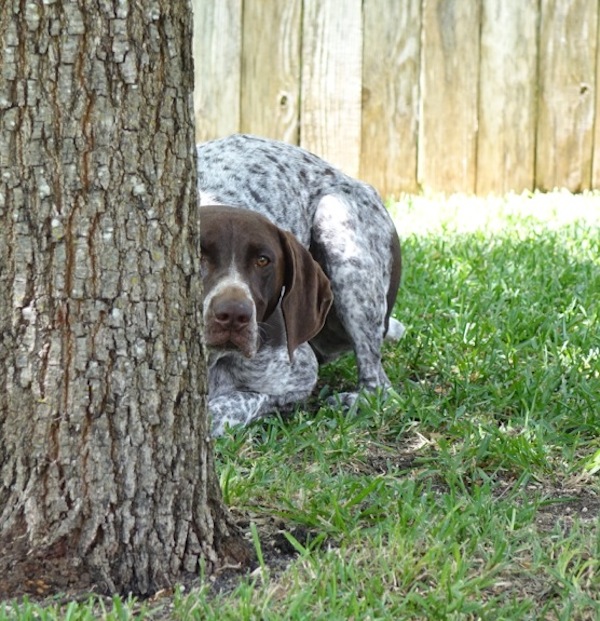 7. They are notorious for jumping, climbing, or scaling fences if something triggers their interest on the other side, or if they are home alone and bored. (This fence is six feet tall, and as you can see, if she really wanted to scale it she could.)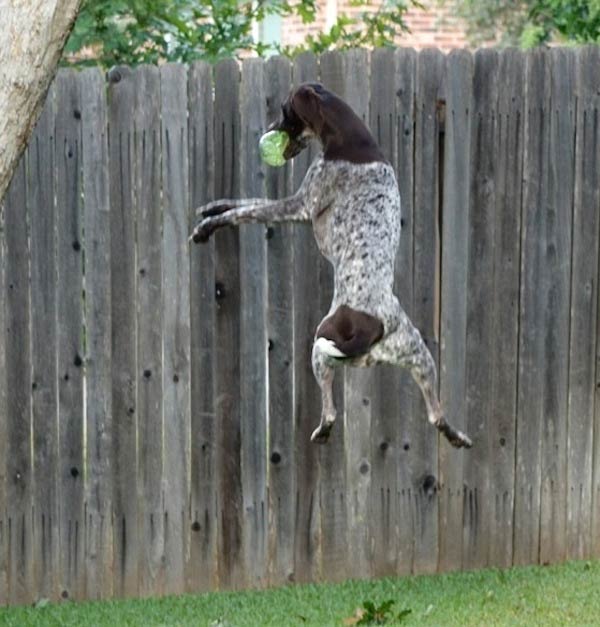 Thinking of owning a Shorthair? Here are some additional things you should know.
They are very bright, creative clowns. Anything worth having, they will find a way to get it—or get to it.
They are very persistent when they want something.
They are first and foremost bred for hunting, and as such have very strong prey drive. Anything that flits, moves, hops, or jumps will catch their attention.
They aren't recommended for first-time dog owners, or families with no experience with a hunting breed and who have children under seven years of age.
They are very strong and quick for their size. They can pull a grown man off-balance with little to no notice because of this.
They like children, but they can knock them down easily, and sometimes an older Shorthair may treat a young child much like they would an unruly pup.
Squirrels are their nemesis.
They do shed.
A bored Shorthair can be destructive if left to their own imagination.
They learn quickly at a very young age. Girls begin to settle down about three years of age, boys around four-plus.
They can learn by watching, and they have been known to open refrigerator doors if there is a hand-towel through the handle.
They are notorious counter-surfers.
They have a high energy level that requires more than a one- or two-hour walk a day. A good Shorthair is a tired one—but they regenerate quickly.
They remain young at heart well into their later years. It's not uncommon for a Shorthair to still be very active and hunting beyond age 10.
They love to retrieve and should never be scolded for bringing an item to the owner, regardless of what it is. They should be redirected with a toy if it is a shoe or other personal item.

For more information about the breed, check out the German Shorthaired Pointer breed pages, and visit the website of the German Shorthaired Pointer Club of America.
All photos (except for top photo) courtesy Nathan and Patte Titus.
Patte Titus is a longtime German Shorthaired Pointer owner and breeder and is the German Shorthaired Pointer Club of America's historian and breed-education chair. She writes the German Shorthaired Pointer breed column for the AKC Gazette in the January, April, July, and October issues.
[]
AKC FAMILY DOG MAGAZINE
This article was originally published in AKC Family Dog magazine. Subscribe today ($9.95 for 6 issues, including digital edition) to get expert tips on training, behavior, health, nutrition, and grooming, and read incredible stories of dogs and their people.