Puppies: They grow up so fast. That's why Australian couple Alex Dennison and Ashley Lewis decided to document how quickly their German Shepherd puppy grew to almost full size.
They took pictures of Ashley holding the dog, named Nasra, and posted the progression on Reddit. It quickly went viral, catching the attention of Bored Panda, Daily Mail, and other online outlets.
See the photos here, from 8 weeks to 8 months: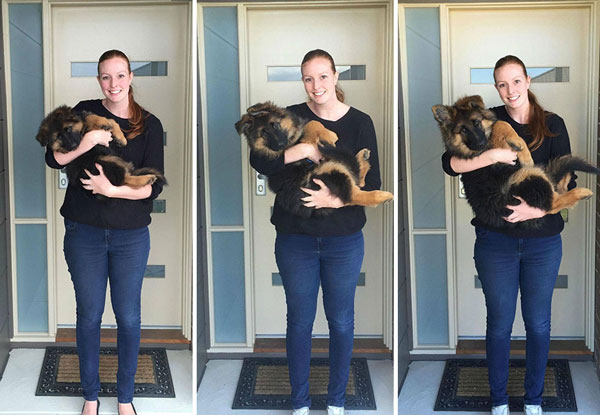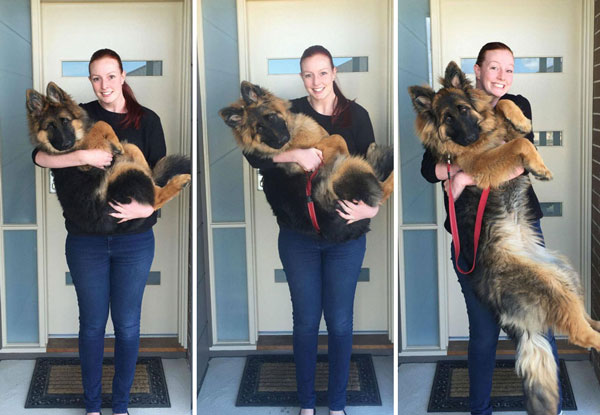 Other owners have done similiar projects, including one German Shepherd owner who made a 40-second video of his dog, Dunder, growing up, using photos he took every day from the time the puppy was 8 weeks old to 1 year old. 
 
And another owner who took video of his Golden Retriever puppies running to dinner from 11 weeks old to 9 months old.
 
Such puppy cuteness! It's incredible how fast they grow. Looking for one of your very own? Check out puppies on AKC Marketplace. 
https://www.akc.org/wp-admin/admin-ajax.php
Get Your Free AKC eBook
The Five Commands Every Dog Should Know
Do you want a well behaved dog but don't know where to begin? The Basic five commands e-book is a great place to start and will give your dog a strong foundation for future training.