Everyone knows there is nothing better than eating a delicious taco in celebration of Taco Tuesday. Well this Taco Tuesday, we are also celebrating National Taco Day! In honor of this scrumptious holiday (and to inspire some early Halloween costume ideas), we present to you 31 dogs dressed as tacos. Enjoy!
How about a Pomeranian taco?
 
a Golden Retriever taco?
 
This Husky taco is all smiles.
 
German Shepherd taco!
 
This guy is all about that fall life.
 
We can't get enough of these guys. Taco costumes are the best costumes.
 
Want a Boston Terrier to rock a taco costume like this pup? Check out AKC Marketplace for Boston Terriers.
When you have too many tacos…
 
Who do you think is the cutest taco?
This little pup?
 
This Malamute taco?
 
This Corgi taco?
 
Boston Terrier taco?
 
Dachshund taco?
 
Cav taco?
 
Oh who are we kidding, they're all the cutest!
 
Puppy taco!
 
Looking for an adorable Golden Retriever puppy like this guy? Check out AKC Marketplace for Golden Retriever puppies.
It seems like "Taco" is a popular look for the Corgis.
 
And just when you thought there couldn't be more…
There's more:
Shiba Inu taco!
 
Our faces after looking at all these dog tacos:
 
And it wouldn't be Taco Tuesday without our very own Tucker!
He's what we call a…Tuco!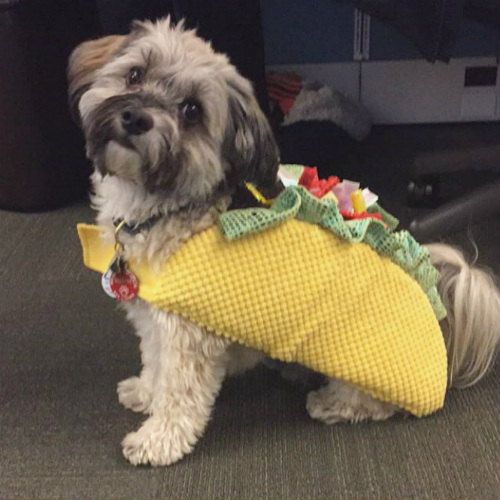 Remember, if you want your dog to celebrate Halloween (or any holiday) with a costume like these adorable taco-wearing pups, make sure you ease him into his get-up. And if he isn't comfortable in the outfit, it's probably best to take it off.
To learn more about the "different kinds of tacos" featured here, check out our breed pages. And if you've decided on the breed for you, check out puppies on AKC Marketplace.
https://www.akc.org/wp-admin/admin-ajax.php
Get Your Free AKC eBook
Canine Body Language
Your Dog is Trying to Tell You Something. You have questions, we have answers. Download this e-book to get the explanations behind some of the strangest canine behaviors.