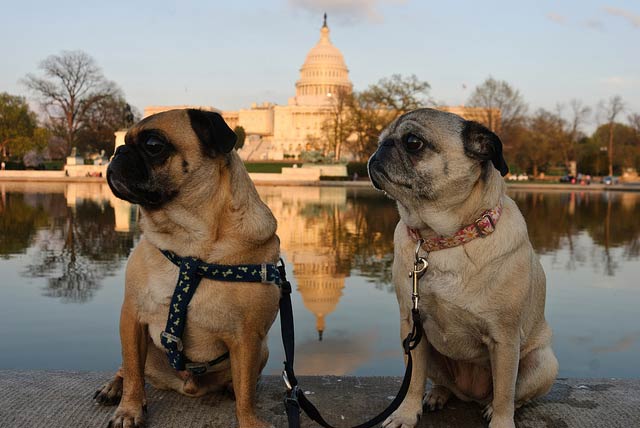 With so much to see, and so much of it outdoors, the nation's capital is a dog's paradise. Here are seven fantastic things to do with your dog in Washington D.C.
1. Go To The Park
D.C. has more parks than you'll ever be able to visit, but some of the must-sees are Fort DuPont Park, which is rich with history of the underground railroad, and Rock Creek Park, which is full of scenic landscapes. Some of the best dog parks in the city are S Street Dog Park, Lincoln Park, and Shaw Dog Park. Montrose Park is not technically a dog park, but many dog-lovers congregate there.
 
2. Go Out To Eat
You can find plenty of dog-friendly restaurants in D.C. Some of the most popular are Chupacabra Latin Kitchen, Red Rocks Columbia Heights, which is famous for their pizza, and Cafe Ole, which serves out-of-this-world hummus. Cantina Marina is a dog-friendly waterfront restaurant that serves excellent Caribbean food, and Art & Soul has hearty southern fare, and even offers a complete doggie menu.
 
3. Go Wine Tasting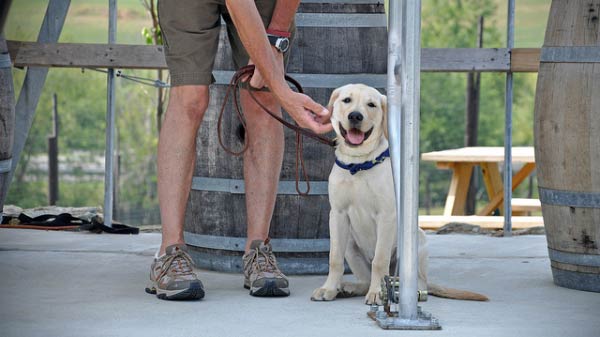 Virginia is known for its beautiful wineries, and about one hour west of Washington D.C. you'll find a winery that is incredibly dog-friendly: Barrel Oak Winery. They have plenty of water bowls and jars of delicious treats scattered around, so you and your four-legged friend can enjoy a relaxing afternoon in the countryside.
 
4. Take A Pedicab Tour
Perhaps you'd rather ride on wheels than float on water. Discover DC Pedicab Tours, Nonpartisan Pedicab, and DC Pedicab all welcome dogs on their tours, and they'll take you to all the monuments in D.C.
 
5. See the Landmarks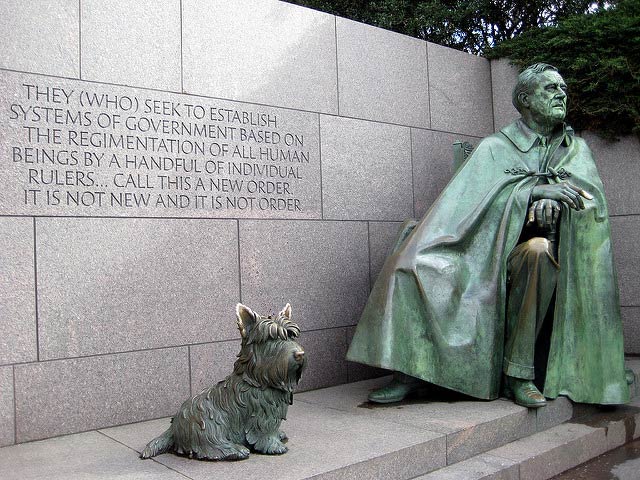 If you're in D.C., you have to visit The National Mall at least once, and your dog is welcome to join you. The National Mall includes the Washington Monument, the Lincoln and Jefferson Memorials, and of course, the White House and the Capitol building. Dogs are not allowed underneath the domes at the Lincoln and Jefferson memorials, but they are allowed throughout the entire FDR Memorial and MLK Memorial, which are both within walking distance of the Mall.
 
6. Visit the Smithsonian Gardens
You may not be able to take your dog inside the Smithsonian Museum, but she's welcome to accompany you in most of the Smithsonian Gardens. You can visit the Butterfly Habitat Garden, the Heirloom Garden, the Native Landscape at the National Museum of the American Indian, or the Folger Rose Garden, which is right next to the famous castle building. Except for the Enid A. Haupt Garden and the Hirshhorn Museum and Sculpture Garden, all Smithsonian Gardens are open to furry friends.
 
7. Take A Boat Ride
Capitol River Cruises offers narrated boat tours of the historical sites along the Potomac River, and your dog is welcome to join you on the ride. If you and your pooch are looking to spend some more recreational time on the water, rent a canoe or kayak from Keybridge Boathouse. They even have doggie life jackets!
https://www.akc.org/wp-admin/admin-ajax.php
Get Your Free AKC eBook
Tips for Responsible Dog Owners
This e-book is a great resource for anyone who's considering dog ownership or already owns a dog. Download for tips on how to be the best dog owner you can be.