While breaking out the red, white, and blue, you should also make a few preparations to ensure your dog is safe and comfortable during the celebrations.
Confirm your dog's microchip information is up-to-date. More pets go missing on the Fourth of July than any other day of year. If your pet is microchipped, take a moment before Saturday to check your account and make sure your contact information is correct. Also, consider setting him up with a GPS device designed for pets. If your dog is afraid of fireworks, read these tips.
Be safe during BBQs. Unsupervised dogs shouldn't be allowed to roam around during BBQ parties. From kids dropping food that may make your dog ill to hot grills with food that may tempt your dog to jump up and get burnt, there are plenty of opportunities for an illness or injury (not to mention an escape if people are coming and going). Keep your pet on a leash or make him stay inside. Get more tips here.
Beware of overheating. On a sunny July day, temperatures can soar even in the early afternoon. Give your pet plenty of fresh water, and monitor him for signs of overheating. If you're planning on being outside for most of the day, it might be best to keep him inside an air-conditioned home. Also, remember pets can get sunburn, too, especially on their noses or anywhere on lighter-coated or hairless breeds, so pick up a doggie sunscreen (don't use human products on your pet).
If you're around water, take caution. Many dogs love to splash around a pool or a pond, especially on hot days, but make sure you're being safe. Monitor your dog while he's in the pool and never leave him unsupervised. (Get more tips on water safety here.) If you're thinking of swimming in a river, lake, or pond, watch out for algae, which is on the rise this year and can be poisonous.
When traveling with your dog by car this weekend, take care to properly restrain your pet. Get more travel safety tips here. Also, never leave your dog in the car, even with the windows up and even if you think it's not that hot. See below to learn how quickly a car can reach dangerous temperatures.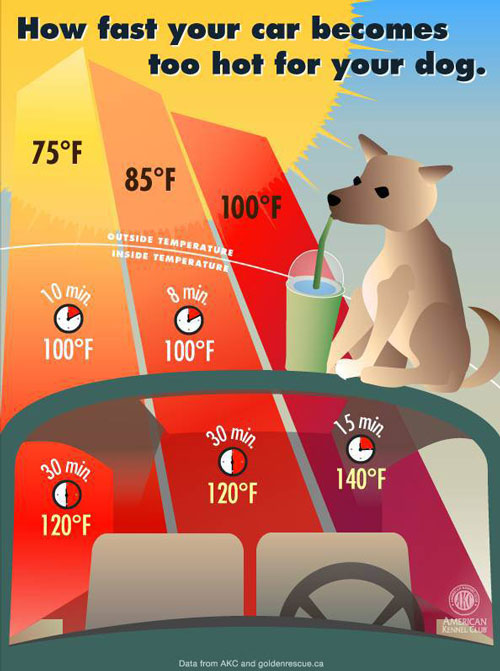 https://www.akc.org/wp-admin/admin-ajax.php
Get Your Free AKC eBook
Tips for Responsible Dog Owners
This e-book is a great resource for anyone who's considering dog ownership or already owns a dog. Download for tips on how to be the best dog owner you can be.