Just in time for fall, and almost football! It's National College Colors Day, and these dogs are sporting their favorite college team's colors and apparel.
Cute, but still classy; we hope you enjoy their spirit as much as we did:
USC fans are coming out in full force! Like this Pembroke Welsh Corgi with his USC bandana…
Or this Golden Retriever who's choosing the perfect blue PSU toy to represent his school!
And check out this little Cairn Terrier with his bright orange buddy; clearly rocking Syracuse colors!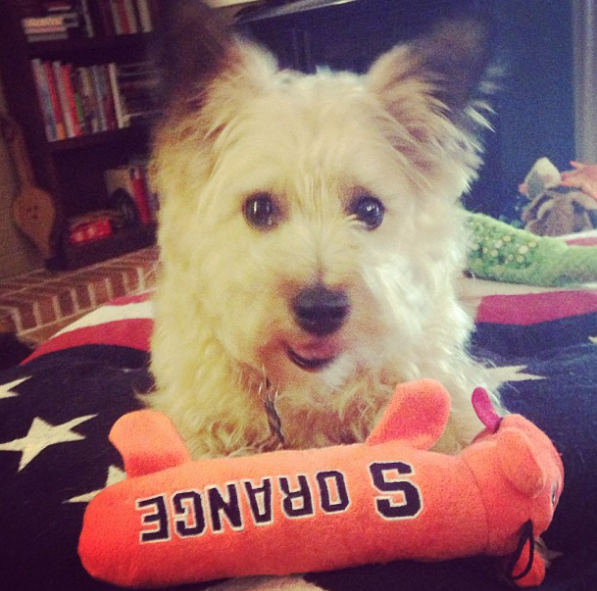 This American Eskimo Dog is rocking his light blue bandana for UNC!
This Sheltie is sporting his red and white OSU bandana, and he looks especially dapper.
This Golden Retriever who's got his game day face (and red OSU hat) on!
Sporting the blue and yellow for WVU is this handsome German Shepherd Dog.
Samson the Golden Retriever is rocking a red and white Mississippi bowtie, and it is the cutest.
And Clemson University has quite a few four-legged friends sporting their colors…
Like this Rottie with his bright orange visor!
And this ADORABLE Golden swimming in a bright orange Jersey.
Share your pups sporting their favorite college colors with us in the comments on Facebook!
Ready for more cuteness?  Check out the puppies in the video below!
https://www.akc.org/wp-admin/admin-ajax.php
Get Your Free AKC eBook
Puppy Socialization
Socializing your dog in an important step in raising a balanced and happy dog. Not sure where to start? Download this e-book for some tips.