If your dog is the outdoorsy, adventurous type, he's probably a great hiking partner. And, just as you bring along supplies for the human hikers in your group, there's some gear you'll want for your dog, as well. He can even carry some of his own supplies!
Trail Packs
Start by equipping him with his own trail pack. Dog packs are constructed to attach around his body and are configured with pouches and pockets to hold gear. As a general rule of thumb, a young, healthy dog can carry up to one-quarter of his body weight. You'll know best whether your dog can carry more or less than that. If in doubt, discuss it with your vet. Here are some packs to consider, along with other gear you should bring along on hikes.
In Partnership with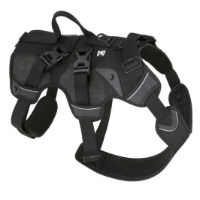 The double-bag construction lets you distribute weight evenly into zippered, roomy pockets. Adjustable straps will keep the pack from shifting.
Outward Hound Backpack for Dogs
Securely pack all of your dog's hiking essentials. The breathable mesh allows for air flow and ventilation that will help to cool him off on your trek.
Water Bowls
Make sure to bring plenty of water and something to put it in. If you're thirsty, your dog's thirsty. And even if you're not, offer him water every half-hour.
Made of food-grade silicone, these 2-pack bowls hold 12 fluid ounces or 1 1/2 cups of dog food. They collapse flat for packing.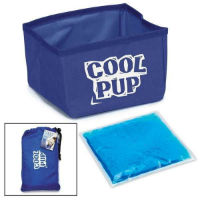 This soft-sided travel bowl folds into a pouch when you're not using it, making it a cinch to pack. It comes with a freezer pack to keep water colder longer.
Eversweet Travel Water Purifier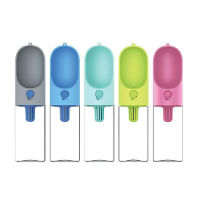 When fresh water is hard to come by, this clever piece of dog gear uses a charcoal filter to remove impurities. It's shaped for easy drinking and has a leak-proof lid.
Leashes
No matter how obedient your dog is, many parks and trails require dogs to be leashed. Depending on how familiar you are with the trail, it may be a good idea to keep him on a leash anyway, to direct him away from other animals, poisonous plants, and other hazards.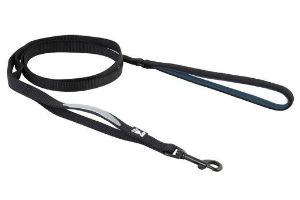 At six-feet long, this sturdy leash is just the right length to keep your dog close by. It has a padded grip and extra handle near the front, in case you need more control.
Bungee Dog Leash With Waist Belt
Hike virtually hands-free with a leash that attaches around your waist! It even has a pouch for small essentials. And when you need to control your dog, use the sturdy neoprene grip.
More Equipment to Keep Your Dog Close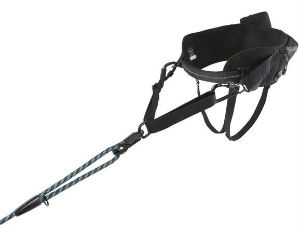 With a waist strap and adjustable leg straps, the Hiker's Belt minimizes stress on your body if your dog should pull or zigzag suddenly. It even has a quick release in case of an emergency.
If your dog does better walking with a harness, you can use one for hiking, too. With two points of leash attachment, adjustable straps, and soft, breathable material, the harness allows your dog to be comfortable and secure on all your outings.
Pick Up After Your Dog
Light and soft-sided, the waste bag dispenser comes with a roll of 20 bags and is refillable. It attaches to your dog's leash with Velcro, and even has room for small items like your keys.
Protection From Bugs and Sun
Going on a hike is more challenging than a casual walk around the neighborhood, and your dog may need some protection from rough terrain, heat, and pesky insects. Bring some of this handy gear along to keep your dog safe and comfortable.
All-Natural Dog Herbal Insect Repellent
Repel flies, mosquitoes, ticks, and other insects on the trail with all-natural, organic human-grade ingredients. The 4-ounce travel size is just right for camping and hiking.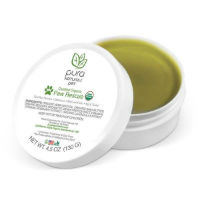 A day of trekking on rough terrain or hot surfaces can damage your dog's paws, leaving the pads dry and cracked. Use this healing organic balm to soothe, moisturize, and protect his paws.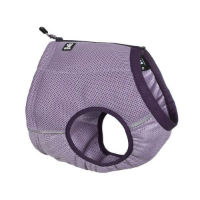 Hiking in hot weather can be hard on your dog, but this mesh cooling vest will help keep him comfortable. No freezer pack required: just wet it with cold water, wring it out, and put it on your dog to cool his chest.
Be prepared for emergencies while hiking with everything you'll need, organized into clear pockets for easy access. The kit is small and lightweight and has room for you to add anything extra your dog might need.
Treats
BLUE Wilderness Grain-Free Treats
Made with natural ingredients, these biscuits will give your dog the protein he needs and a much-deserved reward for a hike well done.
With all of this handy dog hiking gear packed and ready to go, happy trails to you and your canine hiking pal!
https://www.akc.org/wp-admin/admin-ajax.php
Get Your Free AKC eBook
Tips for Responsible Dog Owners
This e-book is a great resource for anyone who's considering dog ownership or already owns a dog. Download for tips on how to be the best dog owner you can be.