A dog gate creates a boundary that keeps your dog either inside or outside another area of the house or grounds. It's a useful piece of equipment, whether you have a brand new puppy or dogs that usually have the run of the house. A gate gives a puppy a safe, dog-proofed area to play while keeping him out of trouble. Even adult dogs may need a place to retreat to or a barrier to keep them from being underfoot if the house is full of guests or workmen. If you're out of the house all day, gating off a particular room for him gives him more freedom than a crate does. And you may have to separate multiple pets that aren't getting along or even a toddler and an overly energetic pup. A sturdy dog gate creates a safe haven for your dog and a dog-free zone when needed.
Dog gates come in various styles, including pressure-mounted, freestanding gates; those with access doors; extra tall gates; permanently installed gates; and more. Your choice depends on where you plan to use it, how handy you are with tools, whether you need a portable gate, and your dog's size and energy level. Here are some factors to consider when choosing a gate:
In Partnership with

How big is your dog? The gate needs to be tall enough so that he or she can't easily jump it. A Great Dane will obviously need a taller gate than a Yorkshire Terrier.
Is your dog a champion chewer? If so, you'll want to avoid gates made of wood, plastic, or some combination of the two. Stick to a metal gate.
Portability. Do you want to take the gate with you when you travel? A freestanding gate is your best bet.
Is it easy to open and close? Look for something uncomplicated if you latch and unlatch the gate often, if your kids also open and close it, or you just want one-handed operation.
Do you have a canine Houdini? Look for the most vertical gate you can find, and consider a permanent installation. If you're handy, try installing the hardware at a slight inward angle, which makes it harder for dogs to climb.
Do looks count? You might be able to find a dog gate that's not only functional but is also artfully designed.
This dog gate is made of heavy-duty metal, with a locking system that can be operated with one hand. Add an extension (included) for wider doors. No assembly required.

A good choice to contain most small dogs, this good-looking, freestanding pet gate has side panels and rubber feet to prevent slipping. With it's low height, the humans in the house will find it easy to step over.
Walk-Through Gate With Pet Door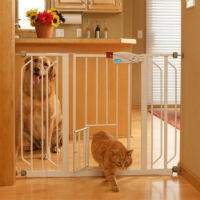 Let smaller pets through without having to remove the gate, while larger pets stay put. The pressure-mount system is easy to set up, and the heavy-duty steel is non-toxic and chew-proof.
This dog gate is made of bamboo and 100 percent recycled plastic. While not the best choice for chewers, the pressure-mount system and adjustable width make it an environmentally friendly option.

The house isn't the only place where it might be useful to contain your dog. This weatherproof dog gate works just as well on the deck, porch, or patio. It's wall mounted and can be used in a door opening and at the top or bottom of stairs.
Freestanding Wood With Walk-Through Door
The interconnecting panels of this wooden dog gate will fit openings as wide as 88 inches. The hinged door lets humans or pets pass through easily.Support feet add extra stability and they cherry wood finish is a nice design touch.
Measuring an impressive 44 inches high and with an adjustable locking bar, this wood and wire pressure-mounted gate should contain even tall and leggy dogs. Non-toxic materials, easy assembly, and lightweight enough to be portable.
Hardwood and Steel Walk-Through Pet Gate
Dog owners who want function and style will appreciate the cherry accents and premium finish of this pressure-mounted gate. It's tall at 38 inches high, fits door openings as wide as 44 inches, and has an easy-to-open walk-through door.
Pressure- or Hardware-Mount Plastic Gate

An easy press-and-release latch locks this gate in place. You can pressure mount it to use between rooms or hardware mount at the top of a staircase. And it's made in the U.S.
Lift, Lock, and Swing Dog Gate

When this is hardware-mounted, it swings open easily. Or you can pressure-mount it and use the one-hand top-release handle. It even has an indicator to let you know that it's locked properly.
This chew-proof, heavy-duty metal gate has a stylish matte bronze finish and a triple locking system. It's easily pressure-mounted, and the gate swings both ways for added convenience.
Freestanding Folding Wooden Pet Gate
If style is as important as function, check out this die-cut patterned wooden folding gate. Standing only 19 inches high, it's meant for small dogs and is easy for humans to step over. Just unfold the gate, and put it where you need it. It folds easily for storage when not in use.
https://www.akc.org/wp-admin/admin-ajax.php
Get Your Free AKC eBook
Tips for Responsible Dog Owners
This e-book is a great resource for anyone who's considering dog ownership or already owns a dog. Download for tips on how to be the best dog owner you can be.