Most prefab, doghouse products on the market tend to be a bit of a snooze: They're plastic or metal, and they're all built for pooches that spend a lot of time outdoors. But what if you've got a canine that sticks to the indoors, but still seems to crave his own space in your house? Lucky for you, there are plenty of doghouse plans out there that will make your pup feel right at home, without making your place look like a kennel.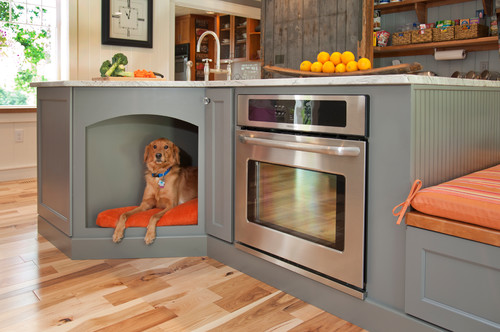 Carve Out Cabinet Space
If you spend a lot of time in your kitchen, your dog is sure to want to hang out there, too. After all, where else are you most likely to accidentally drop some tasty scraps on the floor? Ask your contractor to replace one of your under-the-counter cabinets with a sweet kitchen hangout for your pooch, and at least you'll be less likely to trip over him or her while you cook! The Muir Showrooms
In Partnership with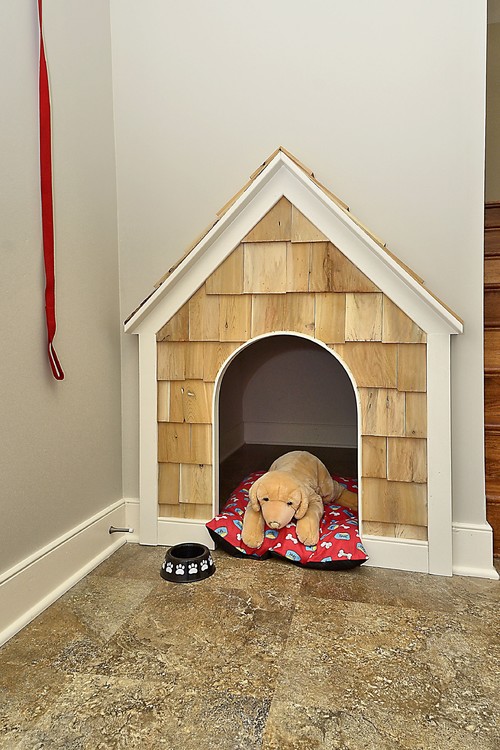 Under the Stairs
If the space beneath your stairs isn't very useful, break through the drywall to build a doghouse, Harry Potter-style (remember—he slept under the stairs.). Adding wood siding and a peaked roof adds a bit of extra charm to this indoor twist on an outdoor classic. Baldwin Homes, Inc.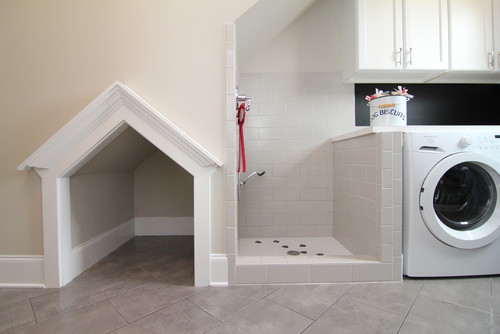 Liven up the Laundry Room
You already laid down linoleum on the laundry room floor to handle wet towels, which makes it perfect for this unique doghouse idea. If your pup has an accident in the laundry room, cleanup will be a snap. One note of caution: Keep your laundry detergent and dryer sheets up on a high shelf, far away from a counter-surfing dog's eat-anything appetite. Stanton Homes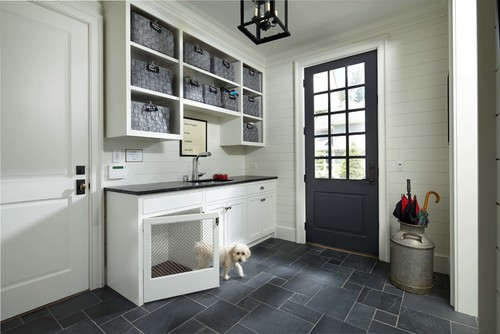 A Doghouse Idea for Your Entryway
Every dog owner knows that coming home to a greeting from an excited pup is one of the benefits of dog ownership. Make it easy for Fido to meet you right at the door with a doghouse setup that's incorporated into the mudroom furniture. Built like an extra cabinet, it can even have a latching door, if your pup likes to be closed in for comfort while you're away. Murphy & Co. Design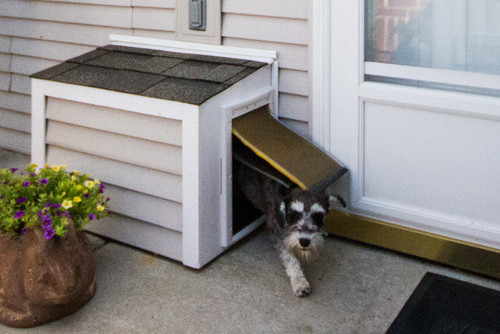 Out the Back
If you're not keen on a doggie door that's cut out of your solid back door, try this on for size: Build a small doghouse, right on the back of the house, with an entry into your abode. Then add a doggie door on the side. It will be easy for your dog to get in and out, provide an animal-dedicated space, and save your gorgeous door from being sawed in half. Of course, you do need to make an entrance opening in your wall, but we'll save that for another DIY story. DC Interiors & Renovations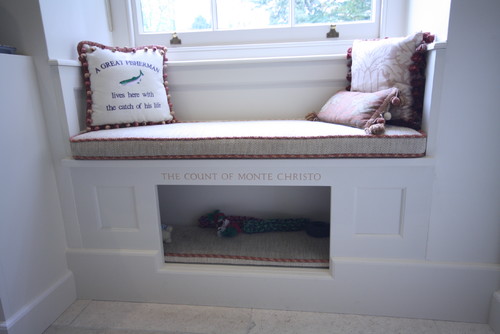 Upgrade Your Window Seat
A window seat makes a perfect place for dreaming . . . for you and your dog! Cut out a sleeping area where you might otherwise have unused space. While you're soaking in the sun in the seat with a good book, your pooch can snooze away in his private space just beneath you. Heaven & Stubbs Bespoke Furniture Ltd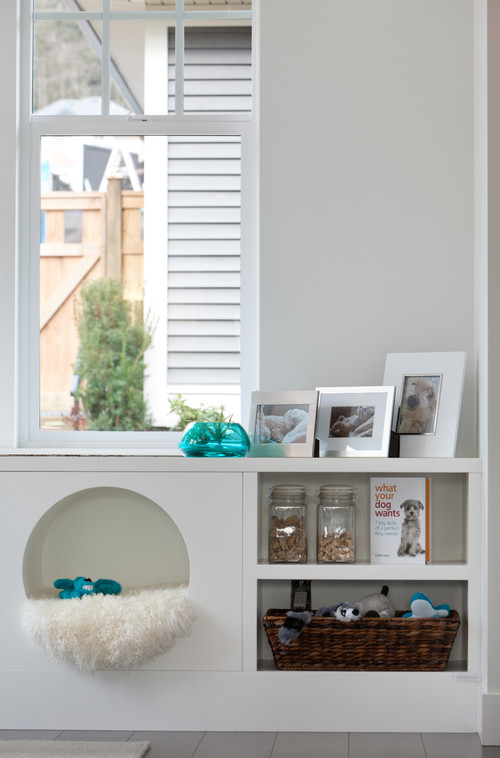 Incorporate Your Doghouse Idea Into the Living Room Design
While you're adding organization to the den or living room, add a nook for your dog's naps. Shelves nearby can hold his toys, so they're up and out of the way (or will be, once you scoop them all up and place them in the basket). Portico Design Group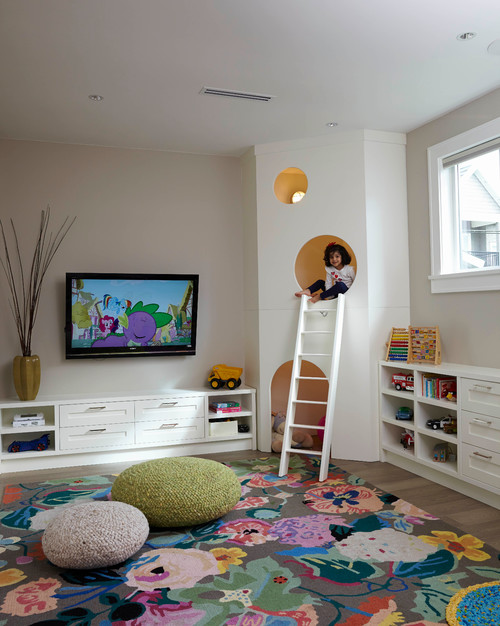 Add to the Playroom
Kids and puppies go together like chunky peanut butter and strawberry jam, and you'll often find them hanging out together. If your kids and dogs are attached at the hip, make sure the dogs have a perfect place set up in their best friends' playroom. MaK Interiors
This article originally appeared on realtor.com
https://www.akc.org/wp-admin/admin-ajax.php
Get Your Free AKC eBook
How to Crate Train Your Dog
Are you thinking about crate training your puppy but aren't sure how to get started? Don't worry, we have you covered! Download the AKC create training e-book to get started.