Warm weather often means more time spent outdoors with your dog, but after a good romp in the woods, it's important to do a tick check. There are about 200 species of ticks in the United States, and according to a count by the U.S. Centers for Disease Control and Prevention earlier this year, the blacklegged tick (or deer tick), which causes Lyme disease, is found in about half the counties in the country. Other diseases spread by various species of ticks include babesiosis, ehrlichiosis, and tick paralysis.
To help address these and other diseases in dogs caused by ticks, the AKC Canine Health Foundation recently launched the Tick-Borne Disease Initiative to raise funds for research aimed at discovering innovative approaches to understanding, preventing and treating tick-borne diseases. All donations received through this initiative, up to $250,000, will be matched by the AKC.
"Tick-borne diseases occur in all 50 states and often cause serious illness in dogs, ranging from acute and life-threatening to chronic conditions that significantly impact a dog's quality of life," says Dr. Diane E. Brown, CEO of the AKC Canine Health Foundation. "Our initiative, with the generous match from the AKC, will help raise vital funds to provide better diagnostics, better preventives, and better therapeutics for all dogs."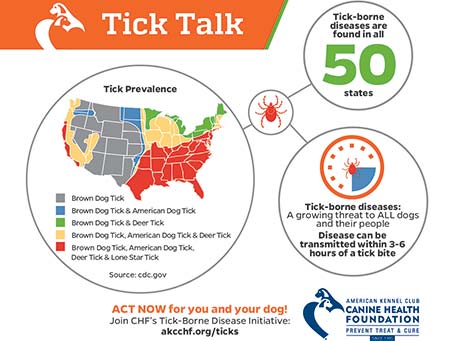 Learn more or make a donation here.
See a tick on your dog? Learn how to remove it here.

https://www.akc.org/wp-admin/admin-ajax.php
Get Your Free AKC eBook
What are all these vaccines for?
Learn about the most common canine diseases that are preventable with vaccines.