Searching for a new purebred puppy isn't necessarily as easy as it seems. Sure, anyone can post an advertisement for healthy, purebred, AKC-registered puppies on sites like Facebook and Craigslist, but that doesn't make them true. It is important for dog owners to know where exactly their new furry friend came from to ensure their puppy's health and wellbeing. That's why the American Kennel Club created AKC Marketplace, an online resource designed to bring reputable and responsible breeders and potential dog owners together.
"When people are searching for a purebred puppy, we want to make sure AKC is their go-to resource," said Katie Peralta, marketing manager at AKC.
The newly launched program puts an emphasis on Breeders of Merit, Bred with H.E.A.R.T. breeders, and AKC Club members, but all AKC breeders can sign up and showcase their pups to anyone in the market for a purebred dog. Potential owners can search for puppies by breed, gender, and distance. Once they find a breeder they like, they can "meet" the sires and dams of each litter to learn about DNA information, health tests, and titles they've won. Owners can take solace in the fact that each parent is a verified AKC-registered dog.
Breeders can sign up for Marketplace for $10 per month, plus a $20 signup fee, or for a $99 flat rate for the entire year (the signup fee is waived), which comes out to $8.25 per month, making it the more economical option. Once registered, breeders can create a searchable Marketplace name and custom URL. They can also add a description of their services, including history, philosophy, and more. From there, they can add their location, contact information, and photographs and videos of their kennel and dogs.
"From breed information to educational material and connecting with a responsible breeder, it's important we accommodate their journey," said Steve Pessah, digital product manager at AKC.
While Marketplace is mainly for breeders at the moment, the AKC hopes to expand the site for veterinarians, trainers, dog walkers, and boarders to promote their services in the future.
Here's a look at AKC Marketplace: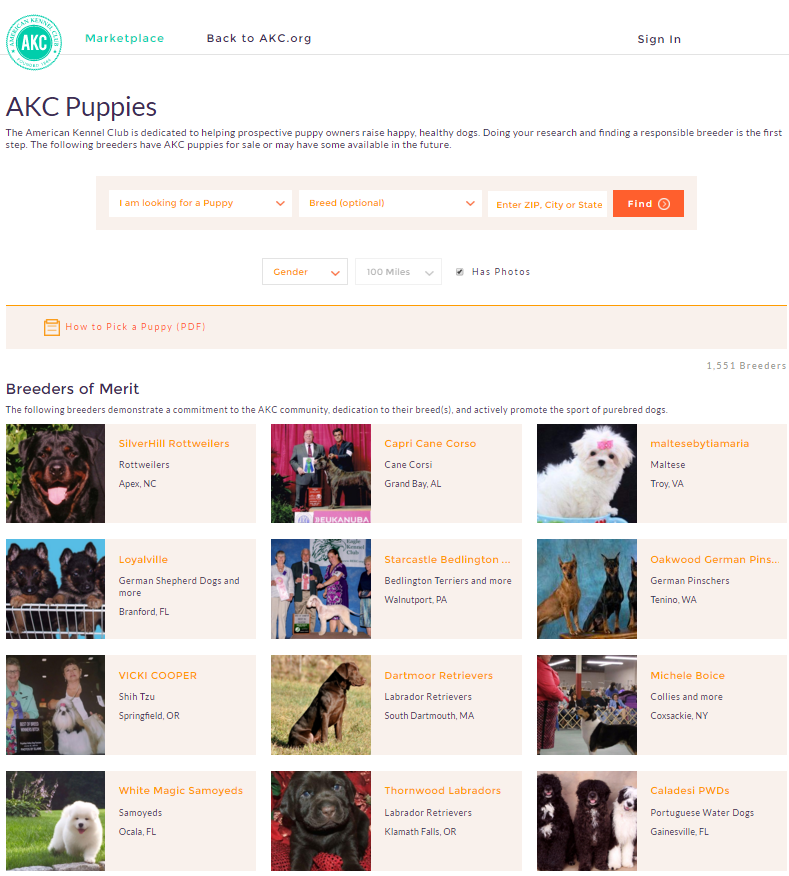 What Breeders Say About AKC Marketplace:
"The release of AKC Marketplace has been nothing short of terrific! In the short time that Marketplace has been up and running, I've gotten more puppy inquiries than any other website. I was able to find great homes for all of the puppies in my past litter. I even got so many inquiries after I sold all my puppies that I've been able to build a waiting list of 15 people for my next litter! I was very pleased with the response to my ad. I had previously used AKC Online Breeder Classifieds but only received one response – I had about 30 emails and several phone calls from my Marketplace listing! I am very pleased with the new puppy owners and will definitely use AKC Marketplace again." – Linda S.
"The AKC Marketplace site makes selling puppies easy. My puppies generate more contacts and deposits through AKC Marketplace than other puppy sites. The contacts I gain through the Marketplace nearly always end in a purchase. I've never had such an easy time finding great homes for my puppies. I'll be using Marketplace for all of my future litters." – Michelle M.
"I couldn't be more satisfied with the AKC and know that Marketplace will be the first place I'll list all my next litters. Thanks so much!" – Julia H.
To get started as a breeder, head to http://lp.akc.org/homes-for-puppies/